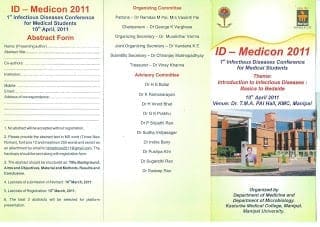 Greetings from Manipal.
lt gives us immense pleasure to announce the 1st Infectious diseases Conference for Medical students on 10 April 20l l at Kasturba Medical College,Manipal. 'l`he students studying in VI semester and above including interns are eligible to participate in this scientitic event.The conference includes poster and platform presentations, quiz on infectious diseases, lecture and case discussions.
Important Events
1.qulDz-2011(Infectious Diseases Quiz-Finals)
2. Guest lecture on 'Perspective and Practices of Infectious Diseases in India' and 'Infections of Public Health Importance'
3. Interactive Case Discussion on Infectious Diseases
4. Platform presentations by students
5. Poster sessions
'The preliminary quiz rounds (qulDz-2011) will take place at Kasturba Medical College, Manipal (for students from Manipal and Kasturba Medical College, Mangalore (for students from Mangalore) on 2nd March,2011.
The participation is FREE for preliminary quiz rounds. Students studying in 6th semester to 9th semester and interns are eligible to apply. The participants should send their names in teams consisting ol 2 members with their college address belore 15th March, 2011 to the email address [email protected].
For more details click on the images to enlarge.