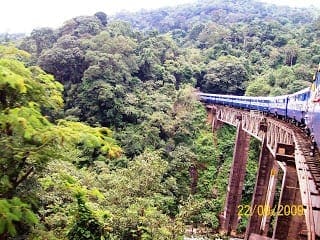 Manipal University is located on the west coast of South India, in the beautiful state of Karnataka.
Buses to Manipal From Bangalore:
There are many buses that ply from Bangalore and Mangalore directly to Tiger Circle in Manipal. Tiger circle is the hub of Manipal town and is opposite the Manipal University.

Trains to Manipal from Bangalore:
At present there are no trains to Manipal from the capital of Karnataka i.e. Bengaluru. However, one can take a train to Mangalore Central or Mangalore Junction railway station and reach Manipal via bus or taxi. The distance from Mangalore to Manipal is about 65 Kilometers and can be covered in a little over 90 minutes by cab and about 2hrs in the locally run private buses or the Government run state of the art air-conditioned Volvo buses.
There are two trains that operate between Bengalooru and Mangalore Central railway station. One is a day train and the other a night train.
The day train or the Yeshwanthpur – Mangalore Express is a tri-weekly train operating on Mondays, Wednesdays and Fridays every week and leaves Yeshwanthpur (A Suburb of Bangalore) at 7:45 AM and reaches Mangalore Central Railway station at 5:55 PM in the evening. The day train is especially suited for people who like to marvel at the beauty of nature, and it runs through some of the most pristine naturally beautiful, forested areas of the Western Ghats. Nature lovers will love to travel on this delightful route and have a breathtaking ride!
The night train or the Kannur Express, runs between Yeshwanthpur and Kannur ( a small town in neighbouring Kerala) via Mangalore Central railway station. This train leaves Bangalore City Railway station at 8:55 PM and arrives at Mangalore Central Railway station at 8:35 AM, the next day. This train runs via Mysore and hence takes an extra couple of hours.The night train is available on all days of the week.
There are rumors that the night train may run from Bangalore to Karwar instead of Kannur. If these rumors come true, then travelling to Manipal will be easier as the train will run via Udupi/Manipal railway station, which is just 15 minutes from the Manipal University.