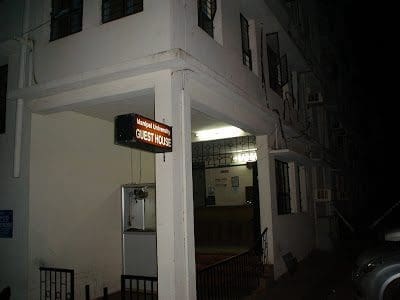 This is the entrance to my end of the hostel. It is common with the entrance for the guest rooms where the examiners who arrive from outside are put up. Ours is the only wing that's placed at this end of the hostel. all the rooms above are for girls.
My half of the room where I and Kushaal are staying. Ya.. I try to keep it tidy.
This is the PG Boys hostel. Prabhav's room is on the first floor, the windows right above the entrance are his.
The view from my room. It's sunday and the garbage is being collected.
The corridor leading to my room.
The washing machine and Cooler in the middle of the corridor. This particular washing machine keeps breaking down, so i use the washing machine present upstairs. The hostels have washing machines in every corridor. Convenient.
This is Jwalith.He is the room partner for Prabhav. He had come down to my room to check it out. Prabhav and Jwalith are staying in a double room with common bathrooms, while i stay in a double attached room. I feel it is very convenient and Jwalith felt the same.
Tags: Hostel