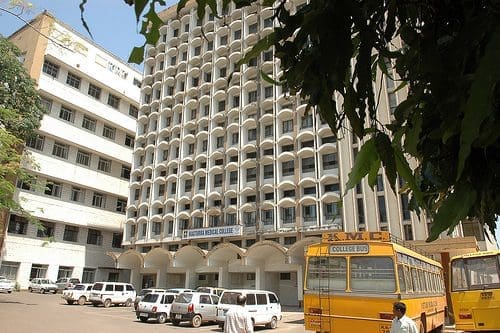 It's that time of the year again, and another year has swung by. The time when the stressful exams have come to an end, the short but extremely yearned for holidays are bid farewell with a frown and students of KMC Mangalore embark further on this journey to becoming doctors. This is also the time KMC welcomes a whole lot of new enthusiastic young students into the first year of MBBS having earned their place through different examinations and a whole lot of effort and struggle.
Embarking upon a new journey, going to this place called university, which we've heard and dreamt of reaching for a number of years, and into a demanding and respectable field tends to be exciting yet can be quite overwhelming at times. And therefore, due preparation is of utmost importance as it facilitates a smoother settling in.
Manipalblog Mangalore addresses different topics and issues meant especially for the junior students about to get on their journey to MBBS and newly joining the Bejai hostels. These issues may be of interest and use for students of all colleges and universities and may prove beneficial to senior students too.
The first question that often pops into our minds, after the excitement of receiving the news of acceptance and all is over and done with is what to take, and what to leave behind. For the students living within the city, the scenario is different. But often people travel quite a distance, some from other continents, to Mangalore and hence the first question is what to bring with you.
So, as you scan around your room and start thinking of how to pack up the last around 18-19 years of your life in boxes and bags, let's start with The Wear. Here's some tips on what to pick and what to avoid when it comes to dressing up for university…
• Formals are important for hospital postings and the like, but thanks to the highly elaborative Manipal University guide, many people seem to think formals is ALL people in KMC wear.
• Pack up casuals and basically your normal day to day schedule clothes replacing your school uniform with formals.
• Avoid too funky or exceptionally unique clothes; but do bring a pair of sunglasses/shades as you will require them for several selfies during the first few weeks.
• Mangalore is a bit on the conservative side, so keeping that in mind is important, especially when coming from more liberal areas, especially for the ladies.
• The weather is usually always hot; so cool cotton clothes are preferable. But, the time between around May to around August up to September is the monsoon phase, where warm clothes and waterproof sweaters and umbrellas are very important.
• Keeping your clothes dry during the monsoon and protecting the room from moisture helps avoid moss grow on the clothes.
• Casual Jeans for the evenings, shorts for chilling, skirts and pants for parties, shorts for beaches (Mangalore has plenty), trousers and suits for classes and postings and don't forget your swimming and sports gear; KMC and Mangalore provide a fair share of services.
• Plenty of socks as with every passing day one of each pair will seem to disappear.
• A formal suit and/or sari for formal events and some ethnic clothing for festivals and religious activities.
• A pair of formal shoes for the guys is important; girls often get off with any normal decent footwear; provided it doesn't make them 6 inches taller.
• Sports shoes and a pair of sandals for roaming and daily use. A pair of slippers for indoor or outdoor use and other footwear depending on how hard you party.
So, your clothes and shoes are all packed and ready. What next?
Grab the toiletries you may need; just for the first few days though as normally shopping here is the trend after you have acquired the hostel room. Grab your special hairstyling comb and your selected scents and make sure not to forget the toothbrush. Toilet rolls and tissue paper are a useful accessory as well.
Don't forget your essentials, including an alarm clock, your admission documents and other travel documents, a diary, mobile phone accessories and your earphones.
Often, some people tend to have many sentimental items which are difficult to let go of and leave behind. But it is important to carry only the utmost important things and not carry things of no use here since they tend to accumulate space and bear no purpose. Family photos are a special item to carry to kill the homesickness pathogens; and don't forget any heirlooms or personal treasures.
Don't forget some snacks and tidbits from home; the little box of sweetmeat; and that cheque or debit card from Daddy.
It is advisable to buy most of the things from Mangalore after arrival inclusive of books, room items and even daily supplies, so travel light, and carry the necessities only. If you live in a state close by, or plan to visit home frequently, it's advisable to even plan packing based on the time intervals.
So go get those suitcases ready, and plan the travelling well. Arrive well in advance and early for your flight or train; and load up and take off; as we welcome you to KMC Mangalore!
Stay Tuned for our next chapters on the Bejai hostels and how to survive and what subjects to expect and how best to cope.
Write to us on [email protected] or [email protected]