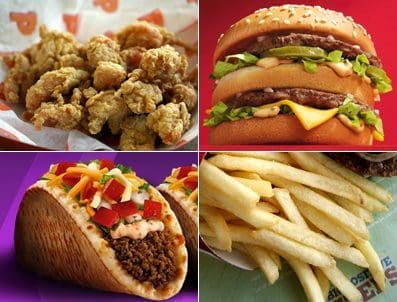 Travelling to exotic destinations is fun… but what if the local cuisine just doesn't suit your taste? Fear not, there's a solution to this problem. Look anywhere in the world, there's always a fast food franchise that will give you answers to your need of a quick satisfying meal. Of course you can't survive on fast food the whole trip, but in times of desperation it sure is an option.
Here are some of the top fast food franchises that has taken over the world by storm:
KFC: Since Colonel Harland Sanders built the fast food chain in 1930, it has changed the world's view on fried chicken. Popular for its juicy chicken, KFC has never revealed Colonel Sander's chicken recipe and this continues to be used across the globe in more than 13,000 KFC restaurants in more than 80 countries. Both young and old relish the tender chicken pieces (My grandfather is a bigger fan of KFC than any of his grandkids 😀 ). It's finger lickin' good!
McDonalds: No other fast food chain comes close to beating McDonalds as the biggest fast food chain in the world. More than thousands of outlets across the globe have been serving their signature burgers. The burgers might have slight variations from country to country. While in India, Chicken Maharaja is the specialty, it's the Chicken McArabia in the Middle East.
Pizza Hut: Started 55 years ago in Wichita, Kansas, Pizza Hut is today an iconic global brand that offers different styles of pizza along with side dishes including salads, pastas, garlic bread and desserts. Who doesn't appreciate a slice of cheesy, perfectly baked pizza?!
Starbucks: A lot of people from around the world go to Starbucks every morning to kick start their day. Known for it's amazing coffee, smoothies and short bites, this franchise has made its mark in most parts of the world, especially in the airports and malls. The strong aroma of coffee from Starbucks can truly tingle your senses.
Subway: When it comes to fresh and healthy sandwiches, Subway is the answer. It is one of the world's favorite destinations for foot-long lovers. A meal comprising a Subway sandwich, a diet coke and a cookie is sure to fill your appetite and keep you going on your long trip.
There still are a lot more franchises out there. Which ones are your favorite? Write to us with your comments and articles at [email protected].