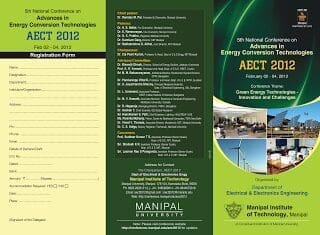 AECT 2012 – Call for papers (Click on the Image to print)
The Department of Electrical and Electronics Engineering of Manipal Institute of Technology is organising
"Fifth National Conference on Advances in Energy Conversion Technologies (AECT 2012)"
from
02-04 February 2012
at MIT, Manipal.
The theme of the conference is "Green Energy Technologies – Innovation and Challenges". This is the fifth conference of a regular series of national annual conferences being planned to bring together professionals and executives in the energy sector, electrical power companies, manufacturing industries, research institutes and educational bodies to share and exchange ideas and information pertaining to green energy technologies.
Call for Papers
Consistent to the conference theme, in AECT 2012 we invite original contributions from researchers, educators, managers and students to submit articles, which may be conceptual, theoretical, or empirical in nature. They may document research activity, case studies or best practices, shedding light on the theory or practice of engineering, technology, or innovation. The original contributions from the authors are invited in the following.
Major technology topic areas, include (not limited to):
Cyber Security Systems (intelligent monitoring and outage management)
Distributed Generation and Micro & Smart Grids
DSP & Embedded Systems
Energy Auditing & Management
Energy efficient drives
Energy Modelling
Energy Storage Technologies
FACTS & SCADA
Industrial and Building Automation Systems
Integrated Lighting Design and Control
MEMS & Nanotechnology
Power Electronics Applications
Power Electronics Systems & Control
Power System Planning, Operation and Control
Power System Protection,Reliability & Management
Refrigeration and Air Conditioning Systems
Renewable Energy Technology
Restructuring and Electricity Market
Smart Sensors and Advanced Metering Infrastructure
Soft Computing Applications
Solid State Lighting
System Modelling and Simulation
Virtual Instrumentation
Wide Area Protection, Communication, and Control in Energy Systems
Student Paper Contest AECT 2012
The types of papers sought for presentation are –
Type 1: Application papers regarding application of new methods
Type 2: Case study experiences with implementations of new methodologies
Type 3: Improvements of present day methodologies with significance of the results
Type 4: Discussion papers with regard to various possible new approaches and techniques
Type 5: Review papers tracing the developments since inception to the present day scenario
Host City
Udupi is a very old temple city that is famous for its SriKrishna temple, established by Madhvacharya, the founder of the Dvaita philosophy. It had a nascent career as a financial hub till the 60s, with many banks being established here, but most of them got nationalized. Manipal within Udupi city is an important educational and medical centre in Karnataka. Its the second largest city in Coastal Karnataka after Mangalore Udupi City at present has Manipal, Malpe and surrounding areas as its suburbs.
Important Dates
| | |
| --- | --- |
| Online Submission opens on | 15-Jul-2011 |
| Last date for receiving extended abstract and full length paper for review | 15-Oct-2011 |
| Notification of paper acceptance | 15-Nov-2011 |
| Last date for submitting final paper | 15-Dec-2011 |
| Last date for receiving registration fees(Online/Offline) and accommodation request | 15-Dec-2011 |
Pre-Conference Tutorials
Full day pre-conference tutorials on specialized areas of Electrical and Electronics Engineering will be conducted by eminent academicians and industry experts on 2nd February 2012. All the registered delegates can attend these tutorials.
Registration
All delegates planning to attend the conference must register by paying the registration fee. At least one author of each accepted paper must register for the conference for the paper to be included in the conference program. Only one paper will be considered for presentation against each registration.
| | |
| --- | --- |
| Delegates / Authors | Conference Registration Fee |
| Academic & Research Institutions | Rs 2,500/- |
| Industry & Others | Rs 4,000/- |
Accommodation
Limited hostel accommodation is available. This will be arranged ONLY for academic participants/research scholars on first come first serve basis at no extra charge. For industrial participants accommodation will be arranged in hotels in and around Manipal and Udupi on prior request, along with payment of hotel room rent in advance through a separate DD.
For more information contact:
The Chairperson, AECT 2012
Deparment of Electrical & Electronics Engineering
Manipal Institute of Technology
Manipal University, Manipal 576 104, Karnataka State, INDIA
Ph: 0820-2925121 (L), +91- 9845282635, +91-9448835163
Email: [email protected] / [email protected]
Web: