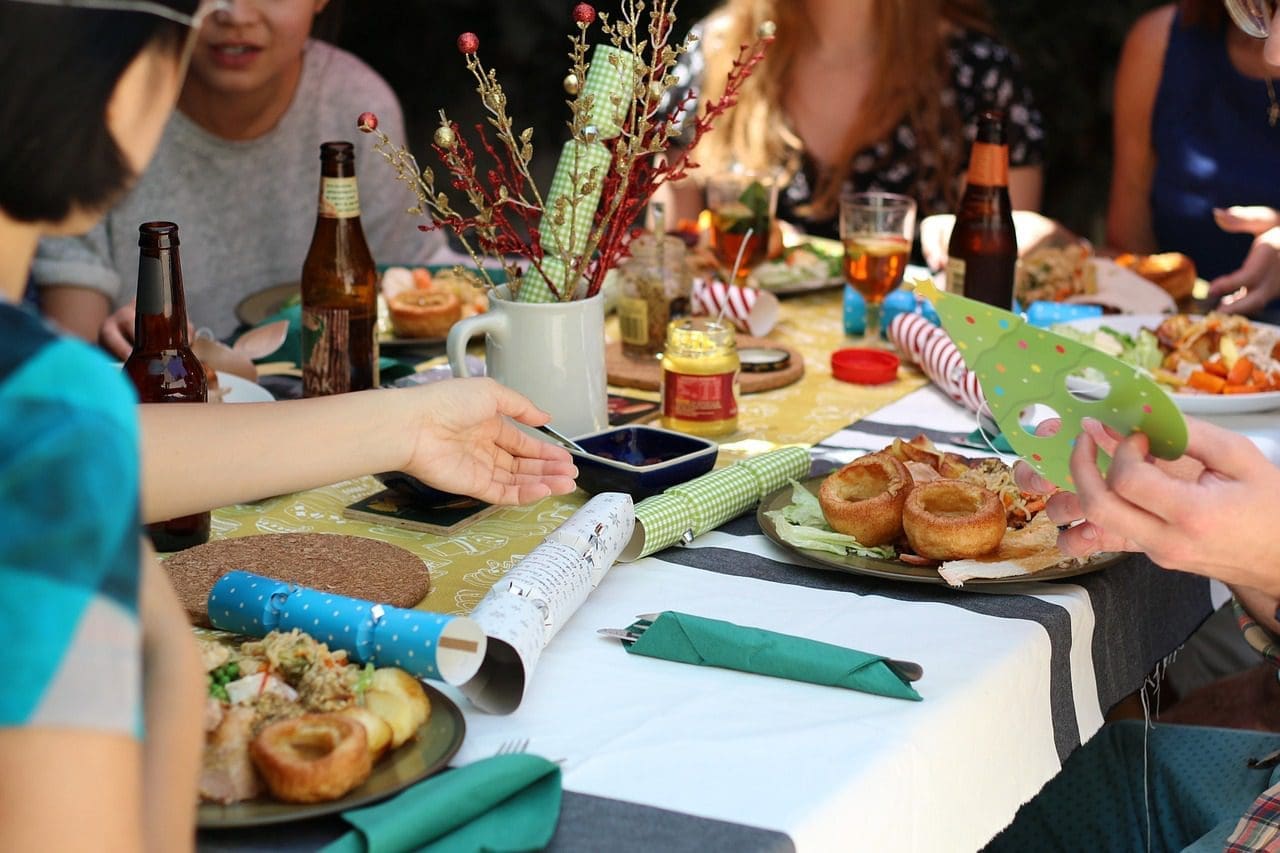 Food advertisements, stories, and recipes published 100 years ago indicate that today's foodies are merely rediscovering what was hot three generations ago.
Turn-of-the-century Americans were outraged by meat processed in unsanitary conditions and the use of chemicals and dyes to mask spoiled beef.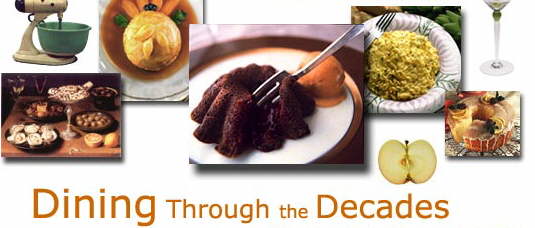 The federal Pure Food and Drug Act was passed in 1906, the first in a long list of regulations over the years to protect the population from tainted, mislabeled, adulterated, and unsafe foods.
Today, however, food still is controversial. Now we worry about irradiation, genetic engineering, pesticides, food-borne illnesses, and questionable sanitation in restaurants, food-processing plants, and home kitchens.
What has changed, however, is the regulation of our food supply, the sources and availability of foodstuffs, and the preparation of meals. According to food historians, many home cooks in 1900 prepared meals over wood in fireplaces, even in city apartments. But other heat sources were getting hot.
Dining in the 1900s
According to ads during the very early 1900s, Columbus [OHIO], cooks could choose among wood-, coal- and gas-fired stoves for their home kitchens. In January 1900, for example, one appliance store was offering state-of-the-art gas ranges, $18 and up.  Local merchants also used advertising space to hawk fresh meats and fish, pots and pans, dinnerware, cork-insulated iceboxes – costing from $7 to $70 – and table linens.
A few grocery store ads appeared, mostly from Downtown-area merchants. Nationally distributed food products, including Royal Baking Powder, Gail Borden Eagle Brand Condensed Milk, Baker's Breakfast Cocoa, and Van Camp's Sterilized Cream, advertised occasionally.

During 1899, recipes in "The Dispatch" [The Columbus Dispatch, a newspaper.] were sparse. But by 1905 a women's page – "School For Housewives" by Marilyn Harland – had been added, featuring recipes and the latest information about cookware and appliances.
Dining in the 1910s
By 1910, food ads had grown. Kroger, which already had eight locations, and the Great Atlantic & Pacific Tea Co. (A&P) were regular advertisers.
Quaker Oats had a weekly full-page ad in "The Dispatch Illustrated Sunday Magazine", to trumpet the importance of oatmeal in a child's diet.
"In the homes of the educated, the prosperous, the competent," one boasted, "seven out of eight regularly serve oatmeal."
By 1915, Crystal Domino Sugar was advertising regularly, as were Nestle's, the Columbus Packing Co., Hires root beer, Coca-Cola, and R. Wilke Meats (12 locations).
Kroger had 20 stores in central Ohio.
On the editorial side, "The Dispatch", supplied housewives with recipes for homemade mayonnaise and 'how-tos', on preserving eggs for winter consumption.
Dining in the 1920s
French salad dressing appeared to be the rage. Aluminum cookware had become popular, and "fireless" cookstoves were introduced. By the 1920s, popular meats were mutton, lamb, veal, and "callies" (picnic ham shoulders).
"Nut" margarine made with coconut and palm oils – touted as more healthful and less expensive than butter – were heavily advertised, and Piggly Wiggly stores were introducing "self-service" shopping to save consumers time and money.
In 1925, recipes such as Tamale Pie and chop suey – made with La Choy Chinese food products – were scattered among grocery ads. The white sauce was the rage – it was suggested as a topping for just about everything on the plate, particularly vegetables.
In the home kitchen, cabinet units had been introduced, replacing sideboards, and cooks were enjoying efficient gas ranges – except when gas pressure dropped during cold winter months.
Dining in the 1930s
In 1930 issues of "The Dispatch", gas and electric refrigerators were intense competitors. The Columbia System Gas Co. was pushing the Electrolux gas model, with: "no machinery, no maze of gears, compressors, motors to get noisy and need adjustment."
The cost of operation was a mere 4 cents a day, it added, and because electricity was not involved, the refrigerators were not at the mercy of "radio interference."
Meanwhile, Kelvinator was advertising an electric refrigerator with super-fast freezing, made possible by the company's exclusive Iso-Thermic Tubes.
General Electric's All-Steel Refrigerator boasted of being the only one in the world to pass "the tests of fire, water, dirt, heat and cold."
During the 1930s, cooking tips and recipes appeared on a "Dispatch" weekday page called "Of Interest to Women" and on a syndicated Sunday page by the Good Housekeeping Institute.
New grocery advertisers included the Red & White Stores, B. & W. Home Stores, T.B. Williams Stadium Market, Clover Farm Stores, Moby's, and Triangle Food Stores.
Dining in the 1940s
During the 1930s, gas ranges were state-of-the-art. By the '40s, however, electric stoves were big.
The "Dispatch" featured suggested menus each week to complement grocery-store specials.
Here's a typical weekday family menu from June 1940:
Breakfast – rhubarb sauce, creamed ham on toast, soft-cooked eggs, coffee
Lunch – vegetable soup, White Star tuna sandwiches, apple pie, coffee
Dinner – Heinz tomato juice, stuffed cabbage, buttered potatoes, Seaside canned lima beans, apple salad, graham cracker pudding, coffee.
A Sunday menu pulled out all the stops:
Breakfast – Del Monte pineapple juice, creamed eggs on toast, Premium crackers, sausages, strawberry preserves, rolls, coffee
Dinner – fruit cocktail, Swiss steak, new potatoes and peas, glazed carrots, cabbage salad, All-Bran refrigerator rolls, chocolate pudding ice cream, Beech-Nut coffee
Supper – Fould's macaroni salad, nut bread sandwiches, Lipton's tea
Anchovies and codfish were common ingredients in "Dispatch" family recipes during the early 1940s, as well as eggs, veal and lamb chops, and canned soups, vegetables, and juices.  BUT during World War II, butter, margarine, sugar, lard, shortening, oils, and assorted fresh meats were rationed (all such limits were lifted in 1945, except on sugar). Home cooks had to change their menus to accommodate shortages, and to help them, food manufacturers offered tips and recipes that spared or stretched scarce products, particularly meat.
The "Dispatch's" Friday grocery shopping pages (with recipes) had been renamed "What To Buy – How To Cook It." Each recipe was separated by a line that said, "Buy War Bonds."
The recipes and articles emphasized canned meats, dried beans and peas, eggs, and organ meats, such as tongue and liver, as protein sources. One story featured fried eggplant and cheese sandwiches as a luncheon main dish.
Home canning was encouraged to relieve pressure on commercial canners so their products could be diverted to the armed forces. The Ohio Fuel Gas Co. even sponsored a six-day Home Canning Fair in 1944, for homemakers to show off their "choicest jars." (Prize money totaled $60.)
The "Sunday Dispatch Rotogravure Magazine", was added to the paper on Oct. 7, 1945. It featured a weekly recipe, developed by the paper's food editor – then Marian R. Beckes – accompanied by a "Dispatch" color photograph of the finished dish. The first was fancy: Rib Roast with Broiled Onions and Brown Gravy.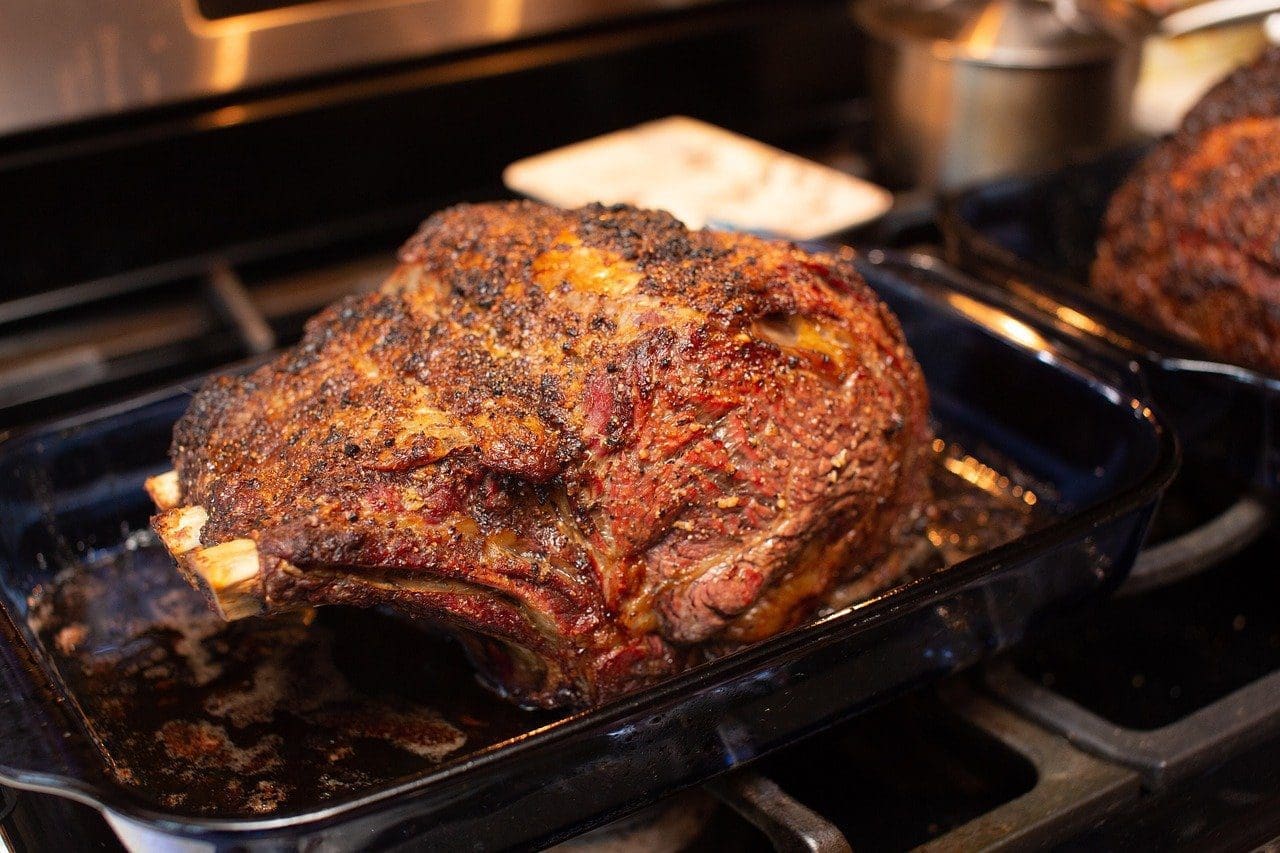 Dining in the 1950s
In 1950, food writers began to look back at the century's first 50 years of eating. In a January article in "The Dispatch", food pages (called "Food News," featured each Thursday), the subject was a food trends chart just released by the government.
"It shows that while Americans still like their meat, we are no longer the meat-and-potatoes nation we once were," wrote Associated Press Food Editor Cecily Brownstone. Replacing them?  "Other members of the vegetable clan, or a 'tossed salad' – that abhorrence of a lot of ordinary men, and the delight of gourmets," she continued.
A significant change in the national diet from 1900 to 1950, was the incorporation of vitamin C-rich citrus fruits, Brownstone wrote. Tomato juice – also a source of the vitamin – had become popular as a before-dinner beverage, and the consumption of milk had increased dramatically.
Here's a suggested menu from January 1950:
Breakfast – blended prune and grapefruit juice, cornflakes, toast, cinnamon rolls, coffee, milk
Lunch – hot baked cheese sandwich, endive salad, milk, stuffed baked apples
Dinner – baked salmon loaf, mashed potatoes, baked beet slices, deviled egg salad, whole-wheat bread, coffee, sliced cling peaches, cookies
In the 1950s food pages, recipes from food manufacturers abounded with their canned foods and box mixes.
Food Editor, Barbara Myers, meanwhile, served up original dishes each Sunday, including Ham 'n' Noodle Loaf, Fig and Nut Waffles, Shrimp and Crabmeat Neptune, pearl couscous recipes, and Pumpkin Parfait Pie.
By midcentury, most home refrigerators were electric. In a Lazarus ad, the latest General Electric model had: 12 cubic feet of storage, revolving turnout shelves, and a freezer that could hold 77 pounds of food.  You could take one home for $399.95 (marked down from $549.95).
"Cook's Corner", The Dispatch's, weekly reader recipe exchange page, was born in 1955, the creation of Myers.
The column follows much the same format today, as it did in the beginning.
Requests for long-lost or coveted recipes are published, and readers respond with exact or similar recipes. During periods of its publication, various readers have made "Cook's Corner" a hobby, spending a good portion of private time looking up requested recipes, and even testing them before submission.
Classic recipes printed in "Cook's Corner" – and still popular today, include Buckeyes, Johnny Marzetti, Broccoli Cheese Soup, Hot Artichoke Dip, Vegetable Pizza, and Marmor Fudge Sauce.
Also on the list are Wor Sue Gai, Apples 'n' Onions, Sweet Potato Bake, Six-Week Refrigerator Bran Muffins, Seven-Layer Salad, Pimento Cheese Spread, potato soup of all kinds, anything with pumpkin in it, Peanut Butter Pie, Impossible Pie, Key Lime Pie, Heavenly Hash, Funnel Cakes and anything Amish.
"Cook's Corner" has been a good indicator of what central Ohioans are eating at home.
For example, when scientific researchers announced in the 1980s that oat bran was revealed to be an aid to lowering serum cholesterol, the Food staff was deluged with requests for oat-bran recipes.
Readers also go through eating phases.
According to letters and other feedback, they have "discovered" such delights as, Indian, Thai, Mexican, or another ethnic cuisine; broccoli and other "in" vegetables; poppy seeds; pasta salads; pretzel desserts; honey-mustard salad dressings; and tofu.
Many say they tasted such dishes at a friend's party or at a restaurant and want to prepare them at home.
Dining in the 1960s
In 1960, "The Dispatch Food pages" still were published on Thursdays. For the next 20 years, they were the spot for grocery store advertising. The list of retailers was long, including Big Bear, Kroger, Albers, Royal Blue Super Markets, Foodtown, IGA, A&P, Super Duper, and Eavey's.
Some weeks the ads stretched over 25 pages.
Supermarkets also offered trading stamps throughout most of the century. The stamps were pasted into books and redeemed for merchandise.
Kroger had them in its stores as early as 1910.
Dining in the 1970s
"The Dispatch Food pages", including "Cook's Corner," moved to Wednesdays on Aug. 2, 1972. Supermarket ads included new names such as:
Cardinal Food Stores, Gold Circle Discount Food Stores, and Ontario Whitehall's. Not long after, readers would see ads from Fazio's and Stump's.
By 1976, the "Food pages" no longer were part of the main paper. They had moved, along with radio, television, entertainment, and women's news, to a Wednesday section called "Midweek."
Local supermarket advertising, which had started to dwindle, was scattered throughout the newspaper,… national ads with cents-off coupons began to fill in the space.
The 1970s were the Do-It-Yourself Age — make your own sourdough starter and bread, yogurt, cheese, granola, trail mix, candied fruit, brandied fruit, liqueurs.
The microwave came into its own, and interest budded in unprocessed, natural foods.
In Fashionable Food, Lovegren writes of the hedonistic 1970s, the "Me Decade".
"Simple food, like a broiled steak or grilled chicken, was not very popular … Instead, everything was gussied up or had a silly name. And it was gooshy, there is no better word to describe the peculiarly unctuous, goofy texture of many of the things we ate then."
Sour cream, cream cheese, mayonnaise, hollandaise, and Mornay sauce (not to mention, cream of mushroom soup and cream sauce), were stirred into or poured on nearly every savory dish to give it a baroque richness.
Desserts were concoctions of whipped cream (or Cool Whip or Dream Whip), or sour cream, or cream cheese, or ice cream, with sticky cornstarch glazes … Crêpes, quiche, and pasta dishes, from Fettuccine Alfredo and Spaghetti Carbonara to Pasta Primavera, dominated.
All the while, American chefs were exploring regional American cooking and became celebrities in the process.
Dining in the 1980s
In the 1980s, we believed we could fly. Chefs promoted fresh regional products organically grown vegetables and herbs, fish caught in local waters, and handmade cheeses.
The movement continues to grow.
Alice Waters leads the West Coast contingency; Jean-Georges Vongerichten, the East Coast.
As for the Third Coast, we boast of our trendsetters Robert Del Grande, Tim Keating, Jim Mills, Jimmy Mitchell, Bruce Molzan, Monica Pope, Tony Ruppe, John Sheely, Claire Smith, Carl Walker, and so many others,.. who have advanced Texas and Southwestern cuisine to new heights.
Comfort foods, such as chicken pot pie, mashed potatoes, meatloaf, and bean soup, again took the spotlight.
The small things count when you're dealing with simple foods. We learned to roast garlic, caramelize onions, grill vegetables, make fruit essences and purées. We learned about pesto, chutney, salsa, polenta, risotto, balsamic vinegar, flavored oils, edible flowers, arugula, radicchio, mache, mesclun, and other mixed baby salad greens.
Dining in the 1990s
What an adventurous ride the 1990s have been !!!
There's so much to know, so much to discover, new varieties of pears, apples, greens, potatoes, squash, beans, and chilies.
People have the opportunity to learn about diverse cuisines — hummus, tabbouleh, and baba ghanoush from the Middle East; yuca, chimichurri, and churrasco from South America; noodle soups and spring rolls from Vietnam, Thailand, Japan, and Indonesia.
There's a sweet future ahead if chefs' predictions about the millennium hold.
Many say Latin foods and flavors will influence future menus. Many will feature fresh fruit, especially tropical fruits in sweet and savory dishes.
They agree that our ethnic populations will continue to have an impact on local cuisine and that Thai, Vietnamese, Indian, Japanese, and Chinese foods will continue to grow in popularity. Latin, Mediterranean, South American, Middle Eastern, American regional (especially Southern), Caribbean, and African cuisines — any food that packs a lot of flavors — also are expected to carry over to the 21st century.
Chefs are looking for more organically grown, home-grown vegetables, fruits, berries and herbs from regional growers.
Today's customers are much more knowledgeable than five or 10 years ago, and our expectations of restaurants are much higher.
Today's diners eat more fish, seafood, game, rice, and other grains such as couscous and bulgur.