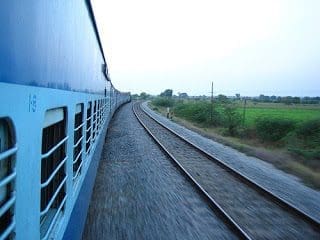 Trains are one of the most popular and preferred modes of travel in India. Be it just a one hour trip or a one day trip, it is an amusing and different experience to travel by train.
As a student, most often I travel back home alone, from Mangalore to Ernakulam, either by Maveli Express or Malabar Express. Even though the railway station is just five minutes away from the hostel, it always feels like a race against time to reach the station. Once I reach the station, I have to traverse through the big crowd at the entrance of the station to reach the platform. Since the three tier AC compartment is way at the front of the train, it's quite a long walk from the main entrance.
Once I reach the bogie, I double check on the list put up whether my name is there or not. After getting in, trying to find the seat number is a task. First of all, it's a narrow passage and people from both directions keep blocking the way. Finally, I get to my seat and tuck my luggage under the berth.
The interesting part is getting to know who will be sitting next to you or in front of you, because you would be spending the next few hours with those people. Most of the time I come across families with little kids. It can be really annoying when these kids keep crying and making a ruckus, while the parents try to quieten them with chocolates and biscuits, which the kid spits right out and I nearly miss it. Then there are college students and IT professionals who are so hooked up with their smartphones, that they have no clue what's happening around.
The sight outside the window is mesmerising, as the train crosses the bridge over the Netravati river and the evening sun rays reflect on the water below.
In between getting down at stations could give you a relief from sitting for a long time in the train.
By 7:30pm, the kids would have quietened down and the college students would have put away their smartphones. That's the time when everyone starts talking to each other and the train journey gets interesting. People start sharing food with each other and suddenly strangers become like family. Everyone helps out each other with setting their berths for the night.
By around 2:30am I reach my destination. Tired and hardly awake, but the sight of my family waiting at the station wakes me up. I bid goodbye to the people I met on the train. Don't know whether I'll ever see them again but they did make the train journey worth it.
Do you have any experiences to share about your train journey? Write to us at [email protected].