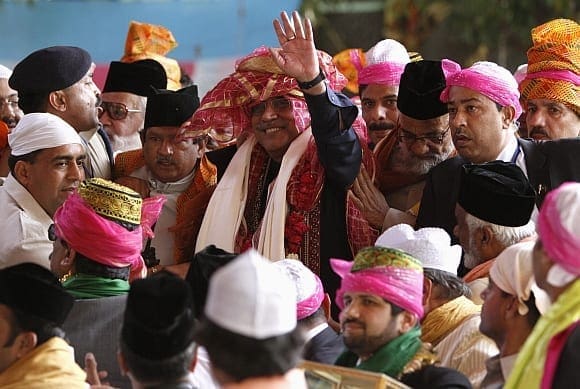 As the Pakistani president Asif Ali Zardari returned to Islamabad after an ostensibly private visit to India, he must have been pleased that the bonhomie was not disturbed by the usual spoilers – Kashmir and terrorism. Perhaps the only provocative gesture came from the hosts as they placed the Kashmiri Gushtaba (A delicacy – mutton minced with spices, shaped into balls and cooked in a flavourful yogurt gravy) on the menu. The fact that Zardari is a vegetarian did not seem to deter them.
Perhaps the reason for the absence of any hostility was that the meeting between the two heads of state was incidental, the primary reason for Zardari's visit being to offer prayers at the Ajmer Sharif dargah. This was also the reason why nothing really concrete came out of the visit. Though there was a verbal commitment to carry forward talks on Sir creek and liberalization of the visa and trade regimes, nothing was put in writing.
This visit should be viewed as a harbinger for a greater engagement between the two countries in the near future. Prime Minister Manmohan Singh's long overdue trip to Pakistan seems imminent. The initiative to affect a thaw in the relationship between the two countries was taken by Pakistan when they moved towards normalizing trade relations by initiating the steps to grant India the much deserved MFN (Most Favoured Nation) status. This step shows a paradigm shift in Pakistan's foreign policy as their stated position always was that trade could only be normalized once the Kashmir issue was resolved. The fact that they have agreed to put Kashmir on the back burner at least temporarily is heartening. If China and Taiwan can have robust trade relations, so can India and Pakistan.
As Zardari was preparing to visit India, Pakistan was shocked by the news of over a hundred Pakistani soldiers being buried under an avalanche at the Siachen glacier. Siachen represents arguably the most unfortunate facet of bilateral relations between the two countries. If we cannot agree on the fate of a barren, strategically unimportant piece of land, what is it that we can agree on? It is only vacuous revanchism that has caused thousands of casualties on both sides. The whole Siachen mess shows the characteristic trust deficit that exists between the neighbours. Siachen will always signify a failure of Indo-Pak diplomacy and it is essential that we remedy it as soon as possible.
Kashmir and terrorism will always remain the cornerstones of bilateral relations for Pakistan and India . While Pakistan recently softened its stand which always insisted the resolution of the territorial dispute as a pre-requisite for normalization of relations, the ghost of 26/11 hasn't allowed terrorism to melt away from the Indian consciousness. So much so that India's current most wanted man in Pakistan, Hafiz Saeed provided perhaps the only sour taste to Zardari's mouth in India. What we must realize is that Hafiz Saeed can only be brought to justice by due process under Pakistani law. Though his tirade against reopening of the Nato supply routes has placed him on the American radar, much more needs to be done. In spite of the political obstacles in Pakistan impeding Saeed's indictment, we must nevertheless coöperate with Pakistani law enforcement authorities. The fact is Pakistan today is the biggest sufferer of terrorism originating in Pakistan.
As far as Kashmir is concerned, the nine-point formula agreed upon in 2007 by the governments of Manmohan Singh and Musharraf, which was revolutionary as it made international borders irrelevant and redefined autonomy, shows that much progress is possible once dialogue is underway. It was unfortunate that due to internal chaos in Pakistan the talks got derailed.
With Pakistan finally having a civilian government which can look the military in the eye, we have a golden opportunity to engage with the Pakistani establishment and affect a process of reconciliation between the two countries. Indo-Pak relations have always borne the heavy burden of sentimentality which caused incredible highs and lows in relations between the two countries, but we need to recognize the fact that a majority of the citizens of both countries neither wave candles for peace and brother hood nor swear enmity at every available opportunity. Instead the dominant emotion seems to be of mild insouciance.
With both countries facing seemingly insurmountable challenges at home, it only makes sense that bothersome hostility is replaced by convenient peace. Like Zardari, a common Pakistani should be able have lunch at Delhi, pray at the Ajmer Sharif and return home while an Indian should be able to visit Nankana Sahib, have the Lahori – Tawa gurda kapoora a.k.a. Takatak (Roughly translated, Tawa gurda kapoora means kidneys and testicles in a large frying pan. To avoid the embarrassment of associating such words with food, most of  the people now call it Taka tak.) for lunch, and come back home. Hopefully that day is not far away.
This is  a guest post by Sai Krishna. He is pursuing MBBS at Kasturba Medical College (KMC), Manipal. Sai Krishna is a self-confessed Politics and Current Affairs junkie and wannabe writer.