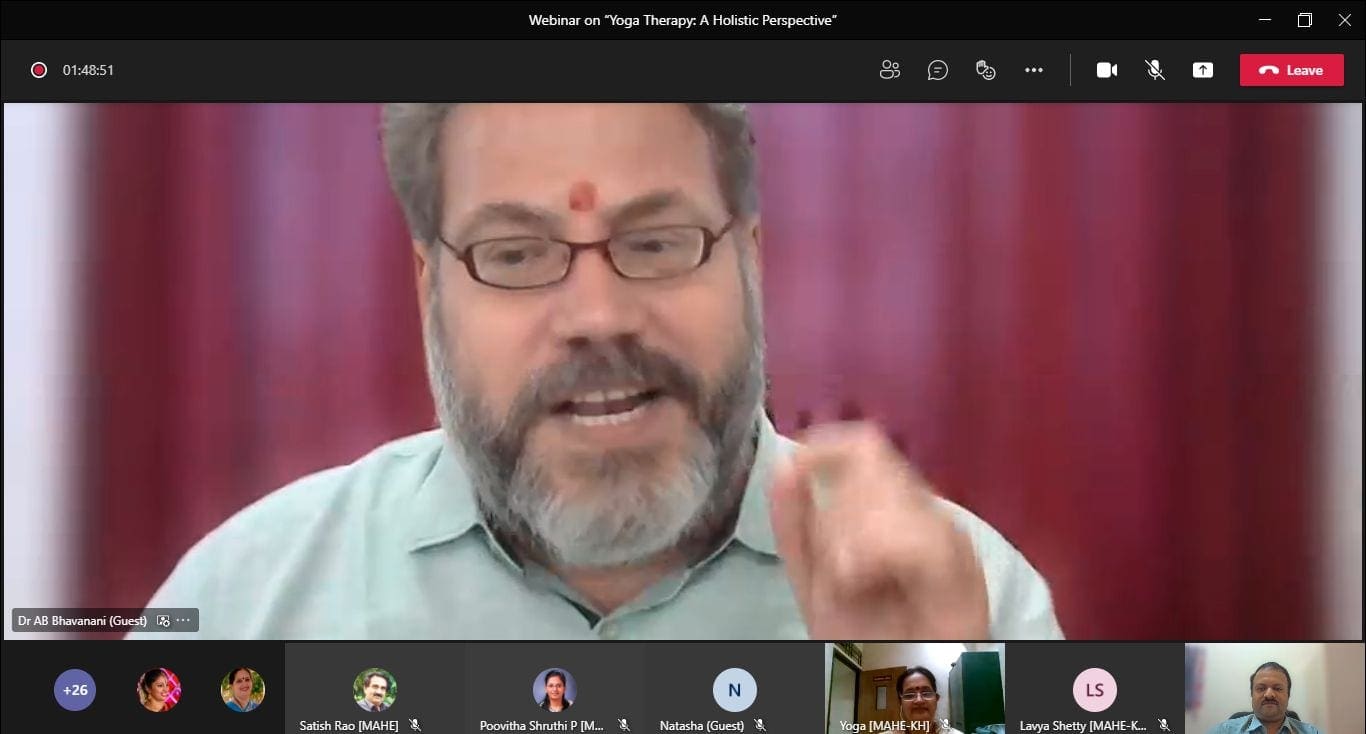 From its inception in the UN General Assembly, the International Day of Yoga has been celebrated worldwide on 21st June. However, it was the brainchild of our honorable Prime Minister, Mr. Narendra Modi, that a day for yoga should be celebrated as it is an essential piece of culture that we gave to the world.
Manipal Academy of Higher Education (MAHE) celebrated the 7th International Day of Yoga on 21 June 2021 through virtual mode. Division of Yoga, Centre for Integrative Medicine and Research (CIMR), MAHE, organized a program. The program was segregated into two halves.
The 7th International Day of Yoga at MAHE, Manipal was inaugurated by Dr. H S Ballal, Pro-Chancellor, MAHE, Manipal.
In his inaugural address, he mentioned that MAHE promotes holistic development for its faculty and students.  Yoga embodies unity of mind and body, thought and action, and a holistic approach that is valuable to our health and well-being.
Dr. H.S.Ballal – "Yoga is not just an exercise. It's a way to discover a sense of oneness with yourself, the world, and the nature." Yoga helps with the management of stress and isolation due to the #COVID19 pandemic. #YogawithMAHE @MAHE_Manipal, #YogaDay2021 #YogaForWellness

— MAHE CIMR (@CIMR_MAHE) June 21, 2021
He gave a brief overview of the growth of MAHE into an institute of eminence. From starting with 5 health care institutions in 1993, when it received the Deemed University status, to having more than 35 institutions currently.
Live Demonstration (7.30 am- 8.30 am)
After the inaugural address by Dr. Ballal, it was time for a practical demonstration of the various Yoga practices that can help an individual stay healthy.
Dr. Annapoorna K, Head of the Division of Yoga, CIMR, MAHE, spoke a few words in appreciation of this event organized by CIMR faculty and students.
She welcomed faculty, students, and their family members to follow Yoga and incorporate it into their lifestyle. The aim of the demonstration was 'Yoga at Home and Yoga with Family.' She emphasized that yoga is about a holistic lifestyle, and it brings about harmony & peace amongst body and mind.
The demonstration elaborated different postures and ways of breathing while performing the asanas. The connection between body and mind was emphasized upon. Many sitting and standing postures were demonstrated to explain how it brings ease of body, calms the mind, and connects one to their inner self.
Dr. Annapoorna then thanked the MAHE administration, organizing committee, participating members, and students for being a part of it.
Webinar: Yoga Therapy: A Holistic Perspective (11.30 am – 12.30 pm)
As the day progressed, a live webinar was planned by the Division of Yoga, CIMR, MAHE. The speaker for the day was respected Dr. Ananda Balayogi Bhavanani, the Director & Professor, Centre for Yoga Therapy, Education and Research (CYTER), A Center of Sri Balaji Vidyapeeth (SBV), Puducherry.
The event moderator was Dr. Lavya Shetty. She welcomed the guests and everyone participating in the talk.
Dr. Vishaal Bhat, Coordinator, CIMR, MAHE, Manipal, welcomed the dignitaries and participants. He emphasized the role of yoga in having a healthy mind, body, and soul. He said the webinar will help the participants overcome social isolation due to the global pandemic.  He provided a brief overview of the functioning of the Center for Integrative Medicine and Research (CIMR)  from its inception in December 2015 under the research directorate of MAHE.
Ms. Poovitha Shruthi, Faculty at the Division of Yoga then gave an overview of the program and mentioned the competitions organized by CIMR on the occasion of the International Day of Yoga. She announced the winners of these competitions.
Dr. Shetty then invited Lt. Gen. (Dr.) M. D. Venkatesh, Vice-Chancellor, MAHE, Manipal, to inaugurate the webinar by addressing the participants.
Dr. Venkatesh quoted Shri Krishna from Bhagavad Geeta, which stated that Yoga is as old as the world itself. He described that Yoga is a way of life, and the practice itself is scientifically proven. It improves the quality of life and well-being.
While COVID-19 hit the world and unexpectedly affected us all.  We were all stuck at home, with stress levels rising every day. What could be done to improve the quality of work, engage with family and keep the mental well-being?  Social contact is essential to humans, and the pandemic has affected this aspect of life severely.  Yoga is an answer to all of the above problems. It harmonizes an individual the same as it brings people together.
With that, the talk was inaugurated.
Dr. A.B. Bhavanani initiated his talk by expressing the living tradition that is yoga and its meaning. He exclaimed the division of Pathogenesis and Salutogenesis. Pathogenesis is defined as the origination and development of a disease. Insights into disease etiology and progression, the two major aspects of pathogenesis, are paramount in preventing, managing, and treating various diseases. Salutogenesis is the origin of health and focuses on factors that support human health and well-being rather than on factors that cause disease. Father of Salutogenesis, Antonovsky said in 1979 that it is a persuasive, long-lasting & dynamic feeling of confidence. It is said health can be lived to best based on mental, spiritual  & physical basis. It helps an individual understand and manage the meaning of your world as real as it is.
Yoga brings an essence of coordination and connection. It brings together breathing habits, flexibility, mental stress, physical well-being to maintain health. & well-being. Yoga is a lifestyle, is a skill, and action which creates a state of flow. It develops the "relaxation responses" prerequisite for healing. It is a drug-less, financially non-dependent process. Dr. Bhavanani expressed his own opinions on modern-day health science. He took a stand saying that while modern practices are based on curing illness and Ayurveda is based on promoting health, there should be a balanced bond between the two, incorporating the practices in daily life. While yoga teaches ease and well-being, pathogenic practices can help devise solutions for chronic illness.
He talked about the 3 major stages that an individual develops, which can be changed by yoga-
Psychic Phase – This is about the psychological disharmony which affects a person's thought process & mind capabilities.
Psychosomatic Phase – The mental stress leads to physical disease and creates disharmony hurting the physique. It creates a dichotomy between psychological and physical abilities.
Somatic Phase – This phase is about the complete physical illness which can be organically treated, and this stage could be prevented by yoga as it avoids disability.
He concluded with the thought of 'Yogopathy,' which is the surest way to cure disease and Infirmity with the help of  Veda, Ayurveda, Siddha, and yoga as claimed by the experts in the field. It uses yoga as an everyday practice without finding the underlying cause to promote well-being at root-cause rather than working as a temporary band-aid-like modern-day practice.
After the talk, there was a QnA session, where Dr. Bhavanani was asked about the commercialization of Yoga, the modern foundation of Yoga, and the meaning of it today. He appreciated the queries and answered in a calm tone, saying that Yoga and Ayurveda are about quality and not quantity. What needs to be assured is that an individual pays attention to their own upliftment.
Dr. Satish Rao, Director- Research, MAHE, Manipal, was delighted after the talk and expressed how he learned a lot from this session and urged everyone to incorporate the practices in everyday life.