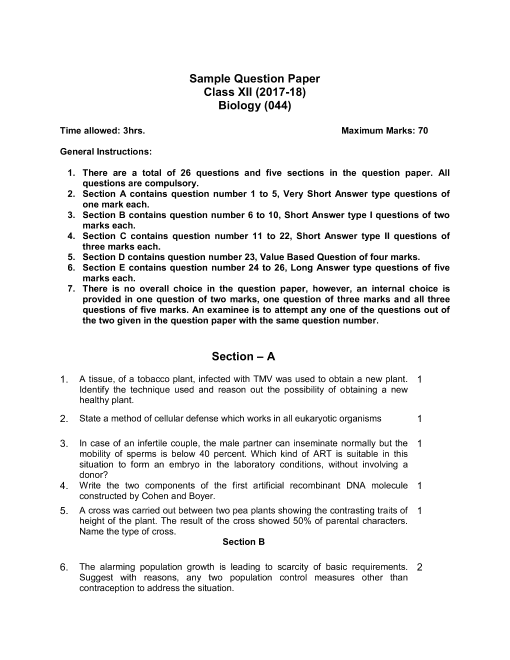 Sample papers are believed to be the best resource for the CBSE students as these help them to prepare well for the examinations. Normally a set of sample papers are provided by CBSE. Apart from that, there are plenty of options available in the market wherein some are offered by e-learning websites like Vedantu and some by offline publications.
These sample papers serve true to its purpose as these are designed as per the CBSE guidelines. Thus solving the sample papers of every subject will help a student beat exam anxiety and become more confident. Naturally, they tend to score better in the examinations.
In this article, it is briefly explained why solving CBSE sample papers prior to examination is important and how it helps the students to eliminate the exam fear.
Designed as per CBSE question paper
These sample papers strictly adhere to the latest CBSE syllabus, question pattern, and marking scheme. Hence solving these sample papers will help to enhance the confidence of the students. They get to know the types of questions they might come across in the exam and also the section-wise marks division. Also, they get a fair idea about the weightage of marks as per the section.
Covers the syllabus
Suppose you have completed the entire CBSE syllabus, but while solving the sample paper you realise that you lack expertise in a certain area. This is possible as all the sample papers cover intricate details from every chapter. So you can judge yourself easily whether you have studied every important detail from your NCERT textbooks. If you can figure out your strong and weak areas successfully, then you can prepare a perfect exam strategy to secure a better score in the exams.
Identify the silly mistakes
You can score well in the exam only if you try to avoid silly mistakes from now on. And to do that, you need to solve mock test papers rigorously every day after you complete the entire syllabus. If you don't like to take the help of sample paper solutions, then you can ask your tutor or parent to check the paper upon solving it.
Self-evaluation
This is the best way for self-evaluation. Once you have studied all the chapters of a particular subject, it is likely that you are going to score well in the examinations. The only important tip to remember is that you have to solve the question papers under all the strict guidelines that are followed during the actual exam. Do not trick yourself by looking at the notes and try to finish it within the allotted time. That's how you will be able to evaluate yourself properly before the exam.
Enhances speed
Every exam is supposed to be completed in a certain time frame such as CBSE exam follows a strict time duration of 3 hours. So if a student doesn't practice well prior to the exam, it will be very difficult to complete the entire paper within that time duration.
Helps in revision
No matter how much you revise with the help of revision notes, you won't be able to understand where you stand unless you take a mock test or solve a sample question paper. It will not only help you to understand the question pattern but also rectify your weak areas. So you put sincere efforts to memorise those concepts so you tend to get more accurate answers in the exam.
Conclusion
Once you finish studying the entire syllabus, then revision and solving sample papers are really beneficial to every student. Every year the Central Board of Secondary Education (CBSE) issues the sample papers for every subject two or three months before the final exam. Apart from that, you can opt for the sample papers designed by some well-experienced subject experts. However, you should always practice the sample papers keeping all the instructions in mind such as time duration.
If you are confused about choosing the perfect sample question papers, then you can confidently rely on the CBSE issued sample papers. By solving these papers, a student will be able to understand where he is lacking his skill and where he should improvise more. That's how they become stress-free and exam-ready.