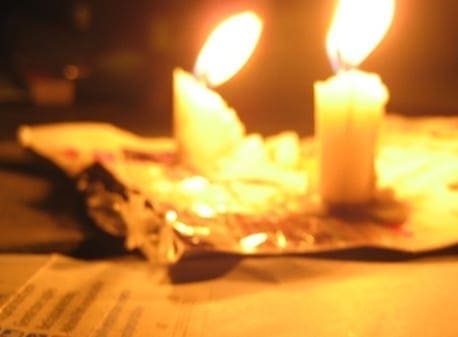 The Valentine's Day of 2011 was my best.I asked my girl out and was happy to get a positive reply. It was Pop-Tates the best restaurant around my place and one of the finest in Mumbai. We sat,ordered,everything seemed so perfect!  Suddenly the power goes down. Usually there is no load shedding in Mumbai with exceptions.I was scared .The rumor spread that the power wont return for another hour. I thought the night was ruined.
Just then my bulb lit on.I took her hand in my hand and led her outside the restaurant. It was dark , I saw a Vada Pav stall and  got four of them wrapped as take aways, bought a few candles, found a lonely place and we sat down. Then the next few moments I can never ever forget. I could see she was happy too.
The candlelight Vada Pav was the most romantic dinner I ever had.We had a great romantic conversation. I still remember her beautiful face  and mesmerizing play of the candle light and the smile she wore. The smile I would lose everything for !!
| | |
| --- | --- |
| | This is a Guest post by Pranav Popat and an entry for our Valentine's Day contest for Manipal residents on our Facebook Page. He is a student at the Manipal Institute of Technology (MIT), Manipal. |