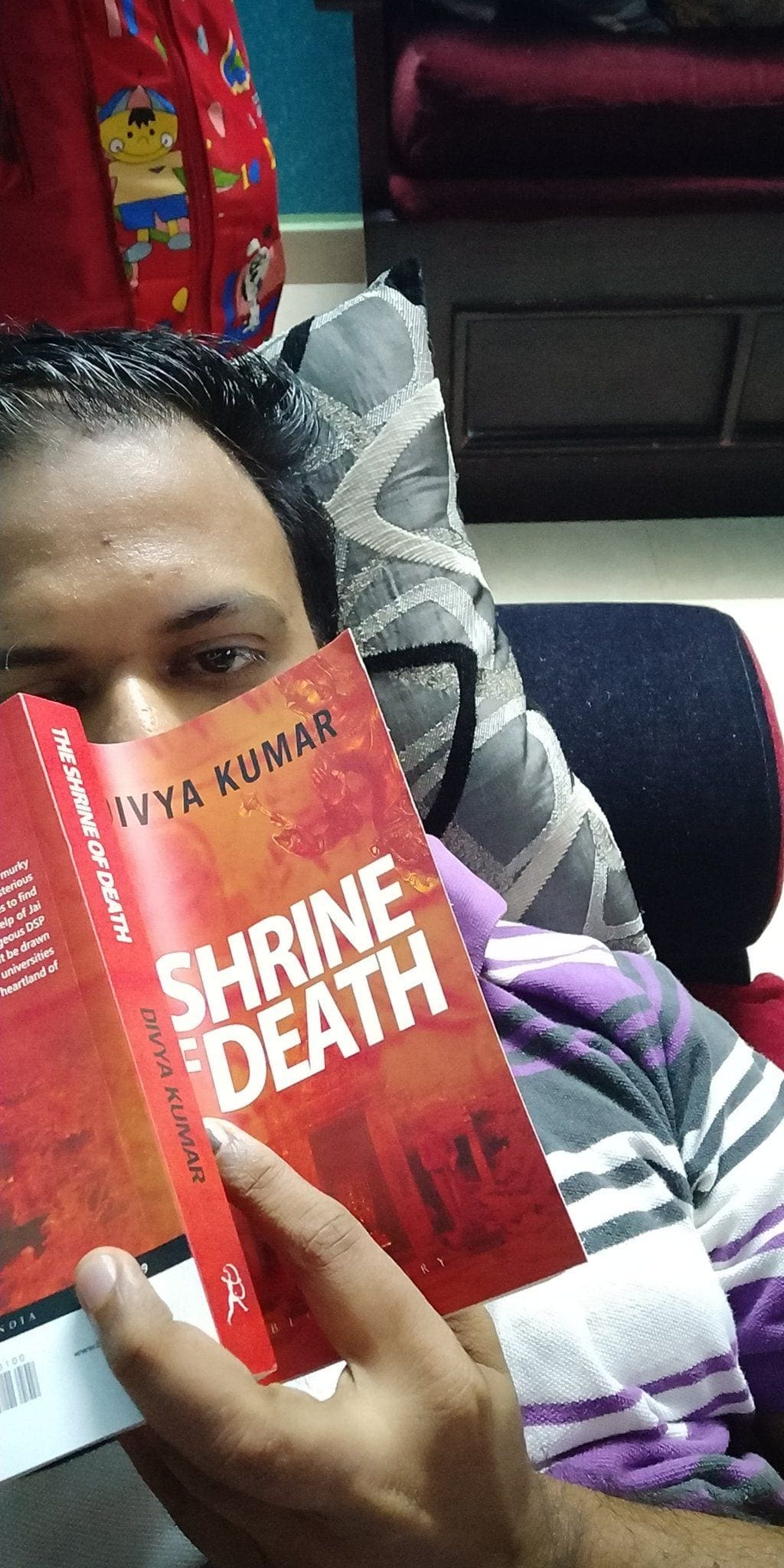 Title:  The Shrine of Death
Language: English
Author: Divya Kumar
Genre:  Thriller & Mystery
Publisher:  Bloomsbury India (2018)
ISBN-13: 978-9387457546
Binding: Paperback
Price: ?258 (Buy from Flipkart @35% off)
Pages: 296
Synopsis: The main plot revolves around a couple of bronze statues that are stolen from a shrine that is probably a burial site for a queen, and the hunt for an up and coming missing researcher who might have made a stunning discovery in the bronze idols. Her friend is drawn into a game of cat, mouse and idol smuggling after a mysterious phone call. There is romance with a police officer, who seems too good to be true. At all times, you feel you know who the villain in the crime is, but you will keep enthralled and in the dark till almost the end!
Detailed Review: Dan Brown, with "The Da Vinci Code", sparked a writing craze for Mythological fiction stories and our Indian writers are still hung up with the same. There have been multiple stories with similar plot lines and storytelling over the past few years and when I read the blurb on the book, I thought "The Shrine of Death" would end up just like the others.
Where Divya Kumar has done better is the build up of the characters and not just the protagonist. Adding characters such as Jai (who has extra-sensory perception) and many more relatable characters, makes this story an engrossing one. It may not be a page turner, but will keep you hooked as you relate to most of the characters. The negative prejudices we have as a society, against women, against the mentally troubled and against people who do not conform to the norms, have also been dealt with in  a subtle manner.
The Shrine of Death is definitely a good read.
Book Blurb:  
A chilling crime thriller in which a beautiful young historian who discovered two priceless bronzes from the 10th century disappears without a trace. Her friend sets out to find her and is drawn into a world of fraud, murder and betrayal where no rules apply.
Prabha Sinha, an IT professional in Chennai, is plunged into a murky world of idol theft, murder, and betrayal after she gets a mysterious phone call one night from her old friend Sneha Pillai. As she races to find answers before the people she loves get hurt, she seeks the help of Jai Vadehra, a troubled young man with a tragic past, and the gorgeous DSP Gerard Ratnaraj of the Idol Wing, CID, whom she can't help but be drawn to. Their search takes them from Chennai's newsrooms and universities to the abandoned sepulchral shrine of a Chola queen in the heartland of Tamil Nadu, and nothing, and no one, is as they seem
Positives: 
Clear and thoughtful storyline with a good plot.
Negatives:
I felt that after developing the characters nicely, the author ends the story in sort of an anticlimax!
Focusing more on the core plot instead of the emotions of the characters and the sub-plot, would have made this a better story.Who will enjoy this? Those who love Indic fiction and a lot of emo stuff and some psychic abilities thrown in!
Buy or Don't Buy? A one time read! Buy.