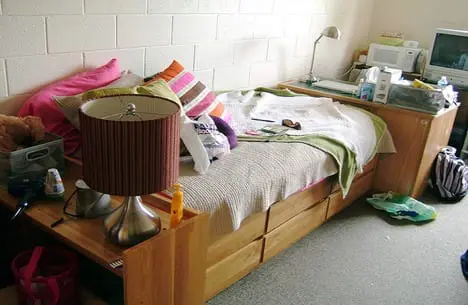 Any backpacker will tell you, one of the best places to live while you are on the road is in a budget backpacker's hostel! Aside from the fact they are a lot cheaper than a typical hotel, they are also just a great way to meet other backpackers and travelers just like you. So… what exactly is a hostel?
Dorms
One of the most definitive feature's about hostel's are the dorm style rooms. In a typical backpacker's hostel you will usually be staying in a shared dorm with other backpackers from all around the world. For a lot of people who have never travelled before or stayed in a hostel, this may seem both a bizarre and/or scary concept to be sleeping in a room with a bunch of strangers, but I can honestly say having stayed in many that it is not at all like this. Backpackers are a friendly bunch, and you will usually find that on your first night, your room mates have invited you out for the night.
Depending on the hostel, dorms usually range in size from 4 to 14 beds, although I have stayed in some with as much as 24 beds in one room. The more beds in a dorm the cheaper the room usually is, so if you are on a strict budget you're usually better off booking the largest room available.
Some hostels all offer female only dorms, and many offer private rooms too. Private rooms as a whole however, are usually much more expensive than a typical dorm. What they are good for however are for couple's travelling together, who may want or need a bit more privacy, and can split the bill between them.
Security
Every hostel I have ever stayed at throughout the world has had a locker you could store your belongings in. If a hostel doesn't have a locker, or somewhere secure to store your belongings, then I strongly recommend you don't stay in it. In four years of travel I have never had any major thefts of my belongings, but it can happen, and if you do have something stolen when it is not in your person, you may not be able to claim on your travel insurance if it was not stored away somewhere secure (so make sure to check before booking!)
Lockers tend to be situated in your room next to your bed, and are usually big enough to put your entire backpack right into it (although not always). Some come with padlocks already there, and some don't. In the cases where they don't, the hostels usually sell them at reception for a couple of pounds/dollars etc, or you can use your own if you've brought one.
You will also usually have a key or swipe card lock for your dorm room door, and if there is not a 24 hour reception then you should also have one for entry into the main building (this may double as your room key or card).
Linen
Most hostels these days give linen such as a sheet, pillow, duvet etc free, however in some cases you may have to pay a small fee or deposit for it. Some need you to bring your own, although I have not come across many which don't at least provide the basics.
If you would prefer to use your sleeping bag it's also a good idea to check before booking if you are allowed to use them, as some hostel have a policy which does not allow the use of sleeping bags in their hostel.
Kitchens / Eating
Just about every hostel will have a kitchen that you can cook your food in. This is particularly good if you are on a budget, as in most places around the world it is much cheaper to eat in than eat out.
Typical things a hostel kitchen will include are cooker, fridge, cupboard space to hold your food, some pots/pans, and sink area to wash your dishes. A lot of the hostel kitchens I have used in the past offer a lot more facilities than this, such as microwave, kettle, cutlery, plates/bowls/cups, oven etc, but expect complete basics and if you get anything more it's a bonus. The size of the kitchen can also range drastically depending upon the size of the hostel, and layout of the building. Sometimes you will get stuck with a really tiny kitchen, and others it will be huge.
Most hostels offer a free (basic) breakfast each morning. Typically it includes basics such as tea, toast, cereal, and milk. It's not much, but it saves you some money on food.
Internet
Most hostels offer some sort of internet access, although it is usually pretty basic. Most offer a small internet café with computers you can use, but will charge you a ridiculous amount to use it, while at the same time offering free wifi. Others charge for both, and some only offer wifi. It really depends on the hostel, and where you are in the world. Most places though, you can either get free wifi at the hostel or somewhere else nearby, particularly in the Western World, and more popular destinations. This therefore means that if you take your laptop along you'll probably save a lot of money in the long run.
Common Rooms
Most hostels will have at least one common room, TV room, or somewhere you can go hang out and meet other travellers. Out side of your own room, the common rooms are the best place to meet other travellers, and are a particularly good place for solo travellers looking to make friends fast!
Extras
Some common extra facilities you may find in a lot of hostels are as follows:
Bar / Restaurant, Swimming Pool, Pool Table, 24 Hour Reception, Hostel organised nights out / parties, Tour Desk,  Jobs Board…
You may also tend to find that hostels sell a lot of things from the reception, such as basic mobile/cell phone + local sim card, padlocks, discount cards, and many also offer some work for free accommodation. It all depends on the hostel, and where you are in the world.