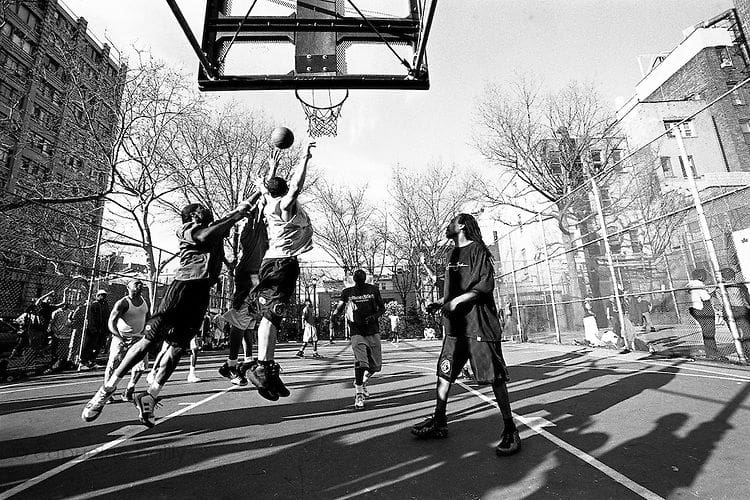 New York is famous for so many things that it's hard to pinpoint just one. With tall buildings, fancy restaurants, museums, and nightlife, New York is a must-visit destination for people of all ages. But one part of this magical place brings people together like nothing else: Basketball. Rightfully named the 'Mecca of basketball', New York has a rich history with regard to the sport. You can find public courts brimming with activity, and the most exciting players you will witness, surprisingly not just in the NBA. Streetball is a big part of what makes New York so beautiful.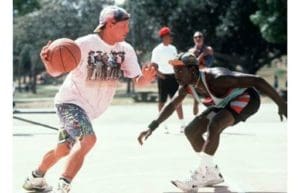 Image Souce: Complex 
Streetball games are where you will see electrifying players going at each other and producing spectacles. In the summer, streetball is at its best, and players of all ages show up and show off their unique playstyles. Rucker Park in Harlem is home to one of the most beloved courts in the state, with a rich history of its own. Since 1950s, Rucker Park has hosted several streetball leagues and gave birth to local legends like Rafer Alston, God Shammgod, and many others. Future NBA legends would come to the park to play as well.
A young Wilt Chamberlain made trips from Philadelphia in the 60s to see for himself the New York style of play. A decade later, Long Island native Julius Erving exploded onto the scene and gained fame for his high-flying dunks and his gigantic afro. Many professional players started off playing streetball, and the local players would regularly give them a run for their money. The talent found in places like these was undoubtedly NBA-worthy, even though the players never made it to the league.
God Shammgod's crossover move is so legendary, that it became trademarked as 'the Shammgod', a move used by many NBA players today. So many younger fans of the sport know this move without even knowing that the player who created it exists. The legacy that you leave playing basketball is perfectly described by this example.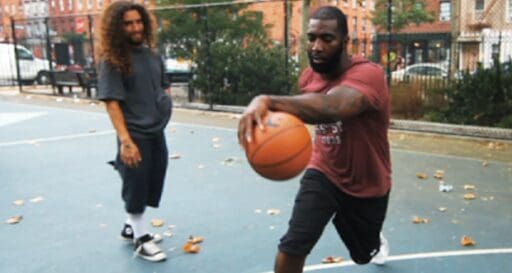 Image Souce: Medium 
Basketball and hip-hop have been associated for longer than most people can remember, and this marriage originated in New York. DJs and rappers introduced music during the games, which is now a major part of streetball. Bronx rapper Fat Joe deserves credit for keeping the streetball culture alive for future generations, building his own teams of homegrown stars, and winning championships.
Today, you cannot think of the sport of basketball without hip-hop entering the back of your mind. Several rappers are former players, and several players are also quite familiar with the mic. Songs like "Kobe Bryant" by Lil Wayne and "Heart of a Champion" by Nelly are examples of how closely the sport is linked with the genre.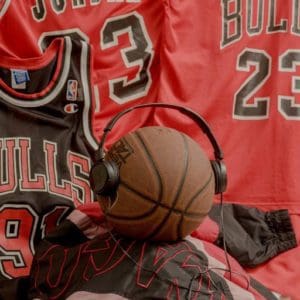 Image Source: NY Times 
Streetball has fans not only from New York but from all around the world. Youtuber Grayson Boucher, nicknamed 'the Professor', is a streetball legend whose channel has 6.5 million subscribers. He usually appears as part of the And1 mixtape tour, and can even be seen in some movies. One important reason why young fans know about streetball is the film 'Uncle Drew', starring NBA superstar Kyrie Irving. It also stars NBA icons Shaquille O'Neal, Reggie Miller, Lisa Leslie, Chris Webber, and so on. The entire movie is about streetball and its influence on the game of basketball as we know it and became an instant cult classic since its release in 2018. 
New York, or the 'Big Apple' as it is famously known, is iconic in more ways than one, but for those of us that love sports, it is heaven. Basketball has been a foundation for the state for decades, and its culture is owed in large part to the game. 
 About the author:  Sidharth is a 2nd-year MBBS student studying at Kasturba Medical College, Manipal.