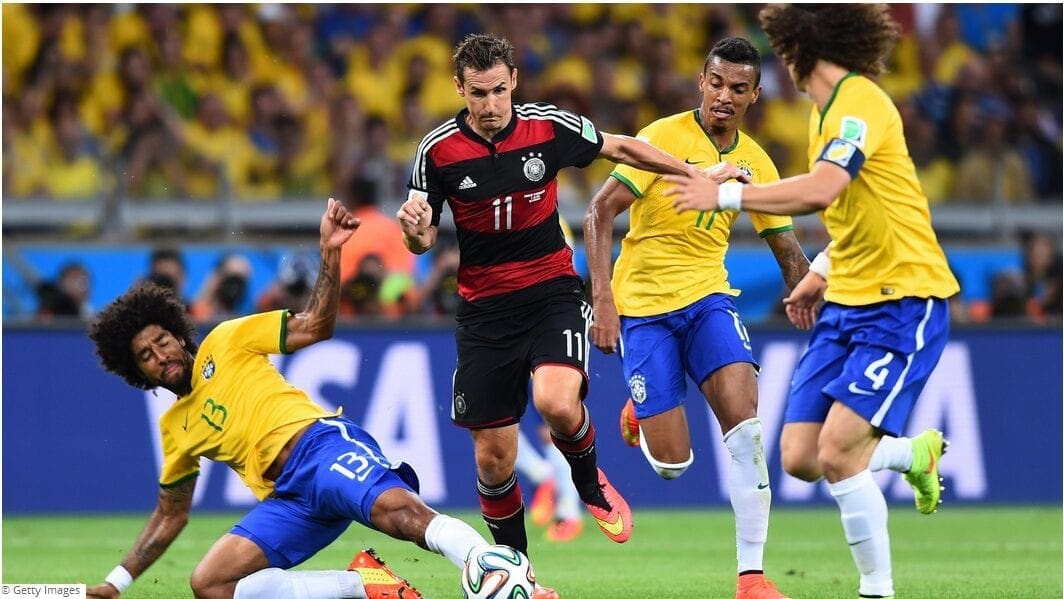 June 30, 2002.
2-0 
Yokohama had turned yellow. Brazil had outclassed Germany 2-0 in the World Cup Final. Oliver Kahn's men were no match for the incredibly successful and famous lineup that consisted of world-class footballing superheroes  like Ronaldinho, Ronaldo, Roberto Carlos and Cafu.
They had done it. A record 5th World Cup, unparalleled. They had created history at the expense of the Mannschaft, who had themselves created their own record in terms of WC Finals lost. The 'Greatest Team in The World' had done it.
Never have the Germans been more triumphant in a match
July 8, 2014.
1-7
 Belo Horizonte had become a Brazilian football graveyard. The Mannschaft beat the Brazilians 7-1 in the World Cup Semi-final, their worst ever defeat in history (tied with 1920's 6-0 loss to Uruguay). A team which boasted of arguably the best mid-field the world has seen in the last decade, and an imperfect, yet proactive defense had slaughtered the 'Greatest Team in The World', in their own home, in front of their own people, reducing a nation of 200 million people to a river of tears larger than the Amazon itself.
Only these two weren't the same teams, neither did they possess the same philosophy. While 2002's Brazilian team was a classy outfit with a collective creative genius, their present counterpart was a team so rash and ruthless, just lightly sprinkled with a few creative genes. Germany on the other hand had turned their football into a precision based approach, relying more on set-piece perfection and balance. They had become a complete team.
2 people were common to both events. One was Luiz Felipe Scolari – The Man who made a record in 2002 by guiding Brazil to ultimate success. The other was Miroslav Klose – The Man who Broke a record last night, becoming the top-scorer of all time in the World Cup, surpassing Ronaldo de Lima's 15 goals. Imagine what went through the minds of these 2 people on the aforementioned dates.
Brazil's Luiz Felipe Scolari and Germany's Joachim Loew
 Yes, Neymar Jr, Brazil's youth talisman was injured badly. Yes, Thiago Silva, one of the best defenders in the world, was out of that lineup too.
But that shouldn't have stopped Brazil. If anything, their team still had loads of talent in them, and they were capable of beating Germany, at least on paper. If, of course, one can ignore the fact that Chile came rather close to beating them too. After all, Germany lost Marco Reus, Ilkay Gündogan and Marcel Schmelzer (Borussia Dortmund's extremely talented lot) before the tournament and that didn't deter them.

Unfortunately, Tuesday's match didn't go according to the wishes of the 200 million football crazy population. While they were reduced to sobs, the world was in shock, accompanied by some rather tumultuous humor on Twitter and Facebook. Some said it was a Tennis Scoreline, others said Christ The Redeemer had changed his pose to a facepalm. Some people were audacious enough to compare it to the Holocaust and Nazism.

All jokes aside, If you analyze the match solely on the basis of its statistics, you would think it was like any other equally poised match.
Then why the Huge score difference? How did Germany possibly manage to score 4 goals in 6 minutes?

Simple. Because all the goals that Germany scored were not primarily from Build-up play, but from severe defensive lapses in Brazil.
Müller was unmarked in the box for the first goal, which came from a well executed Kroos corner.
The second, Klose's Mardi Gras for the record, again fed by Kroos, was a neat one-two between Müller and Klose which ended in the latter netting it in the rebound from Cesar's initial save, with not more than 2 Brazilians in the box.
Number 3 was Klose's thank-you card. He received the ball from the right-wing, faked and set in Kroos' path, who was comically unmarked and shot it in the left.
As if these weren't enough to send a message, Khedira and Kroos actually repeated goal number 2, with only 2 scrambling yellows in the box, and then moments later, Khedira himself got on the scoresheet with a nutmeg-style-threaded shot through Maicon with valuable assisting from Özil and Klose.
After half-time, Brazil tried to look lively, occasionally breaking away and even getting a couple of shots on goal. However, Germany had a Berlin Wall of a Goalkeeper in the form of Manuel Neuer, who made a string of fantastic saves to deny Brazil a goal. On second thoughts, he can't be a wall, because Neuer's box extends beyond the regular goalkeeping zone. He's like elastic stretching different in different directions.
Manuel Neuer proved once again why he's one of the best keepers in the world with another string of amazing saves
The humiliation continued. Schürrle came on as a substitute for Klose, and scored minutes later with a precise linked pass between Khedira and Lahm from the right wing, exposing the Brazilian defense again, despite a visibly crowded box. His next goal though was an absolute stunner into the top left corner of the goal from a very sharp angle.
Oscar got a consolation in the dying minutes of the game, because quite frankly (except for a visibly angry Neuer) it looked like the Germans were saying, "Here, have one. For your trouble".
You see, Germany didn't beat Brazil on their own. Brazil beat Brazil. They made it worse for themselves. One would think, that after conceding 2 goals so quickly, they'd rectify those defensive errors. Instead their folly was getting increasingly blatant by the minute. And by the time they found some strength to attack decisively, it was too little, too late.
Kroos won Man of the Match for his outstanding goals and assists Klose became the all time top scorer of the World Cup with 16 Goals
 The Germans even stopped celebrating their goals and just kept it to a couple of smiles and high-fives. After all, the result was astonishing for them too. In England, the supporters of a club that's losing with such a margin either leave or sit quietly. Some would even try to encourage the players to stick it out. But not the Brazilians. They had never tasted such a horrifying defeat. The television cameras showed clearly how distraught  they were.
And so it was that the German Blitzkrieg struck again. One would definitely expect them to ace this final, and accomplish their age-old desire of lifting their First World Cup as a United Federal Republic, and their fourth overall.
As for Brazil, they must delve into the problems in their squad, and try to come back stronger for next time. After all, they still produce a bulk of talent in this beautiful game. For now, they must try to put this behind them, and try to redeem themselves at least a little by getting that Bronze on the 12th of July.
Brazil tasted their worst ever defeat.