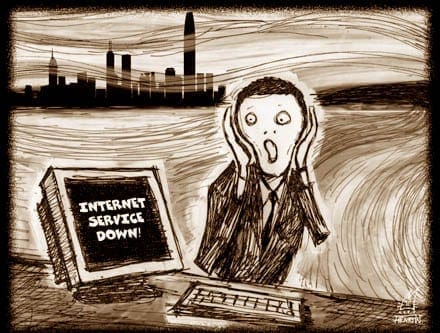 Can you imagine the world without internet?  It is amazing how much we rely on the internet in our lives. Just think that over 20 years ago we did not have the net as we know it. If you were a nerd (like me) you were connecting up to Bulletin Board Systems with your 9.6k/14.4k modem. Unlimited data limits, fast links, pouring knowledge, useful information and what not. How far have we come with the World Wide Web?
Just imagine if no internet access would be there, then where would you post this competition blog and through what I would have sent my entry to the competition. The e-mail ids, the facebook profiles, the you tube search and imagine the world without GOOGLE.!! For me its quite unimaginable. Really none of us could think of a day without internet.
For as I remember the history of internet, The Internet was originally designed for the military as a network of computers sharing data and acting as a database/resource for remote machines. It had been used for years before public access had been allowed to be based on its technology.
So personal computers started coming out with modems installed so that you could have the ability to subscribe to an Internet Service Provider. The Internet runs over the tcp/internet protocol which is still common today as being the service to access the network. All you need is a system and a browser. (Like Internet Explorer, Mozilla Firefox, Safari etc…)
Anyway, enough of the techie yahoo and carry on. The Internet slowly became building up over the nineties with growing popularity as websites/domains became registered designed then published online. The growth was enormous each year as more people connected to share the vision of a world where you can learn/find out a thought by entering a search engine. Popular searches are through Google, Yahoo, Lycos, and MSN. So much has changed in terms of searching as more companies have business links fed into search engines.
People are using the internet for just about anything these days. One of the biggest forms of usage is through social networking sites such as MySpace, Facebook, Twitter & Ibibo. Webmail is another well used commodity online. You can do your banking, purchase/sell goods there are plenty of websites like TradeMe, E-Bay, Fishpond or Amazon that are making a killing for being a provider of new/second-hand goods or services.  It impresses me the many avenues an internet user has to choose from. Whatever toots your horn can be found.
Some of the best resources on the internet are Wikipedia. (An internet based encyclopaedia by other users) Last.fm is a superior database of music. There have been many sites that cater for music knowledge like UBL or local area domains for record companies.  There are so many good sites out there. The best way to find them is through a good search engine like Google. The speed in which it finds your request is remarkable as it queries the keywords.
The future of the World Wide Web is Huge to think of in itself. The expansion of what will be known as World Wide Web 2 or something similar as internet addresses and domains of servers are expanding with more benefits for phone/email and GPS tracking being a massive part of the modern market. Everyone wants a fast product to work reliably. Internet access is very common.
I cannot imagine a world without the internet now. It would be far too weird. I guess people would be a lot more rehearsed in dealing with people face to face more. The postal companies wouldn't be so worried about many people losing their jobs. Advertising would be back to paper waste instead of the spam trackers we have today. With the networks that have been established today it would be a crazy world without any online content available.
I know. There is a very amazing world outside of the internet in which we all watch TV and enjoy getting outdoors exploring. The news is such a big core part of the net as you have access to information faster than the 6 o'clock news. We still have to pay an ISP a fee for the amount of content that is sent and received to our computers. I wonder when it will be common to have free providers to the internet. (Apart from unsecure wireless networks)
We live in a world where the internet is good and bad. Do you get the best out of the internet or does it get the best of you?
Many of us use the Internet to communicate, especially those in the lower age brackets above 10 years. From email to chat forums, social networks, dating sites and even virtual worlds our demands on the Internet for social communication and networking are huge. So it's easy to anticipate that a life without the internet would force people to turn back to grass roots and socialise and communicate on a very basic level.
My worry with this though, specifically within the lower age brackets is will the people who've grown up with the Internet around them be able to embrace social engagement on a grass roots level and know how to socialise?
Would this better enhance communication skills and language in relation to studies on how 'Internet slang' has merged into our language skills?
Would our ability to meet new people outside our immediate area be severed and thus affecting who we meet, socialise and interact with and above all whom we spend our lives with? How did you meet your partner? Was the Internet involved in the process?
Above all we have to remember we got to where we are today without the Internet. The Internet was a technological advancement that excelled us into the 21st century and changed the way we socialised, did business and purchased goods.
It paved the way to the future and still has many exciting advancements ahead of it's self. Witnessing the loss of the Internet is probably very unlikely, but either way I'm quite sure as a human race we'd adapt and persevere as we have done for thousands of years.
Those who grew up with the Internet well established around them simply can't comprehend life without it. There are however many of us who practiced life before it's time and have experienced a life without the Internet.
To Vote for this entry the procedure is as follows:


1. AIESEC in Manipal University will post a link/poll to the entries in this contest on their Facebook page.
2. The votes received on this page/poll will determine the winner.
3. Voters will have to visit their facebook page and click on the like button for AIESEC in Manipal University .
4. The link/Poll option with the most likes at 9:00 PM on 31.3.2012 will be declared the winner.