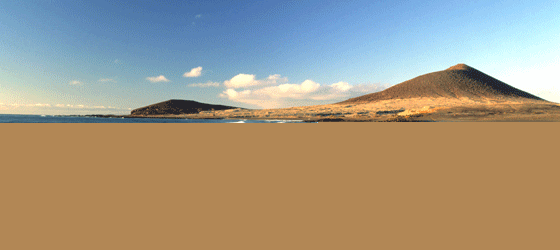 El Médano and Los Abrigos, apart from the fact that they are just a few miles apart, the two might, on the surface, seem to share little in common. In fact, you could probably fit Los Abrigos into El Médano many times over.
But think again. Although El Médano is considerably bigger than Los Abrigos, both were originally fishing villages which have grown in size. Both have an enviable sea-front where the natural beauty of Tenerife can be thoroughly appreciated and both emit an atmosphere of tranquility and an unhurried life-style. In fact, you can sit and watch the world go by for hours at either location.
Discovering Tenerife is all about finding those off-beat places where tourism doesn't necessarily reign supreme and you can get away from the crowds.
Los Abrigos has long been a firm favourite with holiday-makers and locals alike. Now more of a small town than a village, it offers a surprising number of small shops but its main claim to fame is its small harbour and beach-front lined with a number of excellent restaurants.
If you enjoy fresh fish, this is the place to head for and also to do a spot of fishing yourself. Over the last couple of years, the sea-front at Los Abrigos has been much improved with new paving, steps and railings. New apartment blocks have gone up in the town area itself but it remains unspoilt and as beautiful as ever. The waves crash against the rocks and sea-front and it's a real joy to enjoy a meal in one of the restaurants which all overlook the ocean.
It really is hard to believe it is just five minutes' drive from the TF-1.
You reach Los Abrigos by turning off the motorway at Las Chafiras (right if going north or if travelling towards the south, right and then across the bridge). At the roundabout sign-posted to Golf del Sur, go straight over instead and you come into Los Abrigos after just a few minutes.
Because Los Abrigos is not particularly big, you could park on the outskirts, perhaps just opposite the excellent and very modern children's playground on the left, and walk in.
At the last mini roundabout in Los Abrigos, you will find the main square with its tiny church. This is the venue for a number of festivals and fiestas, including on June 13th. But the square also hosts a market on a Tuesday – unusually, not in the day but during the evening from 6pm through to 10pm. Again, it's not a large market with probably no more than a dozen or so stalls but you can pick up some bargains, including clothes. It also gives you a really good excuse, if one is needed, to make a whole evening out of your trip.
For the more adventurous, Los Abrigos does offer some water sports, including diving, or you could enjoy a spot of fishing yourself.
Water-sports also feature prominently at El Médano. On leaving Los Abrigos, carry along the road and you will come to this delightful location after about six kilometres.
El Médano is dominated by La Montaña Roja or the red mountain which must be one of the most photographed sights on Tenerife. Locals say it changes colour depending on the weather conditions and really does appear flame red on many occasions.
In the summer, you will find El Médano a hive of activity as the bay is much favoured by families. However, be warned! El Médano is one of the windiest spots on the island and the chill-factor should not be under-estimated when out of the sun.
Like Los Abrigos, the sea front has been substantially improved and it is now possible to go for a lovely walk along the shore. The main beach and bay is lined with bars, restaurants and shops offering all sorts of options to eat, international or tapas, and as you walk round the bay, you will discover the wind-surfing area. El Medano has been the location for numerous competitions and championships and there are a number of viewing points and seating areas for you to sit and enjoy the sport without getting your feet wet.
Elsewhere, you can meander through the main part of El Médano to explore some of the shops. You will discover lots of surprises around the main plaza or down the narrow side roads, including the architecture of the houses and business properties.
Although El Médano has grown into a popular holiday resort, it too has remained unspoilt and retains all its charm. This is definitely another location to stop and watch the world go by.