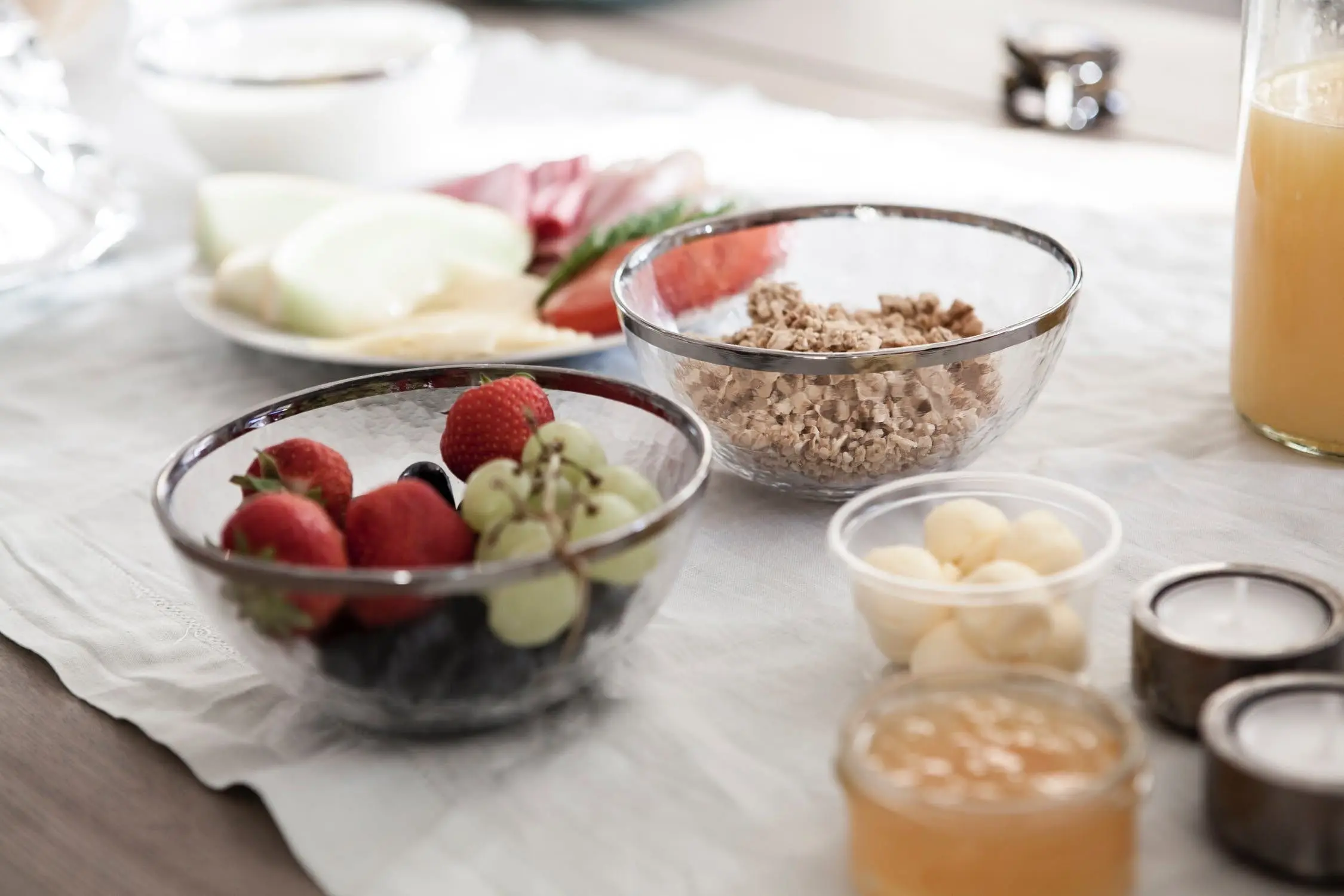 Working out in the gym means letting the body go through stringent exhaustion. As a result, your energy levels see a dip. Therefore, it is imperative to refuel the body post a workout session to replenish lost stamina and strength.
Just like pre-workout meals give you required nutrition to endure the workout, post-workout meals rejuvenate your body cells and repair muscle fibers.
Define your post workout strategy. Make sure you eat something after you return from gym. Let your body use up the calories required for ample recovery.
This article intends to provide you with a list of healthy snacks you can munch on after you are done with your session –
1. Boiled Eggs with Peanut Butter Toast
While eggs fuel the body with good amount of proteins, peanut butter toasts contain high amounts of necessary fats and carbohydrates which are equally essential for the body. It is not only the white part of the egg that comes with health benefits. Even the yolk is extremely nutritious.
Egg yolk has a range of vitamins and minerals that strengthen your body. Since your body requires higher amount of proteins than other nutrients, you must  eat 1 whole egg and 4 egg whites for best muscle stores.
Adding peanut butter toast with eggs makes the meal wholesome, also contributing to the daily required dose of minerals.
2. Raw Paleo Protein Vanilla with Lucuma
 This is a delectable snack, especially for those who are looking for a sugar-free alternative. Raw paleo protein vanilla has an exciting flavor with paleo friendly mix. What's more, it can be taken both before and after the workouts. It's natural composition makes sure it is away from synthetic colors and flavours. When consumed regularly, it promotes muscle development and body functioning.
Lucuma adds that Peruvian tinge to its already nutritious composition of carotene, iron, zinc and vitamin B3.
3. Salmon with Boiled Veggies
Salmon is considered to be one of the best sources of proteins. Not only is salmon rich in proteins, it is a good source of omega-3, potassium, selenium, vitamin B, and antioxidants.
The omega-3 present in salmon enables the body to tackle muscle inflammation after a workout session. It controls a compound called prostaglandin, which can trigger inflammation in various parts of the body. For cell regeneration and relaxation, the proteins in salmon play a vital role.
On pairing salmon with boiled vegetables, the body recovers faster due to intake of nutrients such as vitamins, minerals, and carbohydrates.
Veggies are a good source of antioxidants like polyphenols, which are responsible for regulating blood sugar levels and controlling cardiovascular ailments. Veggies also boost our immune system, which is important to keep diseases and infections at bay.
4. Tuna in Wheat Rolls
People love having Tuna post workout sessions. It is easily among the best post-workout meals. Tuna contains a good amount of proteins, omega-3, and antioxidants.
Just like most other fishes, Tuna comes power packed with nutrients that bolster immune system of the body. It also helps to keep blood vessels healthy by discouraging bad cholesterol to accumulate.
You can wrap tuna in a wheat roll and there it is. You have the most nourishing and healthful snack on your plate. Although you may think that there is no need to add carbohydrate, it may be a misnomer. Combining proteins and carbohydrates post a workout spell promotes muscle-building and improves body's resistance to chronic conditions.
5. Pita and Hummus
People who think tasty meals aren't healthy, need to think twice.
A rich spread of hummus in Pita bread is perfect when you come back from gym. The thick paste of hummus is exceptionally nutritive in terms of rebuilding muscle cells. Body areas like thighs, biceps, triceps and back required to be restored for energy after a workout. In fact lower back treatment is a must even if you have exercised for a smaller duration.
Hummus, a dip prepared from chickpeas, sesame seeds, garlic and olive oil is rich in proteins. Hummus enables to decrease the protein breakdown in the body and improves bone mass. Pair it with Pitta bread to add that missing dose of carbohydrate. This helps in reviving energy and storing multi-branched polysaccharide of glucose which is commonly known as Glycogen.
6. Banana Shake with Almond Butter
After a long and heavy workout, your body craves for a healthy snack. While eating fruits and vegetables may be a good choice, including a balance of everything is great.
Drink banana shake with a spoonful of almond butter to feel energy clad and full. Bananas are called complete food with good amount of potassium, iron, calcium, vitamin A, niacin and Vitamin C. They are also loaded with natural sugars which help in providing instant energy.
Blending almond butter to the shake will add that protein punch to the drink. Apart from this, you can also add a spoon or 2 of whey proteins to enhance protein concentration.
7. Fruits and Greek Yogurt
The body gets depleted of amino acids after sweaty exercising. In order to increase protein synthesis in the body, consumption of proteins is must.
Greek yogurt is a great combination of calcium, vitamin b12 and iodine. It is an excellent probiotic with microorganisms like bacteria and yeast. Greek Yogurt is one such meal that shall give you what you need. A single serving would make up for 15 grams of proteins, making your snack nutrient-dense.
Eat it with fruits such as berries to make it flavorsome. Berries contain anthocyanins that are known for its anti-infection and protective properties. Berries come in all forms and flavors. Blackcurrant, strawberry, cranberries and blueberries are highly nutritious and deliciously awesome.
Have them as a single dish post workout to jumpstart your muscle recovery and increased immunity.
8. A Bowl of Quinoa with Sweet Potatoes
Most athletes like to have quinoa with sweet potatoes after strenuous physical sessions. Not only it is loaded with antioxidants, proteins, and vitamins, it is a good source of carbohydrates too.
Quinoa is free from gluten and among very few green foods that has all 9 essential amino acids. Iron, magnesium and fiber too are available in abundance.
Couple the dish with sweet potatoes which are high on vitamin A, vitamin C, manganese, copper, pantothenic acid and vitamin B6. Potassium, niacin, fiber, vitamin B1, vitamin B2 and phosphorus are other minerals, sweet potatoes are rich in. If you are fond of drinks, you can even make delicious smoothies of sweet potatoes.
Final Words –
Extensive workouts can damage muscle tissues at micro levels. To repair and rebuild, it is imperative to consume snacks prepacked with essential nutrients.
Remember, workouts yield best results only when they are clubbed with a good pre and post diet. If pre-workout meal is important to maximise the performance at gym, a post-workout diet prepares you for the next day.
This article is by Nikky Watson.


I love all things fun. Drop in sometime and you'll know what I mean For living and out of passion, I write and blog. I am currently writing for – Superfoodsliving & other blogs.
Email – [email protected]
Twitter – https://twitter.com/nikky_watson