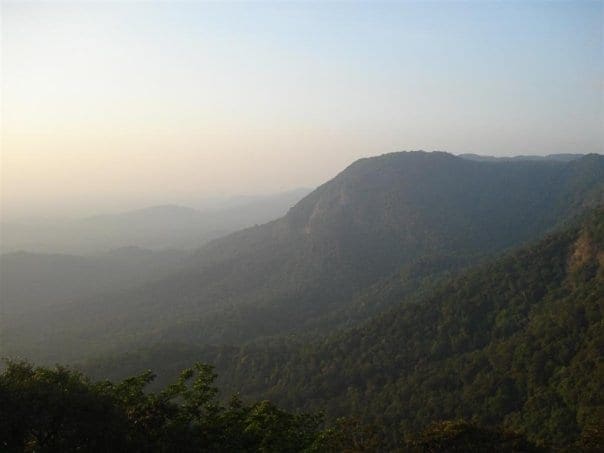 1. Kudremukh: Trekker's paradise, Kudremukh is 6,214 feet above Sea level and is located in the beautiful Malnad region just 95 Kms away from Mangalore, to the South West of Chickmagalur bordering Dakshin Kannada district. There is a rich Flora and Fauna here waiting to be discovered, caves asking to be explored, ruins and traces of old civilization and inviting lovely unspoilt places to camp. The drive ends in the pretty town of Kudremukh, developed entirely by Kudremukh Iron Ore Company Limited (KIOCL). Other places of tourist interest in that region are – Kudremukh National Park, Hanumangundi falls, Gangamula and Lakya Dam.
2. Kumara Hills, Sullia: Kumara hills is one of the highest hills in the Western Ghats and the river 'Dhara' originates here and gets its name 'Kumaradhara'. A beautiful hill best known for trekking is always chosen by youngsters and students of Mangalore. Its height is 4000 feet from the Sea level and has lush green vegetation and is also a heaven for various animals. The best time to visit is from February to May. It comprises three mountains – Bhatta Rashi, Siddha and Shesha. Guides are available on the spot to guide through the adventure.
3. Balavana, Puttur: Dr. Shivaram Karanth Balavana is situated at Parladka, Puttur Taluk, Mangalore District. Its scenically covered locations extend over an area of nearly 6 acres, surrounded by varieties of Trees in an undulating terrain. The great Kannada author and Jnanapeetha award winner Dr. Kota Shivaram Karanth, whose contributions towards the field of literature, dance, immortalized this place, drama and play are tremendous. He made this place his experimental ground for various activities and rightly named it as 'Balavana', which reflected his affection towards the children. Various attractions for the visitors in this place are: Swimming pool, which is short course International Standard Swimming pool; Children's play area with number of short rides, slides, automated toys etc.; Children's library especially stacked with collection of books written by Dr. Shivaram Karanth; a Museum dedicated to Dr. Shivaram Karanth and his works; an open air theatre with a seating capacity of around 2000 people.
4. Pilikula Nisargadhama: Legend has it that there was a place in Dakshina Kannnada where tigers used to play. It is at this mythical spot that Pilikula Nisargadhama is situated. 'Pilikula' literally means 'Pond of Tigers' in Tulu and is located at Mudushedde, just 12 Kms. away from Mangalore-Karkala highway. Pilikula Nisargadhama is an integrated Nature Park that will offer delightful varieties of attractions to the Eco tourist and Nature lovers, perhaps the most comprehensive facility of its kind in the country. The 350 acres park located amidst thick tropical forest, offers a panoramic view to the aesthetic eyes. While the various Wild life Safaris promise the opportunity to observe the animals in their natural habitat, the botanical park will be a rare treat for those who love plants and flowers. For the Aquarium enthusiasts, the park will showcase a wild variety of marine and fresh water species. And for the casual visitors, there is plenty of recreation and amusement in store too, such as the cable car, musical fountain, the toy train, fast food eateries, boating, elephant rides, Manasa water and Amusement park, science museum etc.
5. Tagore Park (P.V.S Park), Mangalore: In the hill near St. Aloysius college there stands an abandoned century old Light House over looking the Harbor and commanding magnificent view of the Sea. Earlier this Light House used to guide the Ships, Vessels and Fisherman towards the right direction. Spend an evening here with your loved one and also visit the next spot which happens to be very closeby.
6. St. Aloysius Museum, Mangalore: Besides the St. Aloysius Chapel, a Museum has existed to preserve ancient objects. This museum comprises of old coins, currencies, the first arrived motorcar to Mangalore, old household wooden utensils, old radios etc.
7. Shreemanthi Bai Memorial Museum, Bejai, Mangalore: At Bejai Circle, V.R Mirajkar's donation of a Bungalow and rare collections that the Doctor grouped together in several years is established into Shreemanthi Bai Memorial Government Museum. This Museum houses objects of Art, Archeology, Ethnology and Natural history.
8. Bendre Theertha, Puttur: A natural Hot Water Spring on the banks of the river Seerehole is 65 Kms. South East of Mangalore and 15 Kms. From the prosperous trading center of Puttur. The word 'Bendre Theertha' in local 'Tulu' Language means Hot Holy Water. The Hot Water in the spring is believed to cure all types of Skin Diseases.
9. Birumale Betta, Puttur: Birumale, a small hill 52 Kms. South East of Mangalore is a favorite picnic spot in Puttur. The children's park and an open-air auditorium are the other attractions in this Nisargadhama.