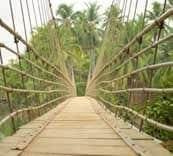 Short weekend trips are possible during the semester. Here are some of the typical places around Manipal you can visit  and return within a day.
Hanging (Suspension) Bridge
The Suspension Bridge is famous among Manipal students and worth a small trip. A twenty-minute ride with the rickshaw brings you in a jungle-like scenery with typical backwaters mood, where the suspension bridge connects a small island with the mainland. Bathing is possible there. Ask your fellow students or the rickshaw driver about how to reach the island. Typically, the rickshaw driver has to wait (increased price) until you come back, as there is no possibility to catch a new rickshaw for the way back.
Kapu Beach
Kapu Beach is famous for its lighthouse and can be reached in one hour by taxi. The light house is situated in a beautiful scenery and
can be entered during its opening hours. Having a swim is possible at Kapu Beach, but water flows can lead to dangerous situations. Always be careful!
Malpe
Beach
is just 20 minutes away from
Manipal
. Pick a bus at Tiger Circle to
Malpe
Harbour to get there. In the evenings,
Malpe
Beach
might be very crowded. Therefore, I would suggest visiting the beach in the morning hours.
Malpe
Beach
is also famous for its Goby Manchurian, a spicy food made with cauliflower. It's the best Goby Manchurian available around
Manipal
. Also enjoy walking through bathroom-warm water. Going for a swim is possible, but be careful as there also might be dangerous water flows. World's largest statue of Lord Shiva is at Murudeshwara
Murudeshwar
The world's largest statue of Hindu God Lord Shiva is situated just two hours' drive by train from Manipal. Travelling by taxi is also possible. Situated at a beautiful beach scenery, you can enter several temples and enjoy the view of the great statue. There is a restaurant which offers excellent cuisine, so you can also have a nice meal while watching the scenery.
Situated in front of Malpe Beach, St. Marys Island offers tropical feeling with beautiful beaches. Take a bus to Malpe Harbour. There you can buy tickets for the ferry to St. Marys Island. Start early in the morning to have as much time on the island as possible. The last ferry back to Malpe Harbour leaves at 5 pm. Bring some food with you, as nothing except cold drinks can be bought on St. Marys. Swimming is forbidden, because water flows can lead to life-threatening situations. Don't forget to bring your sun screen.
This is a guest post by an ex-Manipal foreign student who wishes to remain anonymous. He came to Manipal during 2006-2007 on an exchange trip and fell in love with the place.