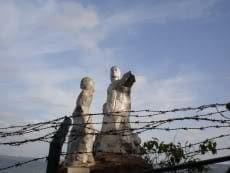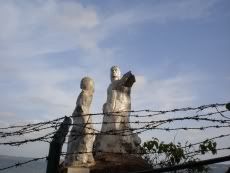 Dona Paula @ Panaji, Goa
Come the weekend, many of us in Manipal, plan trips to nearby tourist attractions, to get away from the daily grind. Goa features prominently in most of our weekend plans and especially so when there are some festivals close by. This year Valentine's day falls on a Sunday and this might be a perfect time to plan a Goa trip with your Valentine. These tips are by no means a comprehensive list but they will help you plan your trip before your embark on it and also when you are actually in Goa.
Carry your money and travel documents (preferably wrapped in plastic to avoid dampness) in a Money Belt around your waist well hidden from sight.
When in Goa, do not concentrate only on the more famous beaches such as Calangute and Baga. Goa has a number of relatively less crowded beaches which will give you more privacy and even more pleasure.
If you are traveling on the train, don't leave your baggage unattended. You can clip it with a chain attached to the seat to foil most thieves.
On trains and buses, do not accept food items from strangers. These could be used to lull you into deep sleep while the stranger gets away with your valuables.
Check out the small hotels in a number of tourist spots. They are more likely to provide you with some exotic and authentic Goan cuisine than your starred hotel accommodation. However be careful about drinking water in any such place. Always insist on bottled Mineral Water.
In most places you can find everything from Continental, Chinese, Tibetan, Indonesian, Thai, Portuguese and even Mexican dishes on the menu. Prices for these vary from place to place and so does the quality. Fresh seafood dishes is probably the safest and tastiest bet in most small restaurants that you will visit.
If you are a foreign national (probably coming for the first time), be warned that you will be quoted some truly exorbitant prices for most things that you ask for, right from household goods to taxi rates etc. And the rates might still seem cheap due to the currency conversion. However always check around with a number of sources for an approximate reasonable price before striking a deal.
Beware of touts at most tourist spots who are ready to provide you with anything and everything at the drop of a hat.
Always be ready to bargain in most small establishments. As a thumb rule offer 20% of the asking price, and be prepared to pay 35-40% % of the original asked price.
While at the beach please read sign boards before entering the water and please follow the instructions contained in the signboards. Consult Lifeguard before entering the waters and swim in safe areas only. Do not swim in the monsoon. Do not drive any vehicle on the beach. It is prohibited. Deposit all waste matter at the nearest dust bin available.