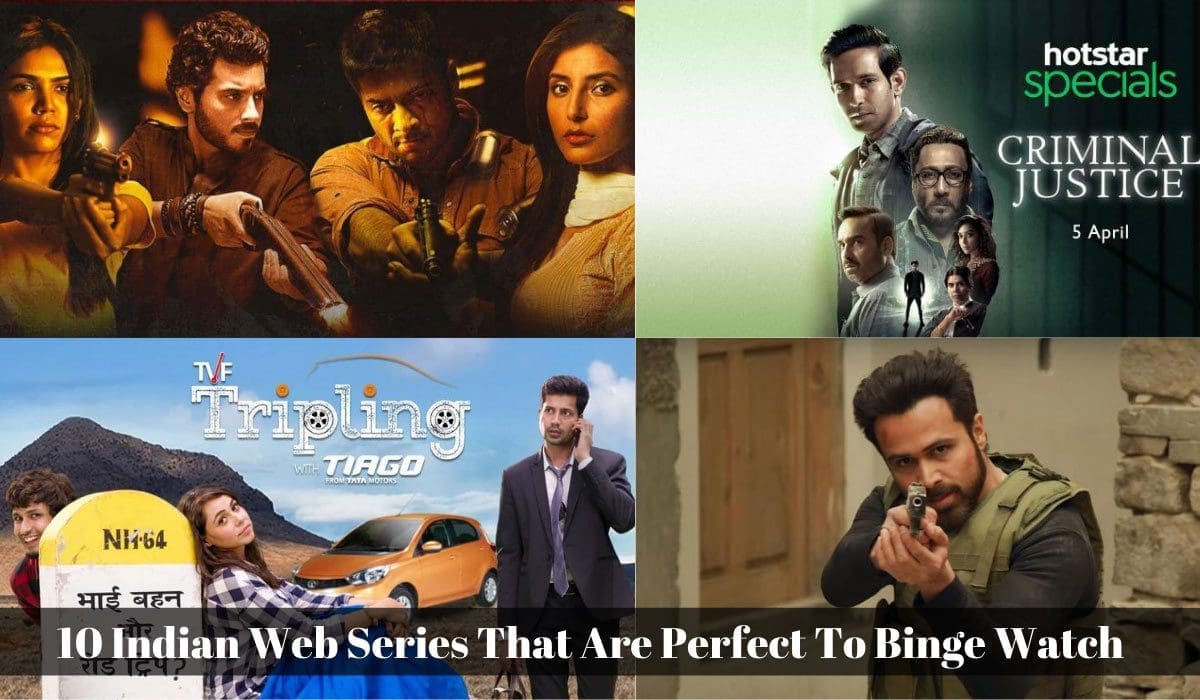 Thanks to the COVID-19 pandemic spread, we are all stuck at home. And there is a level of how much you can work or cook or pick up a new hobby. For us social creatures being forced into hibernation, everyone is tuning in to web series.
Now is the best time to catch up on all the missed drama that people have been talking about non-stop but you've barely had time to binge-watch. So, let's check out 10 new Indian web series that we need to start binge-watching today.
Top 10 Indian Web Series To Start Watching Today
Bard of Blood
This Indian web series is based on the 2015 espionage novel by Bilal Siddiqi. Former IIW (Indian Intelligence Wing) agent, Kabir Anand (Emran Hashmi) has a fallout with his department when an operation goes wrong, resulting in his partner's death. He is now a literature teacher who spends time looking after his friend's wife and son. When four Intelligence officers are captured by the Taliban, Kabir is requested to rescue them.
Criminal Justice
Another new Indian web series that is a must-watch is Criminal Justice. Vikrant Massey (Aditya) is a taxi driver, who has a one-night stand with a passenger Madhurima Roy (Sanaya). He wakes up the next day to find her murdered beside him. Is Aditya innocent or is there something bigger brewing here?
Mirzapur
This Indian thriller web series is available on Amazon Prime. The series revolves around the rule of the mafia and rivalry that is prevalent in Uttar Pradesh. The series was primarily based on the lawlessness that surrounds the mafia and police. With drugs, guns, and sexual scenes being a part of the series, this one is best seen alone.
Flip
Another good Indian web series to binge-watch is Flip. Produced for Eros Now, this short 4 episode series looks into a dystopian world and delves into the minds of diverse people by jumping deep into their psychological issues. The series is a thriller that has a life-changing message that takes one back and forth through 20 years. The series is intriguing and imaginative especially for people who love psychological thrillers.
Girl in the City
Girl in the city starring Mithila Palkar is another good Indian web series to watch. The story revolves around a simple girl who shifts from Dehradun to Mumbai to make her dreams come true. The series is a realistic take on people who dream of a better world when they shift to Mumbai. Combined with ambition, friendships, and love – the series is one of the most relatable ones available.
Engineering Girls
Engineering Girls is a funny web series that tells the story of 3 feisty engineering students – Sabu, Teja, and Maggu, who are trying to navigate their way through the engineering curriculum. The series gives a fresh take to the hostel experience from the view of 3 women who want to prove themselves to the world. From dealing with drama in the dorm to dating as engineering students, see how this trio navigates life.
Tripling
This Indian web series is a funny take on sibling bonding that goes wrong. Chitvan, Chandan, and Chanchal are trying to find their way back to their roots in Manali by driving from Jodhpur to Manali. What happens when 3 siblings who don't have much in common are stuck in a car with each other? Chaos. Watch Tripling to see the hilarious situations they face while going home.
Paatal Lok
Paatal Lok is a thriller web series that is loosely based on The Story of My Assassins by Tarun Tejpal. The series revolves around a disillusioned police officer who is investigating an assassination attempt that went wrong. Watch as Inspector Hathi Ram has to delve into the underworld to find the truth that not only places his life in danger but also brings out the dark nature of people involved.
The Forgotten Army – Azaadi Ke Liye
Based on the lives of the men and women who fought in the Indian National Army (INA) alongside Netaji Subhash Chandra Bose, the series highlights the true stories of the soldiers during the fight for India's Independence. Watch the series as it questions ideas of identity, freedom, and the reality of war.
Your Honour
This new web series starring Jimmy Shergill is a twisted take on what the upholders of Justice in our society would do if it involves their loved ones. A sessions court Judge who is on the brink of being promoted to the High Court gets news that his son is involved in a hit-and-run case. He gets pitched into an ethical parody where he has to choose between his son and the law.
Conclusion:
Hindi web series have come far. From the typical love or family drama to psychological thrillers and realistic situations – the Hindi series has come a long way. So, if you want something to watch during this lockdown period, you need to start binging on the series mentioned above.
Let us know which series you liked the best from the list.