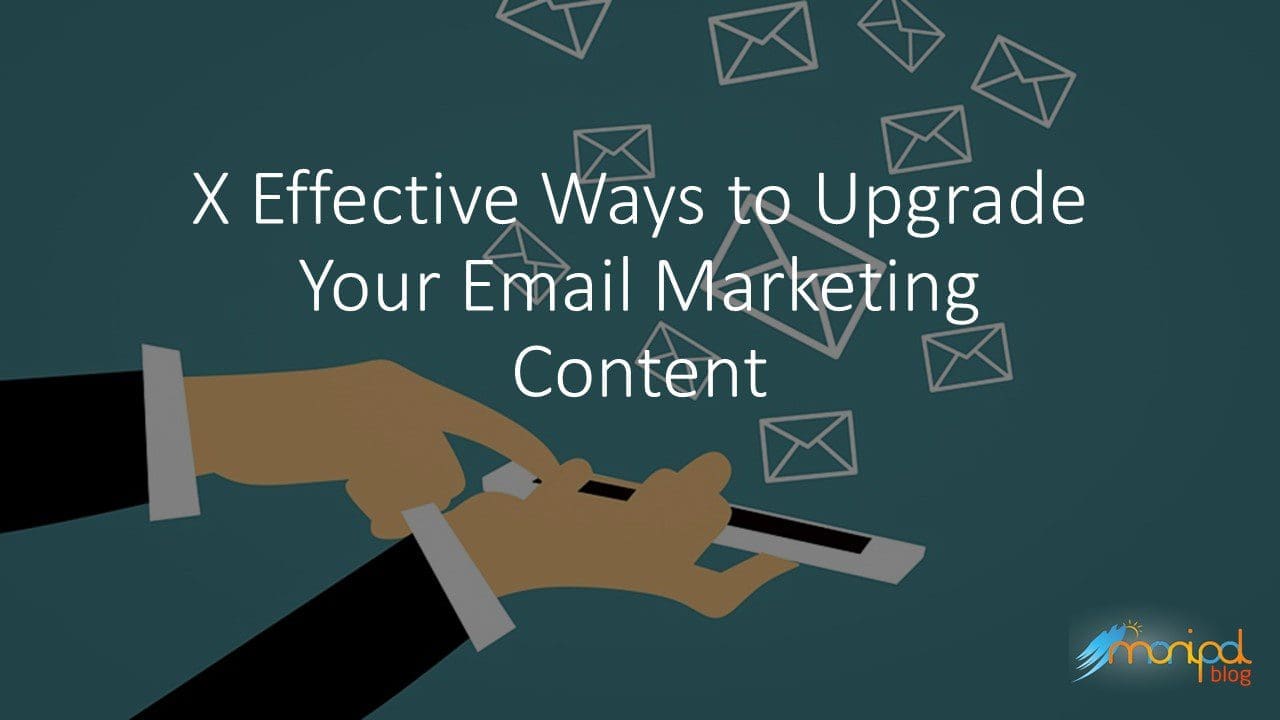 Emails are a perfect way for brands to sell their products and services today. Getting conversions from emails can take a while, but when you have a grip on the whole concept, you will enjoy the benefits. A survey shows that emails are so far the best marketing tool.
If you usually do newsletters or other email marketing content to your email list, then you need to ensure that numbers are on your side. What does this mean? You must check whether the click-through rates are constant, even better rising. If the numbers are not good, then you need to upgrade your email marketing content.  In this article, we are going to cover two things:
Ways to upgrade your email marketing content
Tools for upgrading your email marketing content
Ways to Upgrade Your Email Marketing Content
Include a survey or poll in your email messages
People love numbers and statistics. Moreover, people enjoy engaging in surveys if they have that time to their disposal. If you are working to improve your email marketing game, then polls and surveys can boost your messages. Polls and surveys engage the mind and emotions of your targeted recipient. Besides, it will not cost you any much rather than earn you more readers and potential consumers. Moreover, you can count on the readers wanting to view the results of the survey on your business website. This is another plus; this method could also drive traffic directly to your site. You can also use such surveys to know about your audience or the way they feel about your products or services. Here is an example of a poll or survey on email by the South Cycling club used to find out about reader preferences.
Spotlight Your Team in Your Newsletters
It should not be all about you, your business, your product or service, and sometimes it is good to talk about people behind the scenes. Talking about your stuff makes your brand more human as people will always relate your brand to the people that work there. One tool where you can talk about your brand is the newsletter. The reason is that the newsletter offers the opportunity for anything that does not show up anywhere to appear on it. Some of the ways of doing that include:
The use of a Question and Answer transcript of your team leaders.
Talk about a new hire
Using a member of your staff an opportunity to guest blog
Sharing group employee photos
Highlighting an initiative your employees are a part of
Envision is a big design company known for the admirable email newsletters it uses in its emails. Take a look. You need to make this a habit because it does work.
Share Your Customer Services Case Studies
How do you prove to your customers that you are good at what you do? One way to do that is through a case study. You might be asking," How can this be done?" The answer is simple. You need to provide a solution for your clients. Foremost, start by talking about an issue that is affecting most of your clients to those clients. The next thing is to offer solutions. You can then collect enough information and compile a case study that highlights everything you have been sharing with your clients. The case study will act as a tool of instruction for the entire client audience. Ultimately, people will see your team and company as an expert and solutions provider.
Discount Mentions Improve CTRs Always
As much as you might fill your emails with offers and calls to action, you are far from making someone buy anything from you. People see such messages often, and to them, such a message should go where the rest is "spam." The point is that no one wants to see this often happen; therefore, upgrade your content subtly. One way is through discounts. Research by the Data and Marketing Association in the United Kingdom finds that discounts are a good form of content for your email marketing. Other items such as branded content, new products, competitions, and user guides follow it in that order as good content to sell via email. An example of an email of that kind is that of eBay, that once took this form.
Create some sense of urgency
People do not love missing out on anything. If it were possible, some people would like to own almost the same things as others. One way to drift from your always-boring emails to something that actually creates sales for you is by creating a sense of urgency. The idea for your email to create some "act now" vibe in people. Some of the ways you can achieve this include setting time limits and indicating scarcity. As you do this, follow up this email with an email copy that focuses reader attention on the urgency you want them to experience. An example of a company email that tends to create a sense of urgency is that of Jeanswest, an Australian online clothes-shopping store that put a 30% discount on any men's way only on Father's Day as below.
Take advantage of data to make your email campaigns stick
Your email marketing needs to serve a given purpose. Ensure to make your emails informative, entertaining, and, most of all, engaging. Moreover, use data to make even better sense to your email recipients. There is a need for you always to support your claims within email messages. Some of the ways you can do that include the use of statistics, links to authentic articles, case studies, client testimonials, as well as social proof.
Be vigilant about your grammar
Whereas you may think that writing emails require using upgrade tools to make the email perfect, poor grammar and language use could sink even perfectly upgraded email content. For this reason, use companies like PickWriters to proofread your marketing emails any time you are working on an email marketing campaign.
Whereas you may have an idea about how to upgrade your email marketing content, you need to know that there are tools that make that easy.
Tools for Upgrading Your Email Marketing Content
Some of the tools that we may talk about here include tools for creating forms, polls and surveys, tools for video creation and sharing, tools for creating infographics, tools for editing email copy, among others.
Canva
In case you need to create photos, illustrations, infographics, templates for polls, and surveys, among other designs, Canva is the tool you need.
Grammarly Premium
You need to make sure your grammar is perfect every time you do an email copy. Many tools can help you with that. Try Grammarly premium. It has interesting features. Besides, you need a tool that you can count on always without a hitch. Grammarly is always operational.
Mail Chimp
As discussed above, polls and surveys are a good way of engaging email readers. You need a tool that can create amazing polls you need, Mail Chimp. This all in one marketing tool allows you to create multiple marketing equipment right from wherever you are.
More tools can support your marketing tools creation online. This depends on what you plan to add to your emails to create more conversions. There more other ways of also upgrading your email content. These should offer you a good start. Seek methods that guarantee you impressive email marketing results and take advantage of the statistics supporting the efficacy of using email as a tool of marketing for your enterprise
About the Author​: Donald Fomby who is a valued member of the writing team at translation and localization company. Donald studied Computer Science at Texas A&M. In his spare time, Donald writes Sci-Fi short stories.