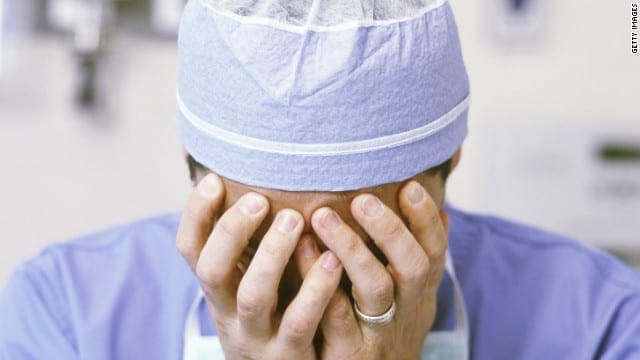 [contentblock id=1 img=adsense.png]
I've spent the last couple of weeks in the pediatric wards and there is this one kid with a tube running in to the right side of his chest. I see him struggling to appear dignified, he's a kid of 3 maybe 4 years of age. Yet, he tries not to cry and not to show any pain. Yet pain he does suffer and the angst that I see on the faces of his parents is what hurts me more. To see their only child suffer this way must be the most difficult thing they've ever faced in their life.
Being a doctor or in my case, a doctor who is on probation, it is something we are expected to get used to. We are supposed to learn empathy and not sympathy. We should listen to/look at/feel the patient, but not internalize the pain that he/she suffers. We should keep our minds open to their problems, but closed to their feelings.
How does one train for this? Where does one learn to care and not-to-care at the same time?
A friend of mine is in his psychiatry rotation in a different college across the state. He's been in touch with me during the past couple of weeks. He says its been crazy and  confronting for him. Not the ideal place to be when you're struggling with your own mental health issues. The way he spoke to me, suggested how it was affecting him! He is normally very boisterous and bordering on arrogance, but when he spoke to me about the patients he'd met, he was very solemn and soft-spoken. He was very much moved by his experience with one of the patients and could speak only about that one encounter and how he was getting nightmares about the same.
Then there was the suicide a couple of weeks ago. This all makes  me wonder, as medical students, we're trained to help others, but given little, if any support! We have the best and the worst possible human experiences in the wards and the trauma rooms of hospitals. We're posted to rural facilities when we do not even know how to manage the streams of patients in pain, with our limited clinical acumen.
We are delighted when we deliver healthy babies, but we also have to put up with the angst of heart-broken parents  who've lost their children.  We are made to watch from the sidelines as the attending physicians/surgeons give hope to the people visiting the hospital and then we watch again as the outcome is not what was expected and the people lose all their hope for living. We read the stories of our patients and we many-a-times, realise that this story does not have a happy ending, and yet we put up a happy face in front of the patient.
Not all experiences in the medical college is bad, there are so many plus points as well, however without a proper support system, medical school can be devastating! The incidence of suicides, mental illnesses and substance abuse is much higher among the medical fraternity, when compared to the general population.
Sometimes, I do feel that a good medical student/doctor needs to be a bit insane too! After all, aren't us doctors perfectionists? Aren't we a people-pleasers? Aren't we masochistic? Spending long days at the hospital and longer nights at or desks, among voluminous books and even more voluminous notes, surely qualifies us as masochistic!
Looking around at the current scenario and thinking about what my friends are going through during their internships, some worried about their patients, some worried about their future careers and studying for the many post-graduate medical entrance examinations, and the practitioners struggling to give themselves some family time, I feel we must first heal the doctor and promote a culture of well-being among the medical fraternity.
[contentblock id=1 img=adsense.png]
I feel that, as a health care personnel / student, we need a place where it is okay to talk about our daily experiences and let out some pent-up emotions without being looked down upon. A place where it would be okay to cry a little after a day of look at people suffering, people without hope, people without a possibility of life free from disease and people who die!
This professional and personal care module needs to be something that is taken care of along our clinical postings and not as a token gesture in our pre-clinical years.
It is not going to be easy to wake up tomorrow and attend the pediatric wards and come face-to-face with the boy with the chest tube. I know there will be other kids who will keep coming in, some leaving with smiles on their faces and some with their smiles slowly fading away. I know it will be difficult for me to hear their stories and their parents' stories. But if I can walk home in the rain and break down, the tears will be hidden by the monsoon rains. That I'll be okay. That it would be okay to be affected a little by my patients. That it is okay to talk about this and to be emotional about my feelings. That it is okay to take a break from my patients, from my studies and to let your hair down a bit.
Take care of yourselves out there.
Long night duties at the District Government Hospital in Belgaum during my internship often got me into reflective moods. During these long restful nights (often interspersed by a patient calling out for some relief from pain or a late night emergency that would take the entire night), I often wondered about a lot of things that  happened during my four-and-a-half year undergraduate life studying MBBS. Luckily for me, I had already inculcated the habit of writing a diary and this helped me in periods of depression, that so often, is a part of a medical student's life while staying away from home.
This blog post is an excerpt from my diary, I wrote during the second half of my internship. It was around this time that one my seniors (maybe 2 years ahead of me), ended his life due to the difficulty in handling stress associated with a doctor's life. I am not sure whether this page was in response to the suicide or whether it was a response to the difficult posting in the pediatric ward.