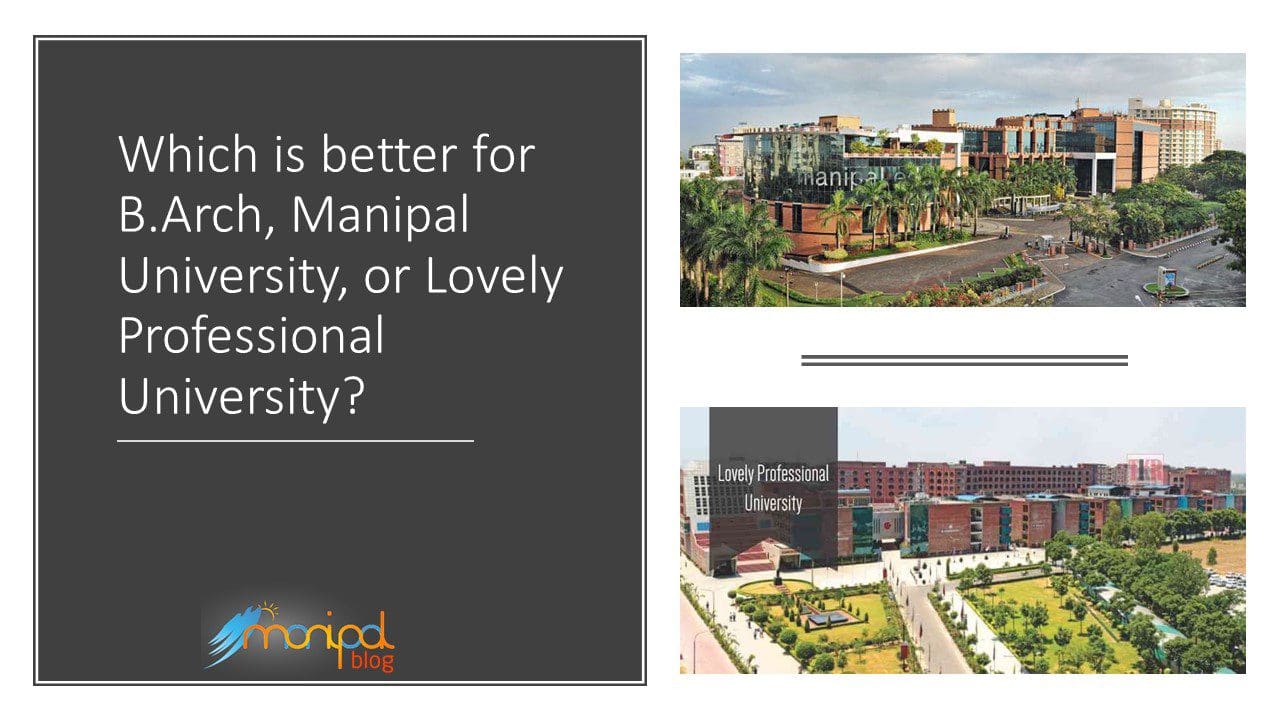 Bachelor's in Architecture is gradually rising as one of the most sought after courses in India. With incredible job opportunities in prominent organizations, it has become quite crucial for students to precisely choose an ideal college for great future endeavours. Thus the question is, which would be better for B.Arch Manipal University or Lovely Professional University. Let's find out:
Reputation and significance
When it comes to stats Manipal university slightly edges out Lovely university in various parameters. The most prominent being the reputation and glorious history of Manipal institutions. Manipal University is amongst the most highly claimed universities when it comes to the revolutionary methods of teaching. Manipal University is ranked amongst the top 10 private colleges in various streams, this itself speaks volumes of the calibre that Manipal university flaunts. Whereas a Lovely Professional University is also taking giant strides towards competing with highly eminent colleges, but the institution was established in 2005, and it would take time for it reaches the level of Manipal university. Thus, the illustrious reputation of Manipal university overpowers that of LPU, and students may prefer to take admissions in Manipal university rather than LPU for an extremely complex course like Bachelors in architecture.
Advanced teaching methods
Manipal University and Lovely Professional University both are equipped with great campuses and seem to be ideal for students to relish the opportunity of seeking Bachelors of architecture as a qualification. But one parameter in which Manipal University stands apart from the rest of the colleges is the impeccable quality of modern and sophisticated teachings from veteran professors. With a firm hold on techniques like illustrations, sketches, block models, and PBL, Manipal university is one such institution which would be ideal for the integrated learnings of essential topics. B. Arch is one such course that requires adequate practical knowledge, and Manipal university emphasizes on this particular aspect and engages the students in highly eminent organizations for practical internships as well. Although LPU is also quite renowned for great teachings and privileges for students, comparatively Manipal university is slightly better.
Highly recognized degree
Manipal University is acknowledged all around the country and lays the foundation for a great future in various fields like engineering, management, humanities, and even architecture. With a highly recognized degree and even greater reputation, students of Manipal university gets placed in highly prolific organizations without any hassles. The MAHE recognition makes every penny spent on the education worth it. On the other hand, Students from LPU have also made it big in the employment sector, but when compared, Degree from Manipal university holds more significance than that from LPU. Thus, B.Arch from Manipal university would be a better option.
All-round development
B. Arch is a slightly complex course that requires core skills in practical as well as theoretic studies. A great composition of all the blends essential for the all-round development of the students has been made to extract the best possible results for students. Architectural knowledge, Problem analysis, use of sophisticated tools, designing complex solutions, Sustainability, and work ethics are the major components of education that are taught at the Manipal university campus. Precise teaching of all these vital aspects would ensure the overall development of the students, which paves the way for selection in mega-companies. On the other hand, LPU also emphasizes on the overall development but can't compete with the renowned methods of Manipal university.
Collaborations and selection
Manipal University is renowned for its impeccable history. Thus, many giant organizations recognize the potential of the students passed out from this university and allow them to establish themselves in the architecture field. Students are placed in giant organizations like Infosys, Tata, Quest, Acer, and L&T Infotech, which ensures that a B.Arch degree from Manipal university would be better than LPU.