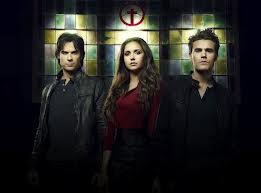 The vampire diaries fans can now feast upon their eyes again and go drooling over Damon Salvatore as the favorite supernatural drama officially returns on Thursday, October 3rd.
The 4 seasons of staggering experience with the sizzling Delena and the enthralling nail biting plot made millions of followers for this saga series, and now in the matter of just 2 days, another new chapter is going to be unveiled.  For the fans of 'the vampire diaries' it has been a very long summer, as we sat around waiting for season 5 to premiere.  (Holidays? Beaches? , nothing. We literally just sat in a dark room waiting for these four months to get over).
After years of endeavor that Damon had put, he finally gets the girl in the season 4 finale. The couple is all happy and smiling. But how long is this going to stay that way? With Elena (Nina Dobrev) and Caroline (Candice Accola) entering the Whitmore college planning to have a blast with the trio (still believing that Bonnie will join them shortly), Elena tries to adjust her long-distance relationship with Damon. Hey, wait for it guys, that's not just the only hurdle in their love-life. You can expect to see Elena's deep connection to Stefan (Paul Wesley) become very momentous in the early part of the season. So you will definitely be seeing more of flip-flops between the brothers! Poor Damon!
The season 4 ended on the note where the poor Stefan remains trapped inside the lake with Silas impersonating him. So basically, in season 5, we have the authentic Stefan trapped in the lake, the fake Stefan Silas who is now on his own and is after Katherine. Katherine who was a vampire is all vulnerable now in the human avatar and our very own benevolent and innocent human Elena is a blood sucking vampire. So now we have a vampire who is a human and a human who is a vampire! (All the non-VD readers are going to kill me after reading this!). We just hope that Katherine sticks around for a while so that we can see her in a new fragile state. But with Silas having his eye on Katherine we can only hope she is not killed it the very first episode, then we are pretty much doomed!
As for the sideline characters, Jeremy (Steven R. McQueen) is alive again.  He will probably be hanging out with the still dead Bonnie as the resident ghost whisperer of mystic falls. Matt (Zach Roerig) is still working at the Grill alone as his love interest Rebekah left the mystic falls. Not much of Matt unfortunately, the poor guy seriously needs a story of his own. Tyler returns to mystic falls with his competitor for Caroline, Klaus moving away to New Orleans and lastly Caroline is allegedly getting a new love interest as Jesse comes into the picture.
This is surely going to be a dramatic and stimulating season amigos. So don't forget to see the first episode "I know what you did last summer" as it airs on this Thursday, 3rd of October.
Send your articles and reviews to [email protected].