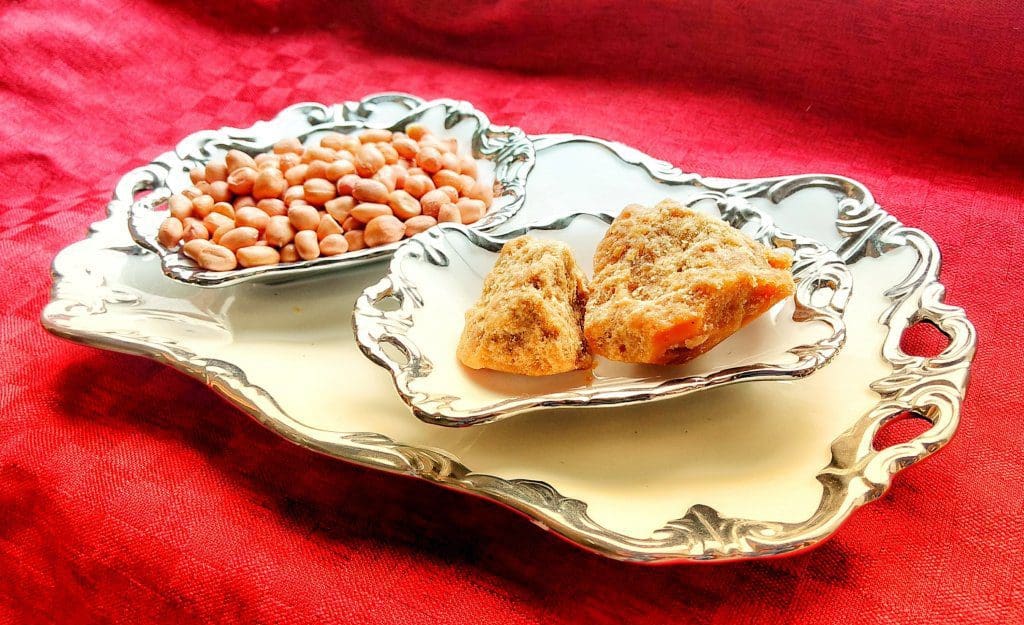 Have you ever wondered what our forefathers snacked on when there were no chips and chocolates? If yes, then stay tuned for this ManipalBlog series which aims at enlightening you with facts about traditional Indian snacks and their health benefits. In this post we shall learn about how peanuts and jaggery have been in use as ingredients in nutritious Indian snacks.
PEANUTS
Peanuts are grown in many parts of India and are very popular. If you are a regular gym-goer who is not able to meet his/her protein requirements or if you are skinny and want to gain weight, peanuts are the way to go. 100 grams of peanuts contain about 25 grams of protein, traces of magnesium and massive amounts of healthy fats which help in eliminating bad cholesterol from the body. One who wants to include peanuts in his/her diet should primarily do it for its healthy fats and protein. Someone who does not work out should consume a safe amount of 1 ounce (28 gram) whereas 2 ounces (one ounce at a time with a gap of minimum 8 hours) is optimal for someone who regularly works out. Peanuts are filling and suppress your hunger for a significant amount of time. They hence reduce your food intake and help you lose weight. Peanuts are a better alternative to processed peanut butter and can also be roasted in the shell to enhance its taste. One must, however, avoid eating salted or spiced peanuts as they provide significantly low health benefits.
JAGGERY
Jaggery (Gudh) is an Indian sweetener which has been in use even before white sugar. It is made by cooking sugarcane juice in a large iron vessel till a yellow-brown paste is obtained which is dried and used as jaggery. Jaggery is used in several Indian sweet dishes and is also eaten raw after meals. It is a rich source of calcium, iron, selenium and natural sugars like sucrose and fructose. Unlike white sugar which is 100% sucrose, jaggery contains only 70% sucrose along with other contents, and it is chemically unprocessed. A piece of jaggery is often offered as a natural energizer to visitors as soon as they enter the house during summers in many parts of India. Due to high glycemic index, jaggery isn't suitable for diabetic people. It is said to spike the blood sugar level. Regular consumption of 15 grams of jaggery is permissible for non-diabetic people. It helps in maintaining the sugar level in the body, detoxifying liver and reducing menstrual cramps.
HOW ARE PEANUTS AND JAGGERY COMBINED TO MAKE A HEALTHY SNACK?
1. Peanut Chikki
Peanut chikki is a crunchy sweet made by adding molten jaggery to roasted peanuts and rolling the mixture flat to let it dry and settle.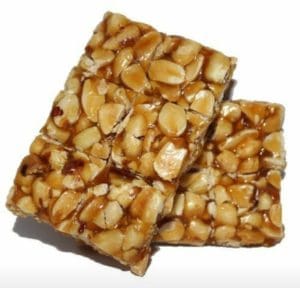 2. Peanut Jaggery Laddoo (sweetmeat balls)
Peanut Jaggery laddoos are made by grinding peanuts, jaggery, and shredded coconut together along with some pods of cardamoms and dry ginger powder. This mixture is then shaped into spheres.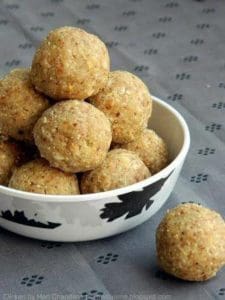 Both of the above snacks are healthy and provide all the individual benefits of jaggery and peanuts discussed earlier. These snacks have been a source of protein, minerals and fats in the carbs-centric Indian diet. Stay tuned for more such posts about Traditional Super-foods.
Interested in reading more about food and fitness? Click Here.