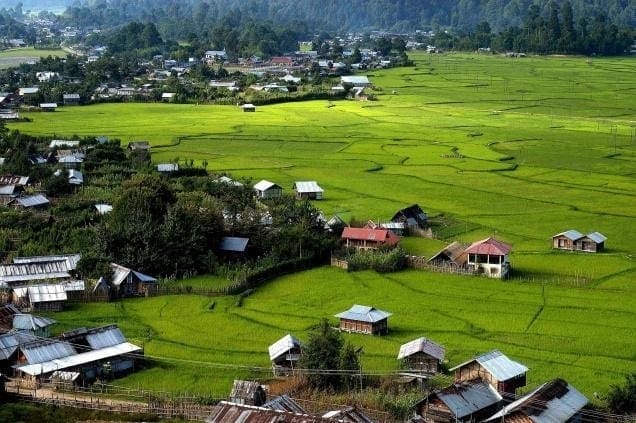 Secluded from the chaotic world, embracing nature's impregnable silence and nurturing a deep sense of liberation – there are peaceful places in India that summon distressed souls craving for revival. If you are constantly failing to acclimatize with the ever-growing pressures and anxieties, simply escape to take refuge at one of these places and experience physical, mental and emotional recovery. To motivate you, here's a list of the best peaceful places in India that coexist with a fast urbanizing world and refuse to lose their exoticness to the modern lifestyles.
Buddhist Monasteries in Himalayas

Woven like honeycombs, overlooking the meandering rivers and cultivating the highest degree of calmness, these mystic asylums are the places to have direct dialogue with the almighty. Diskit Monastery in the pristine Nubra Valley and the wood-mud spectacle called Phugtal Monastery in Zanskar region of Ladakh are the living examples of serenity. A similar wonder is Key Monatery in the paradisiacal Spiti Valley of Himachal Pradesh. Expect to be isolated from every annoyance and admire the inspiring lifestyle of monks spending a lifetime here.
Travel Tips
Best time is from May-October after which heavy snowfall detach most of these places.
Carry packed food and drinking water.
Accommodations and restaurants, along with petrol stations and ATMs are usually miles away.
Hill Stations in Uttarakhand?

Completely contradicting the over-crowded hill stations of Himachal Pradesh, those in Uttarakhand are designated as the peaceful places in India for honeymoon, meditation or to simply soak in the overwhelming tranquility. Abbott Mount with only 13 colonial cottages, Chakrata with the wealth of rhododendrons and oaks, Almora with picturesque landscapes and energy-emitting temples and Dhanaulti offering captivating views of lofty Himalayas are just few examples. Extremely salubrious weather, eye-pleasing vistas and absorbing hospitality take this experience to a new level altogether.
Travel Tips
Plan your trip either in April-June or October-November.
Monsoons (July-September) bring heavy rainfall, floods and landslides.
Book accommodations in advance.
Tropical Wonders of Kerala?
The God's Own Country Kerala is rated among the most peaceful places in India to live and for all valid reasons. Be it the boundless splendor of Western Ghats which shelter pre-historic caves, stimulating trekking routes, enthralling lakes and falls and more or the inimitably relaxing backwaters and houseboat voyages, the place indeed redefines serenity. Wander through the national parks of Periyar and Silent Valley to savor the whispering melodies of the wild or take long leisurely strolls along mesmerizing beaches. If that's not enough, a soothing Ayurvedic treatment session would bless you with the desired rejuvenation.
Travel Tips
October-March is the best time to explore this paradise.
Prefer accommodations at houseboats, tree-houses or homestays.
Beware of mosquitoes and carry repellant and skin protection aids.
Islands of Andaman?

Who needs a companion while delving deep into the fascinating world of coral reefs at Andaman Islands? Located in the Bay of Bengal, the place naturally isolates itself from the crowd and has unexplored beaches with serene environments and amazing sunrise and sunset views. Scuba diving, snorkeling and many such activities let the visitors explore the exotic undersea wealth, while beach side resorts and restaurants guarantee the desired privacy. Islands of Ross, Neil, Long and Havelock are your safest bets in search of peace.
Travel Tips
Accessible only by air, the islands have good local transport facilities.
Avoid monsoons when there are chances of cyclones.
Foreigners must obtain Restricted Area Permit to visit the place.
Valleys of Northeast India?
Absolutely enchanting and fully blessed is the region of Northeast India, which accepted to undergo very restricted modernization to preserve its natural riches. Pine forests, lush green paddy fields, vast expanses of colorful blossoms and presence of mysterious natural caves fulfill the idea of peaceful and revitalizing holidays. The charismatic Ziro Valley and green-carpeted Dzouku Valley will leave you awe-struck and speechless, while the ever-smiling faces of the local people would make you restore faith in generosity.
Travel Tips
Domestic tourists must get Inner Line Permit, while Protected Area Permit is required for the non-Indians.
Plan a trip during monsoons (July-September) to have an unforgettable rendezvous with nature.
Road trips take more time than expected, so you can also book a cab.
No matter what you take along while visiting the top 5 peaceful places in India, you would definitely return with rediscovered joy and empowerment to live life better.
About the Author: Like a famous quote goes: "I'm on God's good humor." I love to travel. Some times with friends and sometimes alone. You can follow me on Twitter @ofkrishna.