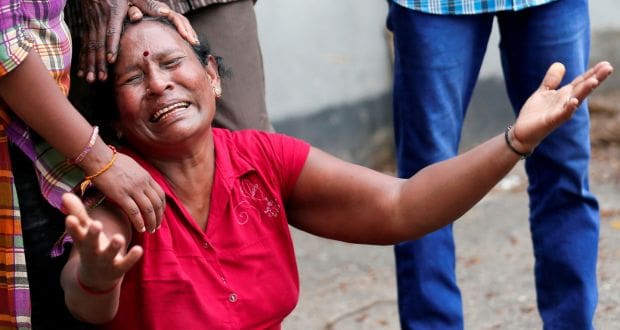 It was a normal morning for the people of Sri Lanka, when everyone after the great Lent went to their respective churches to pray and celebrate the occasion of Easter. Little did they know that it would change into something so unpleasant and dark.
Sri Lanka on the topic of terrorism had been a success story for a decade. Before the incident that took place yesterday. The country though small has a variety of religions. As of the 2011 census 70.2% of Sri Lankans were Theravada Buddhists, 12.6% were Hindus, 9.7% were Muslims (mainly Sunni) and 7.4% Christians. The country has had conflicts in the past, including a civil war, but for the last ten years it was at peace with barely any conflicts. No one could ever think of these blasts given the history of the country.
This is what we know about the situation as of now,
• No terrorist organization has officially taken the responsibility of these blasts.
• However the government blames "National Thowheeth Jama'ath" a radical Islamic terrorist group that has a history of vandalising Buddhist statues in the past. An official said that the group has gotten help from an international terrorist organization for carrying out the bombings.
• The government has declared a dust to dawn curfew for the second day and has blocked the applications of social media and messaging services including Facebook and Whatsapp to try curb the spread of misinformation or fake news.
• The death toll as of now is 300 dead and 500 injured. Out of them 39 people were foreigners who died and 24 who are injured in the incident. The Indian government has released few names of the Indians who died in the blasts as well.
• The Sri Lankan intelligence had already given the information about these planned attacks 10 days before it happened, which was apparently ignored. Though officials claim to never have received the warnings at the first place.
• 24 people who are related to the attacks are arrested, by the police.
Here is a quote from Sanjeewa Appuhamy, an assistant priest at St. Sebastian's church.
"Broken glass, dust, all of a sudden covered all the church. People were shouting, weeping, we didn't know what was happening,"
He also added "We can build up our church but we cannot build up their lives."
There's a lot more happening out there in Sri Lanka, like the police finding out 87 more detonators at the capital and there's more that could happen in the future keeping in mind that the US has issued a warning saying there are possibilities for more attacks in the future. With this, Sri Lanka's one of the major sources of livelihood that is tourism also gets hindered.
The country is at a huge state of unrest, and all we can do by sitting here is to keep ourselves updated at least with whatever that happens there and pray. This article is my small contribution to summarize various reports and combine some to keep the readers a bit informed about it. Hence, I would like to mention some of the sources of information:
• CNN news
• NY times
• AlJazeera.com
Photo source: The Irish Times