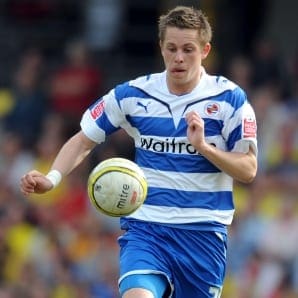 After the small matter of country football now we are entering into the new season of club football. Last season in the Premier League was arguably the best season in recent memory with the title race going down till the last minute and Tottenham hotspur missing out on Champions League football this season thanks to a dramatic night in the Allianz Arena, in which Chelsea beat Bayern Munich on penalties to secure Champions League qualification for the upcoming season. Players and managers come and go, like every season, and this season is no different. So let us jump into the top 10 signings in the Premier League so far.
10) Pavel Pogrebnyak (Striker)
Having played for Fulham for the second half of last season, Pogrebnyak scored on his debut. He also scored in his second game, and then a hat-trick in his third, which took his tally to 5 goals in 3 games. This made him the quickest player to reach 5 goals in Premier League history. Not bad for a player signed on loan, eh? What's more intriguing is that many fail to adapt to the Premier League but Pavel has proved that it's not too hard. After his loan deal completed, Pavel signed for newly promoted, Reading FC on a bosman transfer. Reading, will be hoping that their tall, Russian striker provides the necessary goals for their survival in the Premier League.
9) Fabio Borini (Striker)
Fabio Borini signed for Liverpool FC for a reported transfer fee of 11 million pounds. At Liverpool, the Italian links up with his former coach Brendan Rodgers, now managing Liverpool. They both previously worked at Chelsea and Swansea City and this makes it a bit obvious as to why Rodgers chose Borini as the first signing in his Liverpool project. Last season, he played for AS Roma and he has a knack of scoring important goals or goals in big matches. This was proved with his brace against Inter Milan and an equalizer in the 'Rome derby' against Lazio. With typical bursts of pace, Borini is a modern poacher, just like a certain ex-Liverpool idol, Fernando Torres.
8) Hugo Rodallega (Striker)
The Colombian international signed for Fulham after his contract with Wigan Athletic had expired. He's fast, he can shoot them from outside the box, he's physical, he is an aerial threat. Overall he's an out and out Premier League center forward, and an ideal striker for a mid-table team. In January 2012, it was reported that Everton, Arsenal and PSG were interested in the ex-Wigan forward. He is Wigan's all time top scorer in the Premier League and is also very versatile as he can also play on the left wing. Fulham needed a striker more than anyone else having seen Andy Johnson, Bobby Zamora and Pavel Pogrebnyak depart over the course of last season.
7) Gylfi Sigurdsson (Midfielder)
Another player to have made an instant impact on the Premier League since his loan to Swansea City in the January transfer window, Sirgudsson joined Tottenham from Hoffenheim, his parent club. Sigurdsson joined Tottenham after he flirted with Liverpool and Swansea City, whom he nearly joined but the deal collapsed. He is an excellent passer with a knack of scoring goals (6 goals in 13 games for Swansea) and was also the Premier League player of the month in March 2012. This signing might just ease the pain of an imminent Luka Modric departure.
6) Lukas Podolski (Secondary Striker/Winger)
At the age of 27, if a player has 101 German caps to his name and 44 goals, it says a lot about the player. But, Lukas Podolski hasn't produced similar form at club level. He is always be known as a club player with unfulfilled potential. Podolski comes to England from relegated FC Koln, and after a rather disappointing Euro 2012. But a new club and the city of London might just be what he needs. Arsenal wanted him to play alongside Robin Van Persie but the latter surprisingly (or not, as you take it) might leave the club. Podolski might click or not, but he has big shoes to fill.
5) Jan Vertonghen (Centre-Back)
After publicly stating that he'd prefer a move to Tottenham over their north London rivals, Vertonghen got the move he wanted. The second addition to the squad after Sirgudsson under Andres Villas-Boas, the Belgian international competes with the likes of Michael Dawson and Younes Kaboul after Ledley King's departure. Primarily a defender, Vertonghen pops up with the odd goal. He is known as a ball playing defender who has a powerful shot. He might not be a marquee signing but has the potential to be one of the best centre-backs in the league.
4) Marko Marin (Winger)
Dubbed as the "German Messi", Marin's career went off track in the last couple of years due to injuries and form. Marin joined Chelsea FC in April, before they won the Champions League. Surprisingly he was linked to Tottenham and instead chose a move to west London, which turned out to be a very wise one. He might not have the height or physical built required to compete in the Premier League but the same was said about David Silva and Juan Mata, who proved this theory wrong. He is known for his speed and dribbling skills and his ability to take on multiple defenders. At a reported fee of 8 million Euros, it can be said that Chelsea FC  'robbed' Werder Bremen.
3) Olivier Giroud (Striker)
Another player from the Ligue 1 joins Arsenal as Arsene Wenger continues to sign Frenchmen. Signed from Montpellier, the Ligue 1 defending champions, who beat the noveau riches of Qatari owners funded Paris Saint-Germain. He was the Ligue 1's top score for the last season and many things are expected from him. He would have relished playing with RVP but now it might just be a distant dream. Settling in the Premier League might be easy for him as he has company in Bacary Sagna, Laurient Koscielny etc. Previously, Didier Drogba and Maroune Chamakh followed a similar route from Ligue 1 but the question is, can Giroud replicate what the great Ivorian did or flop like the Moroccan?
2) Shinji Kagawa (Attacking Midfielder)
Rivals fans are already saying that this move was made to increase shirt sales in Asia, but they also did when Manchester United signed Park Ji-Sung who turned out to be a very good player indeed. Signed from Bundesliga champions, Borussia Dortmund, Shinji Kagawa is an attacking midfielder with electric pace and is known for his goalscoring record. Shirt sales will be obviously boosted but his arrival as a player with world class abilities can only help Manchester United in a bid to regain their title back from their 'noisy neighbors'.
1) Eden Hazard (Attacking Midfielder/Winger)
Ligue 1 young player of the year in 2008-09 and 2009-10, Ligue 1 player of the year in 2010-11 and 2011-12 signs for European Champions Chelsea after he teased the whole world via his twitter account. Also a target for Manchester United and Manchester City, Chelsea already take a head start over their title rivals with the signing of the season. At 21, the Belgian international was Europe's most coveted youngster. Pace, dribbling skill, finishing, versatility, name it and he has it. He has also been described as "a defender's nightmare" and has earned critical acclaim for his playing style, which has led to the media, coaches, and players drawing comparisons to Messi and Cristiano Ronaldo. Much is expected from the young Belgian after his reported 32 million pounds move.
With more than a month remaining in the transfer window, more deals are expected. The likes of Oscar, Lucas Moura, Hulk, Javi Martinez etc. have been linked to the Premier League and by the looks of it, this season is going to be better than ever.
P.S. – The transfers are in an order preferred by the author and is up for debate. Please let us know what you think.