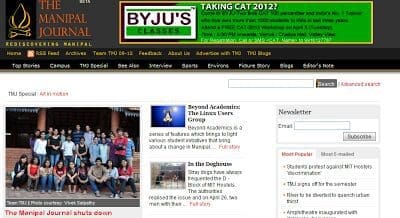 A snapshot of the TMJ confirms our suspicions!
Leading Manipal online news website The Manipal Journal (TMJ) has finally conceded that it might have investigated just too many happenings over the last few years. A bulk of these investigations were carried out at the expense of MIC and MU , while many others kept popping up round the clock as various news and events unfolded. According to an estimate, around 673245 investigations might have been carried out since the trend started on the website circa November 2007.
"Yes, that appears like a lot of investigations," admitted Vrinda Manocha, Acting Editor-in-Chief of TMJ. "But I am investigating this tonight. And gentleman, I want an honest answer from you. Would you still have read our articles if we had not investigated at all?" Vrinda asked our reporter, arguably the 673246th investigation.
Most of the ManipalBlog readers agreed that the investigations carried out by TMJ were usually sort of interesting, but most of them were unsure what to make out of them.
"Investigations are alright, but I could never understand their implications. For example I still don't know if Manipal University is innocent or fleecing the students?" said Sneha Lopes, a first year KMC student, who also wondered if TMJ could come up with an investigation bank soon containing all the investigations carried out till date.
TMJ representatives have rejected such criticisms and have argued that the websites job was to investigate and report, and it couldn't be held responsible or accountable for lack of results.
Some hardcore fans of the website too share the view.
"A website is not supposed to provide results; the common citizens have to hunt for them. Those who want ready made results without applying their brains should read ManipalBlog and other similar channels. Vishaal Bhat has the answers to all the questions." said Natasha Mendon, a TMJ fan.
Meanwhile TMJ has refused to confirm or deny the rumors that the website was planning a grand party whenever it breached the one million investigations milestone. But for now, they have shut down The Manipal Journal, as it's investigators have gone on strike for the next two months, complaining about the excessive number of investigations they have been subjected too!
The "facts" in this article are all made up (but you already knew that, didn't you?)