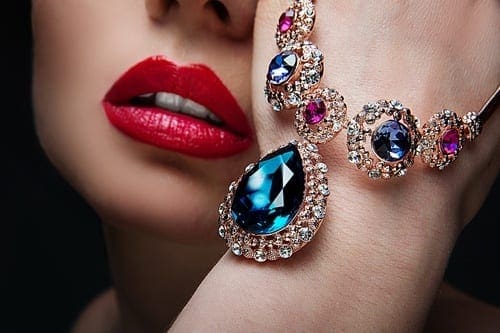 What's traveling without your accessories and jewelry? Every girl's got to be ready for that mandatory travel OOTD. However, packing your jewelry can be a nightmare sometimes. Some pieces can get lost. Long chains end up in knots. A pair of earrings can go missing. Traveling with jewelry is indeed not a walk in the park. However, with a few tricks up your sleeve, you'll be able to solve all these problems.
Here are a few tips and tricks in packing your jewelry for vacation.
Necklaces
The problem with necklaces is that they get tangled easily – even when they're inside jewelry boxes and kept in your drawer at home. On the road, this becomes much worse. A tip is to bring only one or two necklaces to make things more convenient. Pack one casual necklace for everyday wear and pack another statement necklace for night outs or fancy dinners.
When packing necklaces, you can use three things: silk jewelry bag, straws, or plastic zip lock bags.
You can pack your necklaces in individual jewelry bags so they don't get tangled with other necklaces. Drape the chains out first before packing them. You can make your own jewelry bag by using any fabric and a ribbon or shoelace.
Loop one end of the necklace through the straw and fasten the clasp. By doing this small trick, the necklace chains won't get mixed up with other chains. It's simple, but it does take up much space.
Another trick, if you don't have the silk bags, is to use a ziplock bag to pack your necklaces individually. Seal the bag and leave a small part of the chain outside, so it doesn't tangle with the rest of the chain.
Rings, Earrings, and Bracelets
Here are some tips on how to pack your rings, earrings, and bracelets:
For rings and earrings, you can keep them in a pillbox, which is available in your local department stores. Because a pillbox is small and sturdy, it's convenient to bring it around and it can protect and organize your jewelry perfectly.
If you can't find one a pillbox, a small ziplock bag will do as well. For bracelets, you can tuck them inside a rolled-up towel and place them in a plastic ziplock bag to keep it in place.
For earrings, you can use buttons to keep them together. Insert a pair of earrings into the holes of a large button.
Jewelry pouch
If you're a frequent traveler or not a fan of DIY projects, then it may be about time you invest in a good jewelry pouch. This saves you a lot of time in packing. In addition, since it's specifically made to pack jewelry and accessories, your jewelry is protected and is less likely to get tangled inside. You can find many types of jewelry pouches in your local department stores.
No very expensive jewelry
This goes without saying. As much as possible, you must never pack any jewelry that is of very high value when traveling. The probability of losing such jewelry during a trip is high. Especially if the piece of jewelry has sentimental value, it's better just to leave it at home than risk losing it during transit. Bottom line, just travel with jewelry that you are willing to lose. Leave anything irreplaceable at home. For special events, just bring one statement jewelry piece that you can use. 
Apply these tips, tricks, and hacks to save you some of the trouble in packing. As you can see, it's very simple to pack jewelry safely and in an orderly way – you don't even have to spend much money as most of the things you need can be found at home. If you're still on the hunt for jewelry that you can wear on your next vacation, Get Name Necklace has some good finds. Check out their website to find out more.