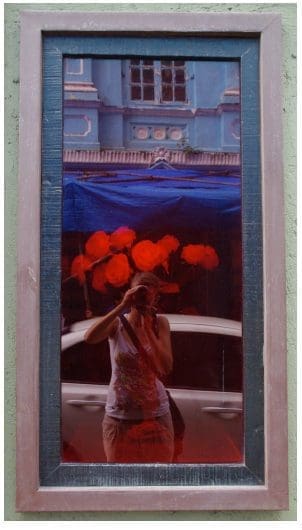 It has always been a little dream of me to go to India. Maybe because of the colourful culture, maybe because I felt sick of the German lifestyle and because of the idea to find something completely different from everything I knew before. But latter was also a good reason to keep that dream remaining a dream. Too much scepticism, a missing chance and a lack of time made me stay at home and follow my studies ambitiously through all the years. In 2010 when my standard period of studies turned out to be over within the next year but still so much work left to do, it became unmanageable to finish everything within the given time. Just at this moment I found out more about the scholarship pool pmIndia and within a view days decided to take the chance to go to Manipal University, India, and combine the realization of my personal dreams with gaining of foreign experiences and completing parts of my studies.
It was the 28th of February 2011 when my India adventure started. After a 19 hour journey I reached Mangalore Airport with a headache. The arranged taxi was waiting for me to bring me to Manipal. At the first sight my hostel looked like a jail and the person who was supposed to take care of me was not there. After all it turned out that this was the first lesson in Indian culture: my room was pretty good to feel comfortable there and another person to take care of my was found very quickly. Dr. Shrikant Rao was very nice, helped me to arrange for everything and gave me some good advice. So I was prepared to explore the campus, Manipal and the region… At the next day I met Dr. K. V. Karanth who was the guide of my project. He explained my task, helped me to get along with the software that I was supposed to use and gave me some tutorial data. With that the project work could start.
During the next month I had to find out that things take a long time in India and that appointments are not so important. But this was again a good lesson in being patient and relaxed when things do not work in the way that I had expected them to. In the end, I managed to finish my project within the given time. But my India experience was not only about working. After a view days of my stay I met some nice Indians who introduced me to the life on the campus and showed me the hospitality of their country. I found good friends in them, could speak more which was very important to improve my language skills and ask everything I wanted to know about India. As I wanted to get to know the country I made it a habit to make trips and little journeys at the weekend. In the beginning I just went to Malpe Beach and Udupi, which are nearby. But soon I became more confident, increased my radius and travelled to Goa, Hampi or Hyderabad – either alone or with friends. During all the time I met several other exchange students or interns. Especially after the holidays of the Indian students had started, a lot of foreign students came to Manipal with whom I started roaming around in my spare time and making some weekend trips.
This last month in college was much fun and passed by so fast that soon my time of travelling for one month was there. The first two weeks I went alone to some places in South India. That was a kind of challenge for me because sometimes it is boring to be alone all the time but I dealt with it – somehow. Also it was a very good chance to meet other travellers and interesting people. But eventually it was very refreshing to see my friends again. The last week I spent either in trains (the train to Mumbai arrived with 17 hours delay – but this is Indian life) or in Mumbai where I visited another pmIndia student.
In these five months my expectations where on one hand totally met, because I had expected to find something strange, but on the other hand I had not expected it to be so completely different. The differences started with the traffic and the transportation system, they go on with the food and the movies and end with the people and their way of life. One day you enjoy and relax all that stuff and on the next day it just drives you crazy. But I think that this is exactly what India is like. Love it or hate it. I still cannot decide what to think about it but I know that it was a good decision to go there – that it really was a cool adventure -challenging but worth the efforts, and that I gained a lot of valuable experiences – professionally as well as personally. After all, it was not just work but also plenty of fun and I´m sure that my next India trip will come very soon.
This is a guest post by Claudia Dohler, Student of Mechanical Engineering at Chemnitz University of Technology and Intern at Manipal Institute of Technology from 1/3/2011 to 30/6/2011.