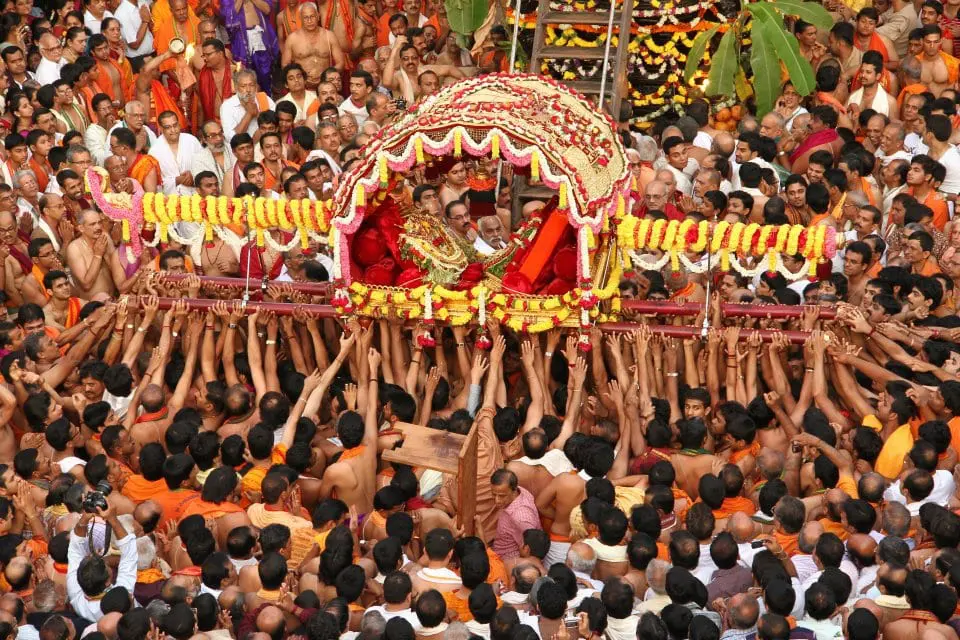 Car festivals are highly popular events in India. The Puri Jagannath yatra is one that prominently flashes in our minds when we think of the Car festivals. In South India, every major temple in most towns hold an Annual Car (Chariot) festival.  Just like Udupi's Makara Sankramana 8 Car festival which is famous all over, Mangalore Veera Venkatesha temple Car Festival is one which is known world wide amongst Gowda Saraswath Brahmins (GSB) Konkani's. Held every year in the month of January/February on the day of RATHASAPTAMI.
Lord Veera Venkatesha is seated in the golden palanquin which is then carried by his beloved devotees and the moment which thousands of GSB's wait for is him sitting on the CAR (teru in konkani) and granting the wishes of all who have  kept the faith and belief in him. The whole of Car Street, Mangalore will be filled with thousands of people and all have only one thing in mind and chanting, Govinda Hari Govinda Veera Venkatesha Govinda.
This Car festival will be for a duration of 5 days, with many rituals performed for the first 3 days. 4th day will be that of SAAN TERU ( Small Car Utsav) and on the 5th day HOD TERU( Big Car Utsav) and Holi or OKKUL (konkani for Farewell) played on the day next to Hod Teru. Its the day when young to old, submerged in colors, high on Bhaang dance to the tunes in Car Street with the volunteers splashing water all over. A scene which is worth watching once in a life time. 5 days of noon and night food served at the temple for all the devotees gathered.
A few fun facts about Mangalore Car Festival :
1) Women get decked up with the latest fashion Saree in town and with all the gold ornaments they have owned till date. 😉
2) Volunteers, decked up with a traditional Mundu known as PATTE TODAPU (konkani for Zari Cloth) awaiting to impress the girls of Mangalore and the neighboring places who come to visit the festival.
3) Girls who are all set to get married come in wearing Sarees, which a sign to all eligible bachelors that she is ready to get into the wedlock.
4) Voluteers serving food for the devotees choose the row to serve in which his "beloved girl" is sitting, so that he can have a good look at her 😉
More than anything else, this festival during which thousands of devotees come from across the globe to be a part of the same just crave to see Lord Veera Venkatesh on the throne and seek his divine blessings. He has till date and he will be protecting those who seek his shelter.
Jai Veera Venkatesha.
Cheers