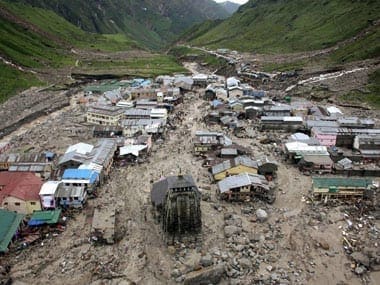 "Water, water everywhere; not a drop to drink"
This one small line that we learnt in childhood, depicts some of the most horrific sights one can imagine or worse see in his lifetime-floods and an utter lack of potable water. Such is the irony of our existence!
My heart sinks as I think of the plight of the people trapped in the floods in Uttarakhand. On 17th June, Uttarakhand received more than 340mm of rain nearly 375% of average rainfall. Heavy rains coupled with 'recharged rivers' due to melting Himalayan snow stores led to a series of flash floods and landslides that have left both Uttrakhand and Himachal Pradesh in a state of unprecedented destruction. Delayed public warnings by the Government Agencies and incapability of the India Meteorological Department to foresee such impending doom due to lack of infrastructure has left hundreds and thousands of pilgrims on the 'Char Dhaam Yatra' and residents of these areas groping for life.
As of today, the official toll has been marked at 150, though the Uttarakhand State Disaster Mitigation and Management Center has expressed concerns that it may run into thousands with about 90 'Dharamshalas' at the Kedarnath shrine and adjoining Rudraprayag district having been swept away in flash floods. Scores of villages to the tune of more than 60 still remain 'under water' with no clue as to the exact number of casualties. Around 62,122 people are reported to be stranded in various areas on their way to the 'holy pilgrimages' including the Sikh pilgrimage Hemkunt Shaib.
 The Army, National Disaster Response Force (NDRF), Indo-Tibetan Border Police (ITBF) and the IAF are working in   close conjecture with the local authorities to carry out rescue operations. Around 22,392 pilgrims have so far been rescued and moved to safer places. Prime Minister Dr. Manmohan Singh did an aerial survey of the flood-hit areas along with UPA Chairperson Mrs. Sonia Gandhi and in their words what they saw "was horrifying". The Centre has announced a relief aid of 1,000crore with other State Governments following in line (UP- 25crore, Haryana, Delhi and Maharashtra- 10crore each, Madhya Pradesh and Chhattisgarh- 5crore each and Gujarat- 2crore). Efforts are being concentrated to save as many as possible.
The Kedarnath Shrine has been the worst hit with official reports saying that it would take around an year to restore services for pilgrimage to the shrine. However, 'The Jyotirlinga Temple' is reportedly safe with slight damage to one its walls.The Centre has cancelled all further 'Kailash Yatras' as well as the 'Chardham Yatra' in view of the present situation.
We pray for the welfare and safety of all our fellow citizens who are facing the wrath of nature and for their families who await their arrival from 'The Abode of God' which has turned hostile to humans.
Source: TOI and Wikipedia