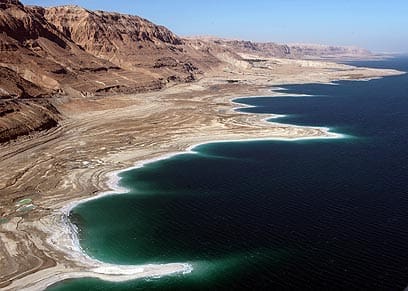 On my trip to Israel, I got to experience one of the most amazing natural wonders of the world: The Dead Sea. The Dead Sea is bordered by Jordan in the east and Israel in the West. Since its surface is 1,300 feet (396 m) below sea level, its shore is the lowest dry point on Earth and due to the hypersalinity of its waters, no living creature can thrive in it – which made people call it as "the Dead Sea".
The Dead Sea is believed to be the place where the biblical cities of Sodom and Gomorrah were situated. Globs of natural asphalt that constantly floated to the surface were harvested with nets. The Egyptians used asphalt in the embalming process that created mummies.
This vast stretch of water receives a number of incoming rivers, mainly the River Jordan. Once the waters reach the Dead Sea they are land-locked and have nowhere to go, so they evaporate, leaving behind a dense, rich, cocktail of salts and minerals that supply industry, agriculture and medicine with some of its finest products.
Today, it is a major tourist destination spot. People from all over the world can be seen here. The region surrounding the Dead Sea is booming with resorts, hotels, shopping malls, health spas and souvenir shops selling Dead Sea products.  The beaches along Dead Sea offer facilities like shower areas, changing rooms and restaurants.
The most remarkable thing about this salt lake is that it's impossible to drown in these waters because of the high salinity, contributing to its high density. We just keep floating on the water, enjoying the view of the majestic hills surrounding the lake.
Warning: Do not try swimming in the water, don't even let a drop of water fall into your eyes. It produces an unbearable burning sensation and would be worse if there are abrasions or cuts on your body. (Trust me, I know the feeling!)
When you enter into the water, you will feel as if you are walking on slime. It's actually the Dead Sea mud – rich black mud, comprised of layers of sedimentary clay formed over thousands of years. Captured within is an extremely high concentration of minerals, which is scientifically proven to be essential to the maintenance of healthy skin. Black mud can do miracles for your skin. The Dead Sea combination of mud, salt and sun has been particularly successful in treating severe skin complaints. Black mud stimulates the blood circulation and has been found effective in the treatment of rheumatism. Covering your whole body with the mud, sunbathing for a while and then washing it off would leave your skin soft and smooth.
Overall, it was a splendid experience and I would recommend a visit to the Dead Sea a place on anyone's bucket list.
About the Author: This article has been written by Lydia Abraham, a 2nd year MBBS student in KMC, Mangalore.
Editor: Kalyani Parvathy
Keep sending in your travel stories to [email protected] or [email protected]! 🙂