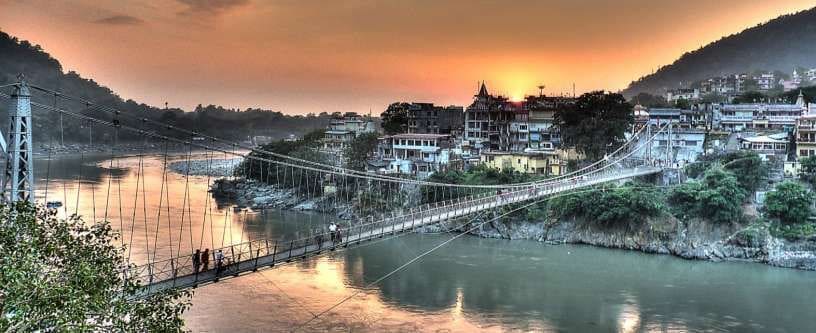 Rishikesh also known as the 'Abode of Gods' is a city in Dehradun district of Uttarakhand. Located in the foothills of the Himalayas in northern India, it is known as The Gateway to the Garhwal Himalayas. Rishikesh is approximately 25 km north of the city Haridwar and 43 km south west of the state capital Dehradun. It is the 7th largest city in the state of Uttarakhand. Rishikesh has been a part of the legendary 'Kedarkhand' (the present day Garhwal). Legends state that Lord Rama did penance here for killing Ravana, the demon king of Lanka; and Lakshman, his younger brother, crossed the river Ganges, using jute rope bridge. The point, where the present 'Lakshman Jhula' bridge stands today. The jute-rope bridge was replaced by iron-rope suspension bridge in 1889. It was washed away in the 1924 floods. Then it was replaced by the present stronger bridge.
Lakshman Jhula
In 2013 the Garhwal region of Uttarakhand suffered mass destruction caused by floods natural disaster at the city of Rishikesh. The whole Indian government came to the aid of the people of Uttarakhand. Through these noble acts in no time the home of Gods was ready to welcome the tourists from all over the world. I was very excited and thrilled to go back to Rishikesh again and enjoy the world's best yoga as the city is also nicknamed as the yoga center of the world. So I planned an itinerary for myself which also included the white water rafting on the foothills of the Himalayas.
Day 1: Nainital to Haridwar (Approx.210 Kms, 5-6 hrs )
Check in Hotel. In the evening visit Har-ki-Pauri to view the holy Ganges Aarti. This is the place where the main bathing takes place. The place is called Brahma Kund, the myths says this is the place where the nectar can be dissolved in the holy water of river Ganges. Visit the market near the place.
Day 2: Haridwar to Rishikesh (24kms/1hr)
After breakfast check-out from Hotel & drive to Rishikesh for some heart throbbing adventure in the Ganga River. The white water rafting starts early morning and its booking can be done through internet and even walk in reservations are most welcome. The best rafting experience in India, which has many pits and many courses that can be chosen. After the tiring afternoon it was time for some sightseeing of Laxman Jhula & local sightseeing. Evening, it was some resting time and the next morning we drove back to Nainital.