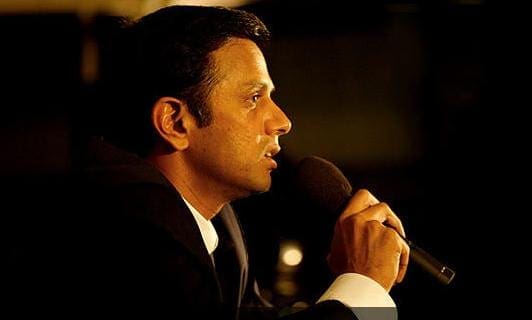 A true gentleman has walked out of the gentlemen's game. Test cricket will never be the same now. A huge lacunae has been created. How can any one imagine an Indian test side without Dravid at that number 3 spot? Right from his début at Lords he has been a true servant of Indian cricket. We can hardly imagine what it will be like to play overseas without this guy. On the fast & bouncy tracks the flat track bullies would fall apart like cards, without "the Wall" to support them. If any one deserves credit for overseas success in the past its none other than Rahul Dravid.
Here are 6 of the very best articles,in my opinion, dedicated to Rahul Dravid after he announced his retirement today.
1. Goodbye Dravid by Siddharth (SidVee)
There is a perception that you have not got the credit you deserve. I don't know if that is accurate. I wonder if you feel that way. But just you wait. Wait for India to play a Test without you. Wait for the team to lose an early wicket, especially on a challenging pitch. You'll hear a gazillion sighs, sighs filled with longing. India 8 for 1 and you sitting in your living room, sipping tea and watching TV. I'll be surprised if you don't palpably feel a nation's collective yearning for a sunnier, glorious past.
Read the blog here – Goodbye Dravid
2. The wolf who lived for the pack by Harsha Bhogle
The team is like a pot, Dravid often says. Some put in and some take out. The more who put in, the fuller it gets, and those were the players he enjoyed playing with the most: those who put into the pot. He was one of the leading contributors and there was never an effort at gaining sympathy or media attention for it. He gave quietly. He was one of the reasons why India recovered so quickly from the match-fixing issue around the turn of the century.
Read the blog here –http://www.espncricinfo.com/magazine/content/story/556769.html
3.  Tall Stands the Wall by Madhavan Narayanan (Madversity)
This game is not about winning alone
It's about a culture deep in your bone
Of how you play on and off the field
Of how you defend, how you appeal

Once played in villages, besides the farms
The game fell prey to gladiator charms
Runs flowed quick, with cash aplenty
as one-dayers sunk to Twenty20
4. Wall Salam! by K Balakumar in  Crank's Corner
It's when I have to round up this piece, I wonder whether I have trivialised a solemn occasion of the cricketing retirement of a great player. But cricket, for that matter sports itself, is essentially a trivial pursuit, but enriched and enhanced in meaning by some of its players.  On that score, Dravid has given me happy memories, and if I don't celebrate them with some jokes, albeit silly ones, what will I match them with?

It's difficult to bid farewell to someone who has always fared well. And Dravid, may you have the last laugh always. As a humourist, I can't think of anything apter to say.
Read the Blog here – Wall Salam!
5. After Dravid, Indian cricket won't be the same again by Ayaz Memon
And so life moves on, though for those who follow Indian cricket passionately, it won't be the same again after Dravid's gone. I don't mean to sound mushy: every player must retire at some stage, and as good, if not better players come along in time. But there are some who leave an indelible impression – on the sport as well as the minds of fans — which cannot be erased.

They stay long enough, and do so many wonderful things that they come to occupy considerable mind-space, in fact become part of your own identity. Rahul Dravid was one such.
Read the blog here – http://www.firstpost.com/sports/after-dravid-indian-cricket-wont-be-the-same-again-238794.html
6. Meeting Rahul Dravid: The soul of a champion by Samir Chopra
As I talked to Dravid, a slight sense of unreality pervaded the proceedings. This man simply did not have the airs of a sporting superstar, someone who was rich and famous, and hobnobbed with other cricketing superstars (though he did sometimes casually refer to them by first name). I could have been talking to someone that was a keen fan of cricket, rather than a Test great and a former India captain. At times, I had to keep reminding myself that this was Rahul Dravid.
Of course, there are going to be countless words written on this great ambassador of cricket! I would appreciate it if you could share them with me and the readers of ManipalBlog. Do comment and leave your thoughts! It has been a momentous day for all lovers of test cricket, and life will never be the same again!