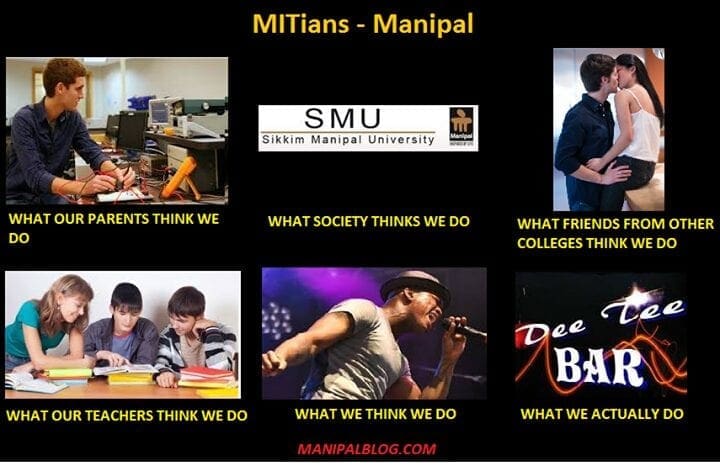 1) You panic when you don't have an umbrella at the sound of thunder. One can never beat the rains. There is no getting around it. Unless you want to perpetually appear as if you have just come off a swim fully clothed, you have to get yourself a sturdy umbrella. For more details on this read the article The Great Manipal Umbrella Exchange

2) You are tired of answering why you are still single. Refer the photograph on this article.

3) You say "so what" when your friend is surprised at the sight of a drunk person. "What if DeeTee closed down?" I'm sure if I ever said something like this out loud at DeeTee; it would invoke shrill pangs of tears and grief from even the most macho men present.
Read more in this article – This Holi – What if DeeTee Closed down?
4) You know how to direct someone to blue waters.

5) A financial "month" lasts 15 days.

6) You are used to people having twisted opinions about you. . People who recognize you only in a specific 'season' i.e. either when they are broke or when they need you during the exams or maybe at the times of utmost despair when there free advice is completely useless. Read more at The Seasonal Frogs of Manipal….

7) You are surprised when someone's excuse is "I am a girl!".

8) You look for change in your pocket before the shopkeeper asks for it. Many a time, customers refuse to accept candies instead of change and sometimes situations escalate into fights. Read more at Breaking: RBI to replace two-rupee coins with 'Dairy Milk Shots'

9) Staying awake till 6 in the morning is easier than waking up at 6 for you.

10) You don't know people's last names.
And the most important one….
You have no clue where DOC is.
Article from a Facebook post by Vikram Tomar and Raveen Lamba.
Edited by Vishaal Bhat.