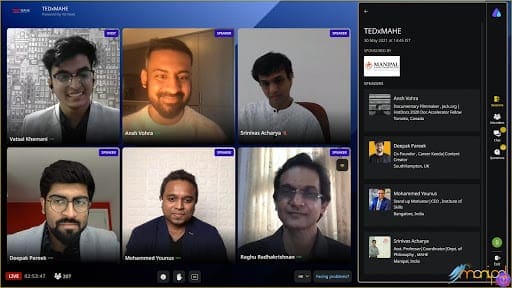 TEDxMAHE organized its fifth edition of the talk this year,  'TEDxMAHE – Unalome'. It went on air on the fine afternoon of 30th May 2021. The theme of the talk was "Unalome" which literally represents the path to enlightenment in the Buddhist culture.
Countdown was hosted via the platform Airmeet by TEDxMAHE, and the following are the highlights from the event:
Srinivas Acharya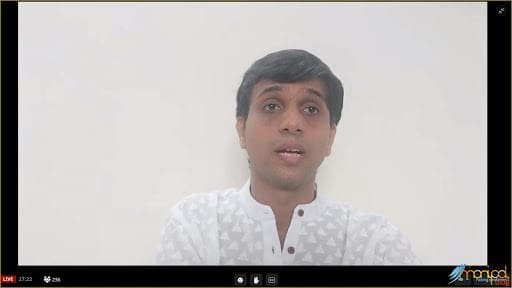 Srinivas Acharya is an Assistant Professor at the Department of Philosophy (DoP) at MAHE. He initiated the event. He explains about the two most fascinating things in the world being Life and Knowledge. Further, he states that to be alive we need some understanding, and that understanding is what knowledge is! He explained the term Nirvana Moksha in a very easy-to-understand manner.
After this Mr. Acharya talked about Moral Dilemma and started with an example of himself being in a moral dilemma of either letting his mother attend to his father and struggle or taking care of his father himself but with the risk of infection. Later, he talks about a moral dilemma that comes into play in Mahabharata. He emphasized how some wrong choices may lead to huge suffering. And the solution to avoid mischoices is knowledge or wisdom, where "realizing one's mischoices is the first step to wisdom, with such wisdom we make better decisions." With this, Srinivas Acharya then concluded his talk.
Peshwa Acharya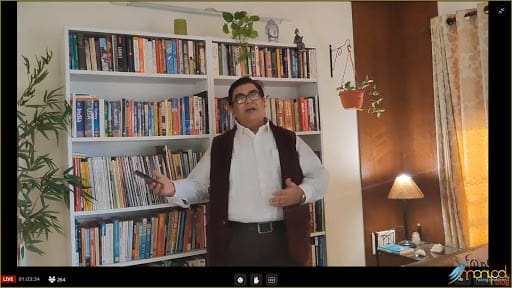 Having a well accomplished Senior Management career in various top companies, Mr. Peshwa Acharya talks about how the concept of Unalome can be applied to work-life and his 16 key points towards success. He considers success and happiness to be something that can be achieved by steering yourself in the right direction by following these methods:
While talking about the importance of the journey is more important than the destination, he said that it is about the perspective from which you view it. The journey can be considered more important as just enjoying the journey will eventually lead to the destination.

When asked about how to overcome inhibitions when starting something new, he replied that we need to find and focus on our strengths and work accordingly.

While talking about the ways to handle rejecting ideas, he stated that, do it with such a method that it makes them feel good. Appreciate them for the fact that they came up with this idea and credit ideas when it's due.
Deepak Pareek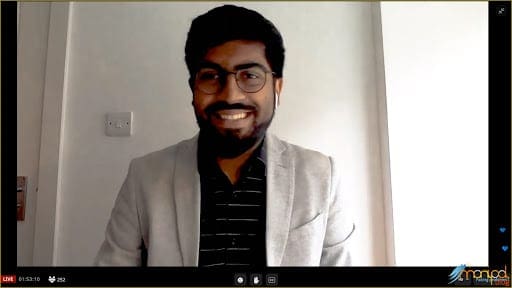 Life, like a game of cricket – was the idea behind Mr. Deepak Pareek's talk. The co-founder of the educational platform, Career Keeda, described the way in which life, in essence, can be compared to how one looks at a cricket game.
Essentially, teammates in the cricket team can be looked at as your friends and close associates without whom you will not be able to get through this game of life alone. Then there are the mentors and teachers in your life, the team coach, who guides and teaches you on how to improve from where you are.
Finally, there is the team captain, that is the person himself. They are the team captain that is responsible for cooperating with their teammates and following advice from their coach in order to win the game. i.e., succeed. The moral of his talk was to take command of your own life, and that being a listener is good, but a decision must be made after processing everything the right way.
Mohammed Younus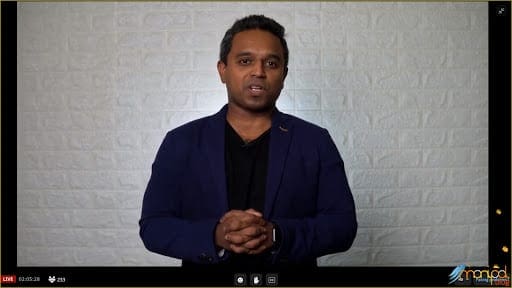 Mohammed Younus is a stand-up motivator, career coach, and student of happiness. He is the Chief Enrichment Officer at the Institute of Skills, which shapes the personalities of students through training and counseling.
Mr. Younus expressed his concern over how most children are brought up, their future possibilities, and most importantly their education. He emphasized the fact that our education system is based on bookish knowledge which kills the skills and creativity in a lot of children.
The school years are the ones they learn, they create and they grow. One can highlight their weaknesses from early childhood days, read them every day, list out the strengths alongside and with each passing day, try and turn those weaknesses on the other column. Every attempt will be a building block for the betterment of yourself.
Any man is as good as they choose to accept themselves; being ashamed is okay for some time, but being okay with the fact that it was who you are is checking with reality. The moment you connect to yourself on that level, you make a commitment to yourself.
Ansh Vohra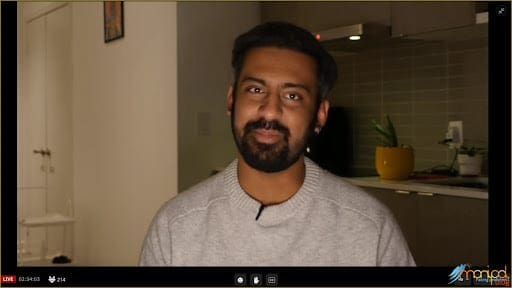 Ansh Vohra is a creative producer, content strategist, and documentary filmmaker. His work has given him intense exposure to people from various walks of life, evolving and molding his mindset in a way that is rare to come by.
His talk was an all-around step-by-step take on perceptions, struggles, twists, and challenges of life. Things get tough, and it's nothing new that struggles are real, but how you choose to fight and come out of it, is what matters.
Mr. Vohra very vividly and subtly let out that a change of approach towards life can take you a long way and it definitely helps you with peace of mind, too.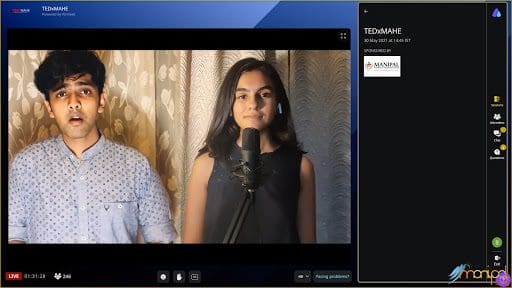 The event was quite insightful and smooth. The TEDxMAHE team also organized various entertainment breaks where Vedaa Naik and Abhay Rajeev mesmerized the audience with their soulful voices. A dance team called 'The Showstoppers' took the stage and impressed the audience with their groovy moves.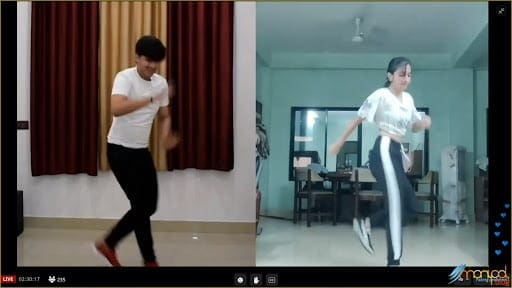 Social spaces were another part of the event; they encouraged the audience to interact with the host and other attendees through different interactive games like logo, trivia, catchphrase, etc. The idea was to let people socialize and deliberate on the talks on a personal level. 
The event concluded on a note that anything that makes an individual happy can be turned into a strive for success. Along with the powerful statements made that evening, it was a sure success as the path shown was in accordance with what was promised. The assumptions and expectations of society were surely questioned while taking along the positive approach of being better for oneself.
The event was covered for ManipalBlog by Sarthak Suman Gupta, Arjun Arun, and Swaroop Diddi.
Edited by Aarushi Verma and Asmi Sundru.