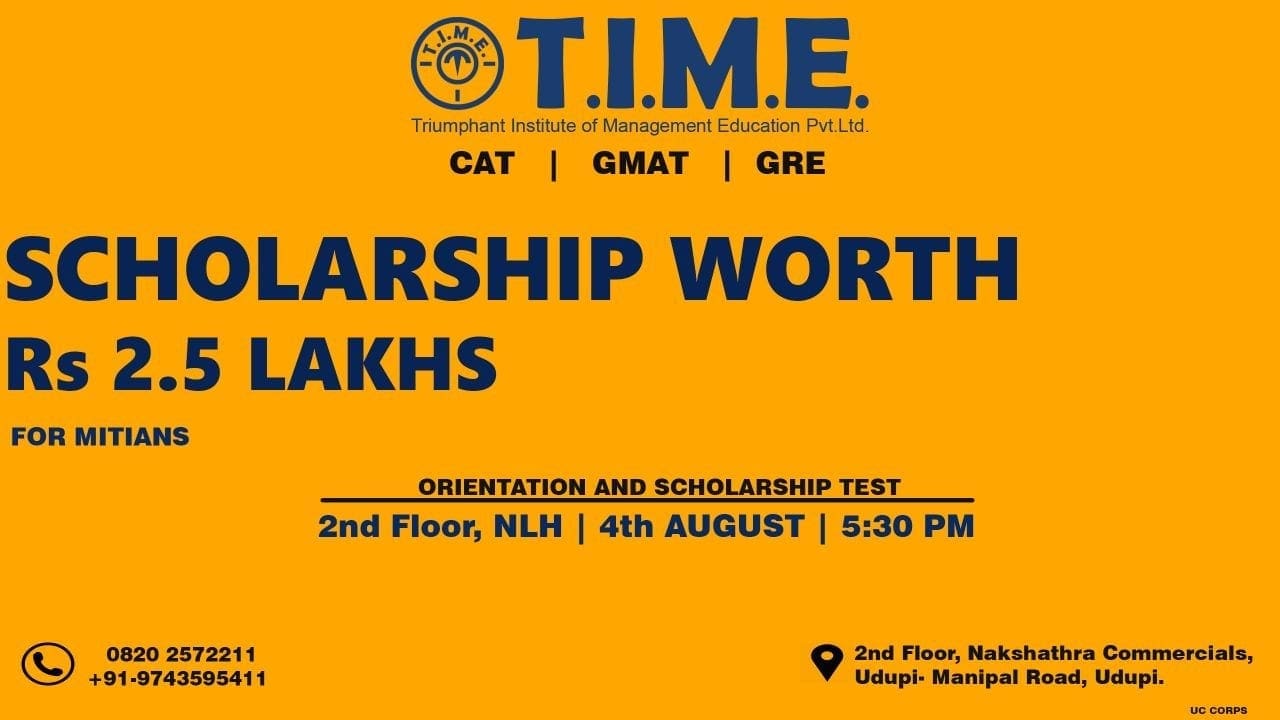 Triumphant Institute of Management Education Pvt. Ltd. (T.I.M.E.) is India's leading test-prep institute with a pan-India presence and is headquartered at Hyderabad. Established in 1992, T.I.M.E. today operates out of 244 offices located in 116 towns and cities across the country. Over 40 IIT/IIM graduates form part of the core team at T.I.M.E.
Regardless of an extremely humble beginning, this firm completed 25 years of service to the student community, helping build colossal careers along the way. T.I.M.E. is today acknowledged as a multi-location, multi-programme training specialist run on corporate lines and offers a wide range of programmes not only for national and state-level entrance exams like the CAT, MAT, JEE MAIN and JEE ADVANCED, but for international exams like GMAT, GRE, IELTS and TOEFL as well.
T.I.M.E. also offers a unique IIT Foundation programme aimed at students of the classes 7th, 8th, 9th and 10th. This programme focuses on strengthening the student's conceptual clarity of the fundamentals in Mathematics, Physics and Chemistry. In keeping with its tradition of always maintaining a watchful eye on market trends and tapping them, T.I.M.E. has introduced training programmes for Bank PO & Clerical exams, SSC CGLE, GATE, CDS, CSAT(paper 2) and CLAT.
This has achieved an important milestone of training more than 18.5 lakh students since inception and over 1.5 lakh students in the last year alone for the various entrance examinations. Through its Campus Recruitment Training conducted at various engineering colleges across the country every year, T.I.M.E. trains thousands of students in aptitude tests and communication skills as a part of preparing them for their campus placements. When it comes to results, this has always been head and shoulders above the rest. 2301 T.I.M.E. students who are a part of T.I.M.E.'s flag ship programme, the CAT, made it to the prestigious Indian Institutes of Management (class of 2016-2018). 11 students got 100 percentile in CAT 2015.
Not limiting itself to entrance exam training, this venture has also successfully forayed into the pre-school segment with T.I.M.E. Kids.
The group has been ideologically venturing into newer aspects. Veta, one of the country's largest English training institute is a T.I.M.E venture. An efficient team of highly committed R&D professionals, well-researched study material and unique pedagogy contributes to the tremendous success.
The core motto that keeps the driving force energised is
Provide quality education
Provide more than just promised
Reasonable fees without compromising on the input
Act in the best interests of students at all times.
Additionally, while T.I.M.E. has already made forays into the highly challenging area of training for state-level engineering and medical entrance exams, it is now looking at achieving a national presence in these fields soon. In addition to this very creditable organic growth, T.I.M.E. is actively pursuing acquisition opportunities in the field of education and training.
So what more are you looking for Manipalites ?!
We welcome you to be a part of our T.I.M.E family. What we want is your time, and in return we promise you an amazing path to a wonderful career ahead.
Do come and attend the Orientation Program and Scholarship Test for absolutely free of charge !
Date : 4th August 2017
Time : 5:30 PM
Venue : NLH 302, 303,304,305
Join T.I.M.E and experience the colourful time ahead!