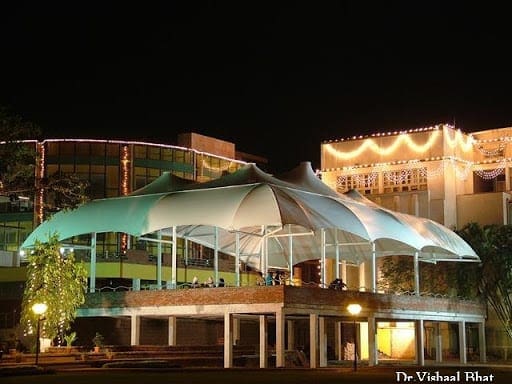 The campus has plenty of trees and the lush green environment is an ideal one to enjoy the bounties of nature. During spring and late summer, the trees are in full bloom, casting a magical spell on the students.

This is the view from Prabhav's room. He has a nice view of the Ladies wing of the PG Hostel where we live. He is planning to buy a pair of binoculars so that he can play peeping tom.
That's me in front of the University building with Dr.Vivek. There are lot's of fountains around Manipal. The flow of water soothes the homesick minds of the students.
Valley View. Manipal is situated atop a small hillock and surrounding it the Valley provides a breathtaking view during the Dawn and dusk.
The Manipal Logo.. suggesting that all is inspired by life!
Fountain at the entrance to the Campus.