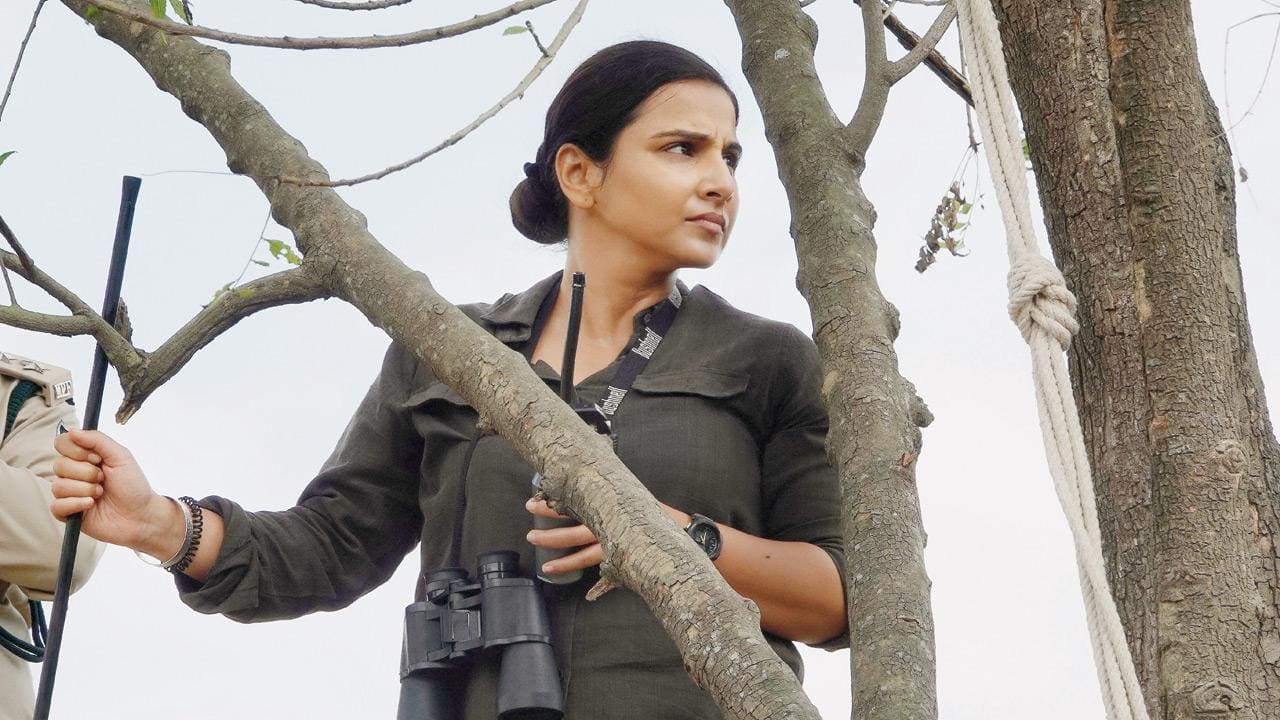 Ah, to be at home at all time without anything to do (Other than gazillion pending work), What better to do than watch something new?  What's new you ask?
The Vidya Balan starrer, Sherni on Amazon Prime Videos, of course, and here's my Sherni Review!
Sherni Review: Beautifully composed
The movie beautifully goes through multiple magnitudes to bring to life what really lies in forest conservation for the audience. With a great performance from Vidya Balan along with the talented cast of the supporting actors, including the likes of Vijay Raaz, Neeraj Kabi, and Mukul Chaddha, the film paints a real-life portrait of all the pain and bureaucracy in the process of protecting the forests and the wildlife.
Since wildlife and human beings are increasingly at odds, more so in the present with heavy population and human encroachment, the film manages to capture the on-ground reality of the situation in a really interesting way. Even though to add the typical Bollywood masala, there was a fair share of extra stuff involved which may or may not be what the day-to-day life of any DFO be like, it didn't go overboard. The crossroads between vote bank politics and government officials just trying to do their daily work was really well portrayed as well.
And not to forget the rampant corruption and political campaigning that is a well-known issue for every government official trying to do their job properly.
The cinematographer, Rakhesh Haridas achieved beautiful flow throughout the movie, which was mostly shot in forested regions. And the interior shots were no less amazing as well. Sharat Saxena's role as one of the antagonists was refreshing to see as well.
A forest is in general a place of utmost tranquility, which is only broken by those unprivileged forced to test the limits of nature and wildlife. And by the privileged who enjoy taunting the tranquility and pushes the delicate balance that the people have strived so hard to achieve. Sharat Saxena's role as a hunter was one such, that goes off the usual Bollywood recipe of adding politics to pose a problem for everything (Which also does happen here).
The film overall touches a lot of topics, including socio-economic issues, environmental factors, and politicians playing on vote bank politics, government officers doing things just for the sake of doing it instead of doing it because it's their duty to do so.

The parallels drawn with director Masurkar's Newton are very well justified and provides a very entertaining along with educational watch for people of all ages. It is indeed a sign that thanks to OTT platforms, we are getting and continue getting really good content in terms of Bollywood movies and TV shows. Hopefully, it will stem the tide for other productions as well from the typical Bollywood masala to more proper beautiful original content in the near future!
Did you watch Sherni? What's your Sherni Review? Do let me know in the comments.