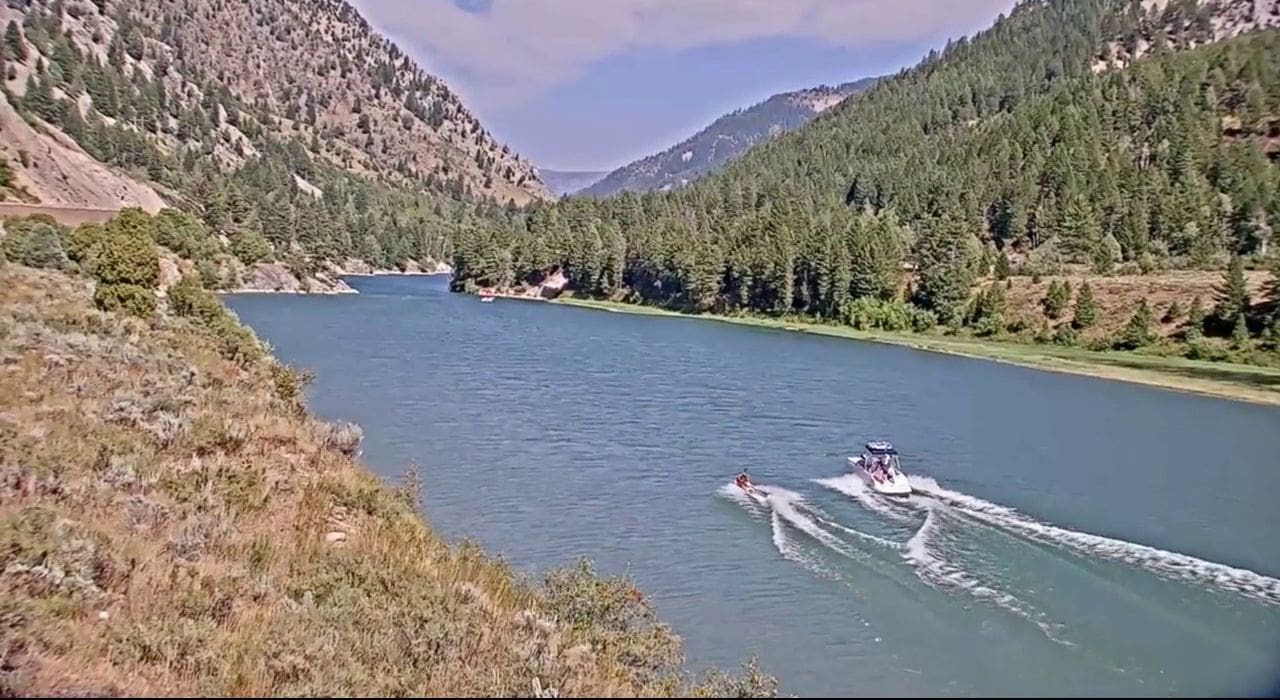 Spring brings with it the thaw and a renewed look on life. Once you see a robin or a blue bird, you know spring is here to stay. The Town of Alpine has a spring clean up day every year to help the community shake off all its winter extras. Fishing is getting really good as the rainbow, brown, mackinaw are all hungry for something new after the long winter. Alpine, Wyoming has the Snake River, Grey's River, and Salt River all in our back yard along with the Palisades Reservoir so there is plenty of fishing and new places to go explore.
As we slide into summer the roads are all opening up so you can get back to your favorite place to camp in the mountains or along the reservoir. The Grey's river seems to be the choice for most to go fishing, hiking, and camping during the summer. If you take the time, you will understand why. You can go all the way around the loop to come out in Afton, or Pinedale. It has some very nice scenery, fishing, and animal viewing. We have some kayak white water races on the Grey's River which are always fun to watch.
The biggest and most popular event in Alpine in the summer is the annual Mountain Days Festival and Dutch Oven Cook-Off which has been featured on the food network channel. It's a great way to spend the weekend meeting new people and seeing those from the past. There is a mountain man village, Native American dancers, horseshoe tournament, knife and tomahawk toss, black powder gun shoot, and plenty of food and drink to go around. It takes you back to the way Alpine used to be at rendezvous time. If you are more into boating, water skiing, and jet skiing, there is plenty of space for that on the Palisades Reservoir.
After spending a day on Palisades Lake, make sure to have a couple of beers and appetizers at Melvin Brewing. The beer, giant pretzel, and zucchini sticks are good.
Fall in Alpine is beautiful. The trees are starting to turn all shades of red, orange, yellow, and brown. Everyone is trying to get in that last fishing, camping trip before the snowfalls. This is also the start of hunting season. We have numerous big game animals to try for elk, deer, moose, bear, mountain lion, mountain goat, just to name a few. Even if your hunt isn't successful, you will still enjoy what our town has to offer and our beautiful scenery.
Winter in Alpine is quiet. There is a time in between hunting and snowmobiling when Alpine is blanketed with snow and peace. The only sound you will hear is the snowplow blade or the occasional coyote. The skies are clear and full of stars at night and very sunny during the day. Once we get enough snow, it is snowmobile heaven. There is a groomed trail that goes through town so you may enjoy the Grey's River or McCoy creek for snowmobiling. There is cross country skiing, miles of snowmobile trails, and downhill skiing not too far away.
If you are brave you can try your hand at ice fishing. The Town has an annual Christmas party with Santa coming to meet the kids and lots of food and drink for all. The American Legion has Bingo every other Friday night for entertainment and socializing. We also have the International Rocky Mountain Stage Stop Sled Dog Race come through town. There is usually a dinner to get to know the racers when they get here.