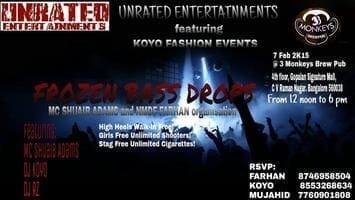 The most romantic day of the year is knocking the doors. Awaited by many, this day invokes time to glorify love and explore its nuances to the core. A beautiful venture of love and enjoyment, everyone looks for opportunities to make this the D-Day in their calendar. A day to celebrate love and revitalize the romance, this day demands a full-fledged exhilarating experience. Nothing can be as charming as an open platform with some jostling music to make the day. DJ in Bangalore vouches for a memorable time with its feet tapping music, which is sure to reignite the passion of love.
So, let us find out the hot and happening Valentine's Day event, which promises to make your Valentine's Day '15 a really awesome one.
Unconventional Noon party
Well, parties are meant to be held in the evening hours but ruling the roost, this event creates an unconventional theme, which is not known of- an afternoon party. Yes, the celebration begins right from twelve in the noon providing ample time to enjoy with your loved ones. Dance your way out with DJ Varun in the Indigo Live Music Bar. This surely will be an experience of a kind.
Adding a hint of extravaganza to the party
Couples are invited to dance and express their passion with dazzling DJ Esha. An exemplary experience can be expected with ravishing décor and a dance floor, which are adequately designed to accompany loads of guests. Couple with the best costume gets a chance to win the fabulous champagne gift. Foot tapping music is sure to revive your love quotient. The event commences at 7 pm in the evening No Limmits Lounge and Club at and rolls out till midnight.
All in one event
Looking for more than just music? No Limmits Lounge and Club offers its guest a platter of events starting from fashion show to belly dance performance. Undoubtedly, it is flanked by a dashing DJ event, which is backed up by DJ Tashi and DJ Vicky. Dance with your loved ones staying in their embrace as you say goodbye to the Valentine's Day.
Party All Night
Various other options are available that aid in sizzling DJ and create an aura which just makes you forget the entire world. Spurring top-notch Bollywood items, the plethora of songs is a sure way to unfold your feelings and arise from inhibitions in the most ideal manner.
DJ Hochzeit Frankfurt events are an all in one source of entertainment. For one thing, one gets to wear a dress of their choice. Stunning and glamorous dresses and their shopping are good ways to keep the guests involved in the fervour for a long time. Another thing is the ambience. A dance floor provides the stage to give way to all worries and mesmerize in the charm and glory of life. So, if you have not yet planned anything for Valentine's Day, opt for these options and surprise your loved ones with an experience which is worth treasuring.
Author: The author is a music lover and finds himself engrossed in the tunes of music, day and night. He is also a frequent blogger at www.eventshigh.com.