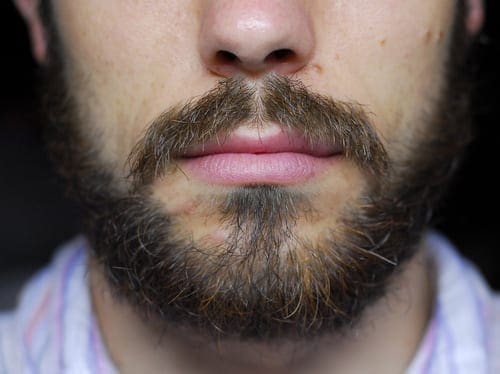 When humans first evolved from their ancestors, the world was harsh. Facial hair kept them warm in the long, cold winter months. Facial hair may have once served a purpose for the survival of humankind, but it is now outdated. With the wonderful invention of razors, we were able to leave behind the medieval practices of our forefathers and shave, representing progress, cleanliness and hygiene. Razors now are easier than ever to use, and we should take advantage of this advancement in razor technology.
For the most part, us girls have done our part in securing this image. While we don't always shave our legs, we have a tendency to make sure they are hair-free before wearing shorts, skirts or a dress. We, however, are still subject to see massive amounts of facial hair spewing from the chins, above the upper lip and cheeks of men.
It is time to pick up your razor and shave. Facial hair is a nuisance and a threat to our society, for those who grow massive amounts of facial hair are retrogressing to the same standards as their caveman ancestors. In a world where progress is the key to a great civilization, we cannot allow for this. Many males with an overdose of testosterone think they're so sexy with their bearded faces. They may argue that it's "unmanly" not to be able to grow copious amounts of facial hair. While others can argue back and forth whether the ability to grow hair on your face is manly or unmanly, I am not suggesting that we remove the hair follicles on men's faces (although that would be nice), but merely that these "manly men," capable of growing facial hair, shave. This does not strip them of their ability to grow said hair – it just shows they're willing to evolve into more sophisticated homo sapiens.
While I am an avid supporter of the clean-shaven man, I understand that sometimes other things get in the way of the shaving routine. Not only that, but shaving is sometimes painful and a bit of a hassle, especially if you have acne or razor bumps. For this reason, a bit of stubble every so often is acceptable. In fact, even a light beard on some men is acceptable if it is well-kept and groomed (however, every one of these men look better clean-shaven).
One thing that is never acceptable, however, is the mustache . Facial hair above the upper lip should undoubtedly be kept to a bare minimum, and by that I mean invisible. Growing hair in such a place in unbecoming of any man.
Facial hair is medieval and it's time to start living in the twenty-first century. Please, men, shave off that beard and separate us from our cave-dwelling ancestors.