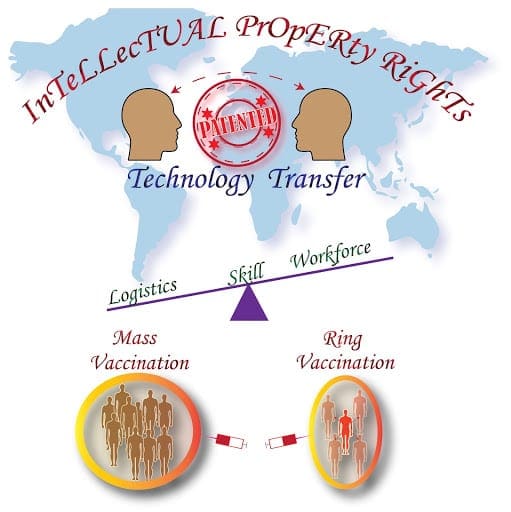 Today, everyone waits desperately to see the slots available for vaccination and is in dire need of the same. On 28.04.2021, India Opened the registration for the largest vaccination drive (with insufficient supply). Government sources have said that  "More than 35 lakhs people registered in the first hour after launch of 18 plus registration on cowin.gov.in,"  reflecting the demand. .
Mass vaccination drives, one among the significant modes of reducing the case fatality ratio of  COVID-19, are to be carried out at an intense pace. Large-scale vaccination programs helped in reducing almost 57 million deaths annually across the globe.
Witha population of 136.64 crores and an exhausted workforce, India derailed logistics, and fumbling infrastructure is dealing with the massive health crisis witnessed ever. Even though immunization campaigns are going on in full swing, there is a glitch in the production level, which is to be noted. 
In Vaccine development and production, technological advancements have thrown light on reducing the fatal outcomes of viral infection. Despite of achieving success in vaccine development, either it could be from the Serum Institute of India or Bharat Biotech, and it is evident from the reports that the production is not sufficient enough for the unstratified mass vaccination strategy.
The Indian biotech giants, who had got the patents and approval from the Government of India for the production and distribution of the vaccines, have been striving hard to increase the output to equate the demand. Serum Institute of India and Bharat Biotech, together have a production capacity of around 90 million doses per month (https://www.bbc.com/news/world-asia-india-55571793). Be it the first dose or second dose, with respect to India, as of today sixteen crore population took the vaccine jabs (https://www.cowin.gov.in/home). With 34,87,229 active cases and close to four lakhs cases every day since a week and around 3,500 deaths for every twenty-four hours, it is highly necessary to ramp up the production capacity thereby helping in conducting mega vaccination drives.
Having said that mass immunization programs to be done, it is equally necessary to enable technology transfer to suffice the demand. As of today, we have around five-seven vaccines in the market from the leading pharmaceutical companies across the globe which are confined to their respective nations. With a whooping world population of 767.35 crores, be it poor, middle-income, or well-developed countries, it is mandatory that everyone gets a jab to prevent this livelihood and economy devastating pandemic. 
To enhance this, the patent waiver is one of the ways to share the knowledge such that there would be a chance to speed up the production at every workstation. The patent waiver is not a new strategy as well. Long back during the discovery of the polio vaccine, Jonas Salk in 1955 had not obtained the patent rights saying that his knowledge should help mankind to live and is known for his very famous answer "Well, the people I would say. There is no patent. Could you patent the sun?".
Waiving patent rights or providing a temporary license for the chosen contract-based manufacturers would help in increasing the production capacity manifold. As the world is visualizing consecutive waves of infection (even though with delays) it is of vital importance to provide free access to knowledge and also improve trade deals. WTO (World Trade Organization) should take this scenario on a serious note and can look into the WTO Agreement on Trade-Related Aspects of Intellectual Property Rights (TRIPS) which states that " exemptions can be made for suspending patent protections on medicines needed in an emergency.". Collaboration projects between the corporate conglomerates, will help in the betterment of the prevailing situation. India and South Africa have approached the WTO and have faced denials when requested for the patent waiver. Welcoming the vaccine manufacturers to invest in India, would evade the prevailing crisis. Few such moves include the approval of an antibody cocktail by Roche, a Swiss-based healthcare giant. Permitting the Sputnik V vaccine which is launched by The Gamaleya Research Institute, Russia will speed up the vaccination drive. Initially, there was an objection from the United States regarding waiving off the IP rights but later the United States Trade Representative Katherine Tai has told that "The administration believes strongly in intellectual property protections, but in service of ending this pandemic, supports the waiver of those protections for Covid-19 vaccines." 
In contrast, there are objections to waiving off  IPR (Intellectual Property Rights) by the business magnate and philanthropist such as Bill Gates as he said that  "The thing that's holding things back, in this case, is not intellectual property… It's not like there's some idle vaccine factory, with regulatory approval, that makes magically safe vaccines," which may be true to some extent. The objections were also raised by the International Federation of Pharmaceutical Manufacturers & Associations (IFPMA) noted in a release that "diluting national and international IP frameworks during this pandemic is counterproductive… IP enables research and development and ensures that the next generation of inventors and investors will remain engaged." The pharmaceutical majors have pressurized the US stating that technology transfer would lead to misuse of the innovations, leading to catastrophes.  
The other end of this story has a different perspective. In case, if scientific technology is opened up, there are a plethora of reasons which will still hold back the expansion capacity of vaccine production. Anne McDonald Pritchett,  senior vice-president at the Pharmaceutical Research and Manufacturers of America commented that  "We could hand them the patents, and we could say, 'These are the types of quality-control measures that have to be in place.' But you know, it can take us five to 10 years to stand up a brand-new manufacturing facility.". There also exists a hyperlink between vaccine production, logistics and having a skilled workforce. This line should be made clear by developing robust logistics facilitated with refrigerated trucks and cold-chain storage facilities which are necessary to handle the expanding industry. Skilled human resources right from ground force till the cadre of scientists should be trained adequately to maintain high-quality control during vaccine manufacture. Any flaws during the process of production or distribution will again disrupt the process.
Patent waiver at this instance needs to be looked at with a humanitarian perspective instead of as a profitable business. As it is linked with the multilateral opinions from international leaders and organizations, it may take time to come up with a unified decision. With the available production capacity vaccination Governments in coordination with the policymakers, entrepreneurs, scientific fraternity and think tanks can go for a more strategic approach such as "ring vaccination." This approach involves vaccinating the infected, followed by his/her primary and secondary contacts on a priority basis. Another way would be instead of immunizing the 18-44 age group together in one stretch, which turns up to be a considerable burden on the vaccine makers, more stratification with respect to age group or to have a balanced plan to equally vaccinate the front-line warriors and the vulnerable group would be a better idea. These stratification mechanisms would help in reducing the burden on the industry for some time until the stressed-up machinery gets a boost. In line with scaling up the vaccine manufacture, care should be taken to smoothly operate the supply chain of raw materials and other necessary resources required for the production.
Immunization of a nation with this massive population is a tedious process. It invariably requires cooperation among national and local authorities and the use of large-scale human sources which itself is a daunting activity. Along with getting vaccinated, everyone must follow COVID appropriate behaviour to protect their near and dear and crushing the spread of this deadly viral infection.
About the Author – Vasishta is an enthusiastic Life Science researcher with equal interest in exploring geographies. Blogging and photography are all-time favorites.