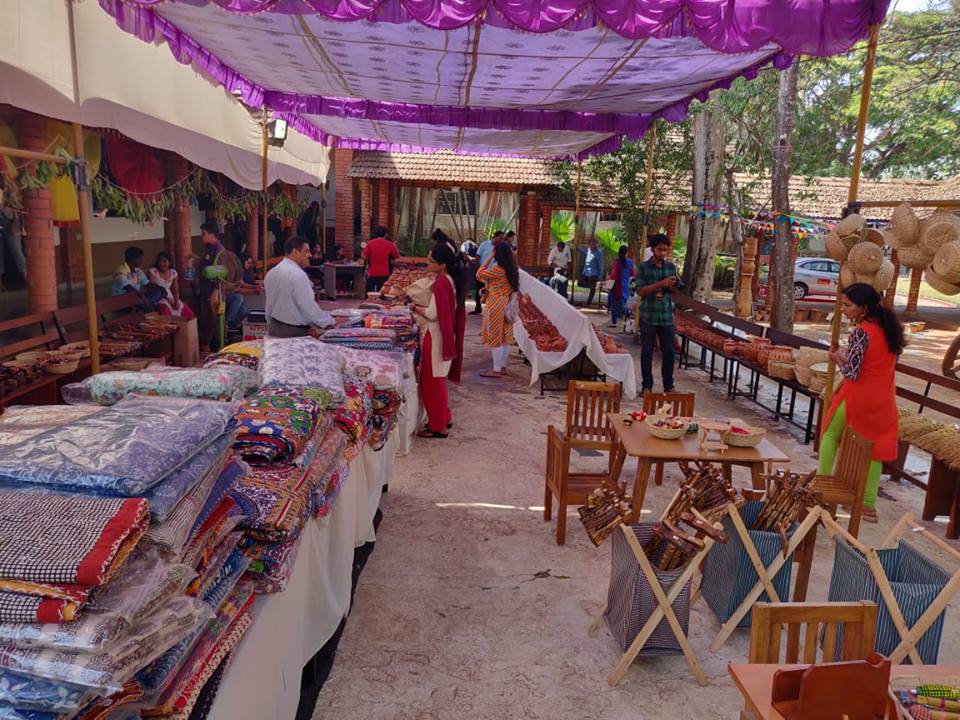 Staff Blogger | Ritwika Sarkar
I had heard about Namma Angadi, being a part of School of Communication, Manipal. My first impression was rather vague, I pictured it to be a normal exhibition of things that are going to be expensive. The fact that it was done to support the local artisans of Karnataka, I was looking ahead to it, to learn about the place and its culture better. Since it's always been a treat exploring.
I walked into the college and I could smell the essence of rawness in the air. The quadrangle was filled with stalls complimented with mellow music. There were handmade toys, hats, shoes, bags, pottery and showpieces. I was taken aback given the mindset I came to the exhibition with. The corridors had saris hung up throughout, which worked really well both as decor and demonstration. There were rooms allotted for men's apparel, saree and dress material, accessories, and ready-made clothes.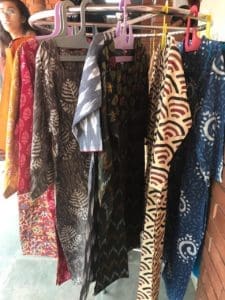 There were shirts with beautiful patterns and kurtas with the fabric similar to the shirts. After taking a few candid shots of the people working there, I went ahead to the saree and dress material section.
The collection was really great, and so was the vibe as I saw people video calling their mothers asking for their opinion on the design they should go buy. It felt like they were right here.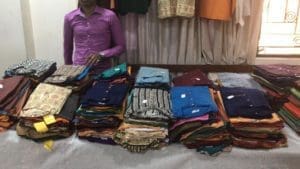 There was a room, with cute notebooks with pages made of handmade paper, which gave out a yellowish tint to them, they had different textures and smells They were covered with fabric, making them as colorful as the whole exhibition. There were pickles, key chains, earrings, dry food and what not.
As I moved to the ready-made clothing section, I was moved. There was everything, starting from halter neck tops, to palazzo, to Kurtis and shorts. They were all mostly made of tied and dyed fabric, there were a lot of indigo prints throughout as well. I shopped for a bit, as the prices were very reasonable.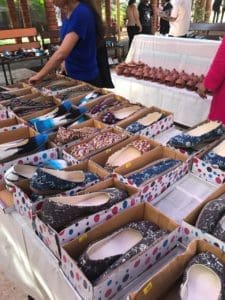 Moving towards the greens, I spotted a small stall with books of Kannada literature being sold followed by stalls selling fresh sugar cane juice, cupcakes, brownies, lime soda and the like.
The scorching heat of Manipal had me tempted, so I went ahead with the cheapest of them all, the sugar cane juice which had a dash of jaggery giving it a flavor I had never tried before.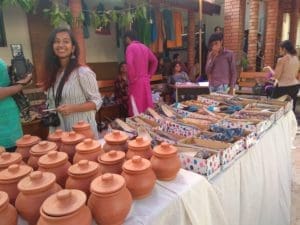 Namma Angadi was something that totally broke the monotony of School of Communication's normal days. My overall experience, being an avid shopper was refreshing with tints of Karnataka culture and art.
Click here For photos from Namma Angadi 2019