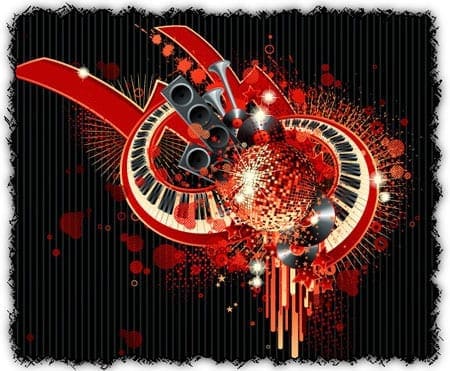 Bhartahari, that eminent poet of the yore, once famously described any person who has no interest in music as a cow without a tail and horns. Unfortunately my grandfather thought otherwise. He felt that anyone listening to Pop Music was a donkey without tail. I really can't say who was right. But many people did compare me with that animal of labor but in different context. So I guess Gram comes close!
We are a musical family. We have broken more records than the Jackson five. The first record that I broke was a priceless Beatles when I was five, a good three years before Michael Jackson started sharing the lead with his brother Jermaine. Like MJ's father, my father too didn't hesitate to cane. My Brother was no less talented. He too has a few broken records on his name, a claim he would vehemently deny. The cassettes brought in a much needed relief to us.
Music and I are intrinsically connected. I can't remember a single important incident without associating it with some song. It has been a long life. Writing this post fills me with nostalgia. Remembering the good old times.
I debuted with ' The Sound of Music', a movie that was the anthem of every convent school then which thought it 'taught' English. It was our annual function. But to be honest I didn't sing 'Do a deer'. I was just sitting there while a teacher sat with a guitar and sang while I gawked. But somewhere I guess I developed the love for music by osmosis.
We, as a society, are full of clichés. So any achievement meant playing Cliff Richard's 'Congratulations'. He was my favorite because he sang simple songs and the tunes were easy. Also perhaps because of his Indian connection. He was born in Lucknow. Any other celebration meant dancing to ' Celebration ' by Kool and the Gang.
Teenage meant romance and romance meant music. The Manhattans weren't that popular then. But I simply adored them. Even today I can swear that 'shining stars' is the most romantic song I can think of. Why , they even had a song for parting, 'Let's Kiss and say good bye.' Show me a better way of parting!
As a kid, farewells meant singing 'so long farewell' But show me a song that compares to the John Denver's evergreen 'Leaving on a jet plane.'
Then there was the anthem for stalkers, a must for every road side Romeo, 'Every breath you take' by Police. Sadly, when I saw the lead singer Sting a few years back in The Taj in Delhi, I mistook him for some businessman. He was eating on the next table. Very distinguished looking in a grey suit. Couldn't associate him with Pop Music. It was only when I was in the flight, that I saw his picture and the news about his visiting. My loss.
There were phases. Beatles, ABBA, Boney M, guns n roses, nirvana, sex pistol. They all were great and were my favorites some time or the other. But this post is not about great music. It's just about my personal connection with some songs.
I even feel a great connect with some exciting cities just by listening to some song.
When I close my eyes and think of New Jersey, Elton John's sacrifice comes to my mind. Or Dolly Parton's 'Smoky Mountain Memories'. Even today that song gives me the chills. I always relate Scotland to Lara's theme from Dr. Zhivago. I heard the 'Unchained melody' by Righteous Brothers so many times on the street of Bangkok, that whenever this song is played, it transports me to those lovely beaches in Thailand. You can hear amazing music on the streets there. Miami was all hip-hop. The radio in the car only blared hip hop.
I have lived a full life. No complaints there. What would I like to hear when I am leaving?
Maybe Kurt Cobain's Seasons in the sun "Good bye my friends it's hard to die" ? Maybe not. There are some great singers waiting up there just to entertain. What's a small thing like dying then!